Everyone that develops in Silverlight has seen a lot of activity around the technology lately, some good and some bad, but the message has been made loud and clear that Silverlight is here to stay. So much so, in fact, that we're only a couple of days away from the Silverlight Firestarter, a full day packed full of education, resources, and some looks at the future of Silverlight: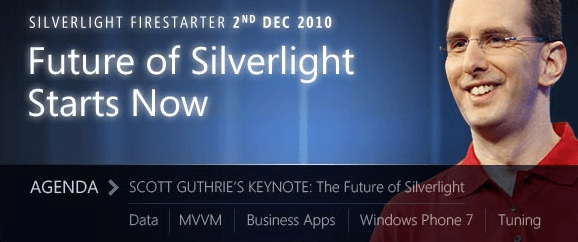 If you haven't registered yet, be sure to do so because seats are filling up fast.
The next thing you might be wondering... why is Telerik talking about the Silverlight Firestarter? For starters, we've just had our Q3 2010 release covering our entire portfolio of developer and testing tools (check out TelerikWatch for the webinars and a download of an awesome Silverlight RadRichTextBox + Data Visualization demo), which of course included the new Expression Dark theme, RadBulletGraph, and RadSparklines for both Silverlight and WPF. We also just saw the Telerik RadControls for Windows Phone 7 CTP 2 released in the last week, adding new transitions, a new RadListPicker control, as well as a RadNumericUpDown. For full details, be sure to stop by the RadControls for Windows Phone 7 landing page or check out our video on Channel 9. Topping that all off, we released a brand new WeatherStation demo to highlight a slick use of our data visualization controls and to prove some of the power that Silverlight brings to the table. Oh, and did I mention we're currently giving away three of the controls from the RadControls for Silverlight? Check that out in our Free Products page.
But wait, you still haven't covered why Telerik is talking about the Silverlight Firestarter! While I cannot spill all the details, I can tell you that we're going to be in Redmond during the Firestarter. Want to know what for? You'll have to register and watch (click the Register - Watch Online link), but rest assured, we're pretty excited to be included in this landmark event. If you're going to be in Redmond, I'm more than happy to discuss ********, but only after the keynote. :)
Hope to see you there!
P.S.- Want to know our stance on Silverlight, besides that we love it? Check out what Vassil, Telerik CEO, has to say on the matter.