Visual Studio's John Montgomery recently began discussing Visual Studio 2019, so we took to Twitter to see when the dev community thought the new release would launch. Read on to see the results of our informal survey.
At the beginning of June, Visual Studio's Director of Program Management John Montgomery teased the .NET community about the launch of Visual Studio 2019. If you are anything like us, this line piqued your interest:
"As for the timing of the next release, we'll say more in the coming months, but be assured we want to deliver Visual Studio 2019 quickly and iteratively."
Personally, I had my money on an early release—January. Not only is John hinting at a fast release, but I also think Microsoft has learned a lot from shipping VS Code fast, on a monthly basis with a transparent and predictable roadmap. Additionally, Microsoft has acquired a few companies known for lean and agile delivery—Xamarin and GitHub, to name a few. As the engineering and leadership teams merge more, there is a case to be made that we could be looking at an earlier launch.
For anyone anxious or looking forward to the new launch of Visual Studio 2017, I'd pay attention to the Visual Studio Preview program. Currently it still has 2017 messaging on the page, but the program promises to offer users "the latest features not yet in Visual Studio 2017." Looks like a great place for early adopters to stay on top of new features coming out in the future.
That said, our community thought differently. We conducted a short and not-very-scientific survey just for the fun of it. With over 8,000 votes cast, the .NET community (30% of you) is expecting the release right around the Microsoft Build conference, which is traditionally around the May timeframe. This shouldn't be a shocker given Build is a premier developer conference. But Microsoft has surprised us in the past. If anything, 48% of the survey takers would love to see Visual Studio ship AHEAD of the Build conference. Hey Visual Studio team, hope you are reading this blog—give the people what they want!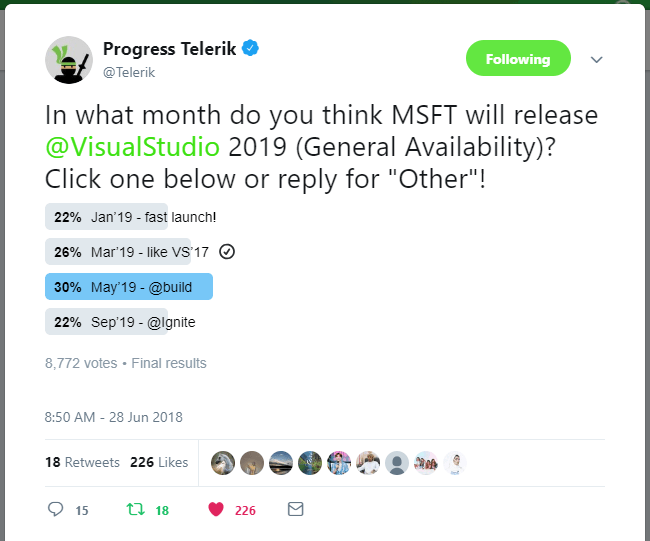 In the past, we sim-shipped Telerik controls at the same time as Visual Studio (i.e. Visual Studio 2017 support announcement, Visual Studio 2015 support announcement to name a few) and we made sure they were compatible on 'day 0' of the release. As a Visual Studio partner, we will be aiming to do the same for the next version too. The Microsoft team has been great in working closely with us and the rest of the partner ecosystem to ensure that we are well aware of the plans for the next release.
However, we also try to go beyond that traditional partner role and watch the wider Microsoft trends and act on them. Microsoft has been very active on the AI front, and in his blog post, John hints at more AI-related features for the next version of Visual Studio. We have kept pace with Microsoft on the AI front and have already developed Conversational UI components so you can add modern UI elements to your .NET and JavaScript apps. Give them a shot and let us know what you think.