We have served many dishes since we opened the WinForms restaurant, and I am delighted to say that our customers very much like the direction we are heading. Today I'm very excited to give you a taste of some really appetizing desert bites straight out of the WinForms kitchen!
Needless to say, we get many requests for old tastes with new flavors, but this particular one stands out as a jalapeño sticking out of a cheese cake. Yes, we have been working on a new favorite desert recipe - RadScheduler for WinForms - a scheduler as tasty as we all want it, but with organic Telerik twist!
Here are the key ingredients for the new control's recipe:
Day View, Week View, Workweek View and Month View layouts
Elegant API for smooth learning curve – if you are familiar with RadScheduler for ASP .NET, you will find development with the WinForms Scheduler as easy as boiling eggs
Recurrent events, localization, built-in dialogs, keyboard support, popup menus and other mouth-watering goodies.
Provider -based architecture for easy extensibility.
If this isn't enough, we will through in a set of nice graphic effects, animations and themes to supplement your chef's abilities.
As the images show, we are half way through the baking process – day view, recurrence, and themes are already done:
Fig1.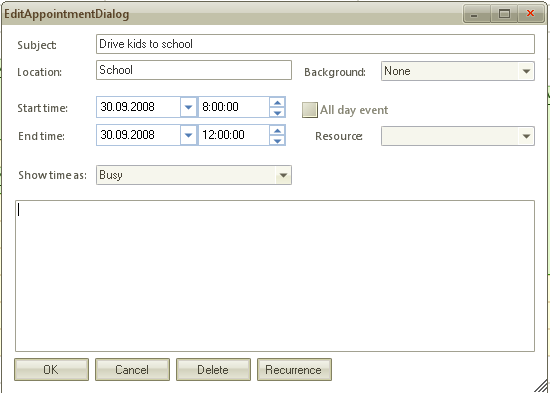 Fig2.

Fig3.

We have started adding the Month View spices, so keep your thumbs crossed to have this cooked up and ready to serve for the Q3 release ;).
In case you would like to try the new delicious desert before the official launch, please drop me a comment here – I will be happy to have a freshly baked Scheduler delivered to your doorstep before your pizza gets cold.