Did you know that we maintain a private NuGet feed for Telerik products? Get quick updates for Kendo UI, Telerik Developer Tools and more easily through NuGet.
Constantly working towards a smoother and more successful deployment, we provide our own NuGet feed for distributing product packages. It's been a while since we published our private NuGet feed—it's time to announce it for those who haven't tried it yet.
Why Use the NuGet Feed?
The idea of the NuGet feed is to provide a fast way to obtain the latest releases of our products.
It automatically configures your projects by adding assembly references, creating and adding project files, etc.
It manages package dependencies
It provides package updates
It does the job very conveniently
What Products Are Available in the Feed Now?
How to Configure the Feed?
You have to setup https://nuget.telerik.com/nuget as another package source in the NuGet Package Manager. To gain access to the feed you have to provide your Telerik account credentials: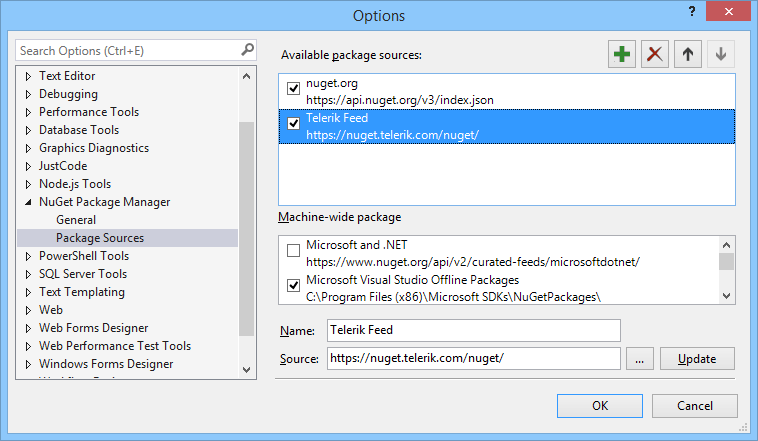 NuGet Package Manager Settings.
Tools -> NuGet Package Manager -> Package Manager Settings
What's Coming Next?
We're considering adding support for trial users. Please share your feedback in the comments below, and let us know if there is anything else that you need!