The Telerik Report Server R1 2017 release has arrived and it's bringing with it a whole host of new features and enhancements. Read on to see what we've packed in the latest release.

Telerik Report Server just keeps getting better. We recently rolled out the R1 2017 release, which comes with new rebranding options as well as easy sharing for report previews with user-selected parameters.
Report Server WhiteLabeling Support
We're excited to bring WhiteLabeling to Report Server, as we know it's a feature a lot of our customers can take advantage of. With WhiteLabeling, you can quickly establish your brand to generate loyalty and exposure while delivering a fully supported, feature-rich product.
It is like having an in-house developer, but for a fraction of the cost. If you develop your own product, you are looking at investing a lot of money and time, with no guarantee of the final product's return on investment. When you use the Report Server and white label it, you're retroactively paying developers to create a product for your business without the downsides mentioned above.
WhiteLabeling enables Report Server customers to replace branding elements such as logos, favicons and colors in the Report Server and Standalone Report Designer applications. This means the Report Server reports you generate for promotional purposes or distribute to your clients and partners will now carry your own branding.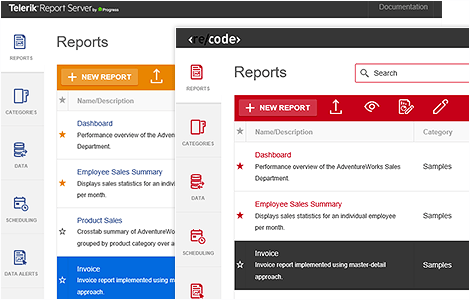 You can now share the Report Server report you are previewing with its current data and parameter values. Just select the desired parameter values (e.g. year, month, department) in the report viewer and copy the auto-generated URL in the browser, which is unique to your preview. Send this unique URL to other people in your organization and rest assured they will see the exact same report you were looking at just seconds ago.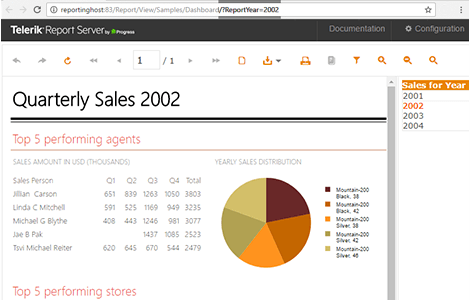 Extended API to Support User Role Management
Report Server already features an extensive user management set, including built-in roles and flexible permission levels. We are extending the server API to support users, user roles and permissions management, giving you the flexibility to control these assets directly from your code.
We hope these new features make Telerik Report Server the solution of choice for all of your report management needs. We are very excited to continue improving the reporting solution and we hope to introduce more important and innovative features in the future. So, stay tuned for any further developments!