This year's European TechEd was a very interesting experience both for us – the guys at the Telerik booth, and for all of you that came to visit it and see what we have been doing lately. We were amazed by the variety of questions you had for us (showing that our whole product line is well-known and widely used) and therefore we would like to say a big Thank you!
One of the intriguing aspects of this year's TechEd and our participation there was our new RadControls for Windows Phone 7 suite that was in its first CTP version by that time. If you are one of those interested in Windows Phone 7 application development and had the chance to come and visit us, you would definitely have had the possibility to play with our WP7 Demo Application, as well as to get a free license for the official version of the RadControls for Windows Phone 7 suite (we've had many to give out...). Being the Windows Phone 7 specialist at the booth, I can honestly say that I've spent hours talking about our new product, giving demos and discussing future development. Many of you shared ideas for new controls or tools clearly proving how much people are excited about Windows Phone development and are eager to learn and be productive. Of course, the "don't break my build" T-shirts were a great hit as well: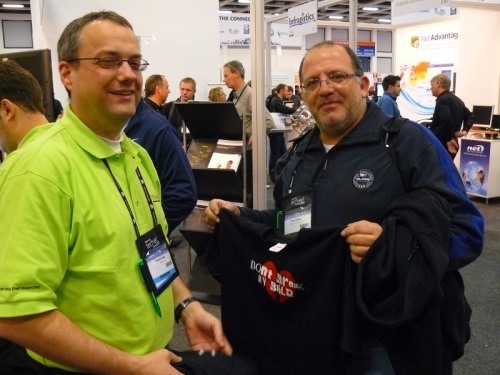 Besides the fun at the booth, we attended a couple of TechEd related parties (the Windows Phone 7 Developer event was amazing!) and we also managed to shoot a video review of our app which you can find on Channel9:
Inside Windows Phone 7 #12: Telerik Controls for WP7
This is a thorough demonstration of the components in our first CTP as well as some words on the development process of the demo application. Since we have a lot more technical information to share with you, you should make sure to check out your blog posts where we will constantly share thoughts, tips and tricks which will make the development for Windows Phone 7 easier.
Another great news is that we are just releasing the second CTP which contains a couple of new controls and a polished demo application. As you know, the source code is available for you to explore and use as an example of how a WP7 application could be built.