The long awaited Q1 2009 release is finally out and with it comes a greatly improved version of RadScheduler for WinForms.
Among the more interesting new features of RadScheduler are:
Multi-day view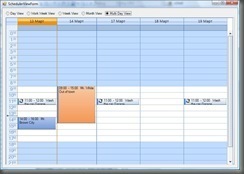 Notice how there are two date time intervals shown – (13 – 14 March) and (17 – 19 March).
Brand new iCalendar import / export functionality which will allow you to make applications with RadScheduler that can exchange appointment data with Outlook. (Dedicated blog post to follow soon.)
Now combine that nice iCal import / export functionality with data binding and you have…you guessed it – support for storing recurrence rules for appointments in the data source in the form of iCal strings. Another new ability of RadScheduler is to bind to the assigned resources for an appointment. All this is shown in the completely overhauled data binding example for RadScheduler: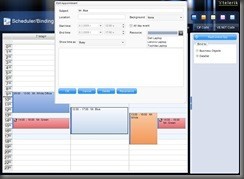 And in the first look example you can see a new side kick for RadScheduler that we have been working on. This is the Scheduler Navigator component which has an interesting story. It started as a part of the example but turned out so well that we decided to make it a separate control and include a preview in the Q1 2009 release (that is why you will not find it in the Visual Studio Toolbox). As soon as it has all the required features, and passes our complex testing process, we will ship it officially.