As the new Q2 2010 release is approaching, we wanted to share some more information about our brand new control RadPageView, meant to supersede existing RadTabStrip and RadPanelBar. "Why yet another tab-strip?" someone would ask. Several are the major reasons that made us create this new control, namely:
Extensibility, scalability and ease of use. With the new semantic that lies behind RadPageView, it is very easy to create custom views over a collection of pages.
Well thought light element tree, which reduces both memory footprint and User Interaction response time and allows for easy and intuitive styling.
Myriad of new features in Strip View mode such as animated scrolling, item fit mode, item alignment, item size mode plus much more.
Pixel-perfect look-and-feel.
Polished and intuitive design-time support.
Optional Header and Footer visual elements to emphasize on each item's role in the application.
All previously known bugs are addressed and all object model design flaws are eliminated.
The old RadTabStrip and RadPanelBar controls will be supported for at least one year after the release of Q2 2010, but users will be encouraged to use the new RadPageView since it addresses the fundamental shortcomings of the previous controls.
Here is how the new control looks like: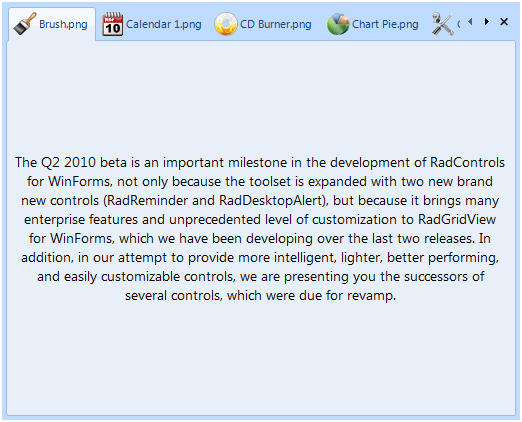 Strip view mode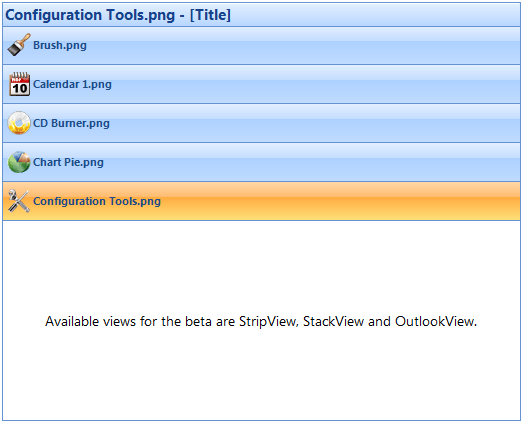 Stack view mode



Outlook view mode
The above three screens are made from one control, which ViewMode property is altered accordingly.
And here is what can be achieved with a small custom theme that enables both header and footer for Strip view mode: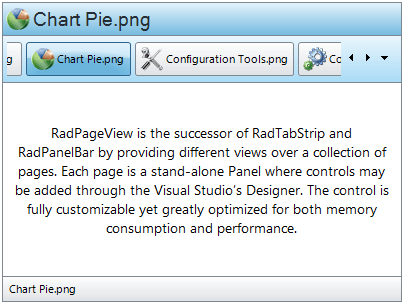 Custom theme – check buttons
We do hope that you will like this new control it and find the added value in it. Do not hesitate to leave your feedback about what can be improved and/or added to the control so that it may be further extended and enabled with useful features.