The Beta version of the upcoming RadControls for Windows Phone Q3 2013 package has just landed and we are really excited about what's included in it. Following the massive Q2 2013 which included the Cloud Controls for Windows Phone we continued focusing on the Cloud and the power it brings to any mobile solution.
Here's what you can find in our most recent release to come:
Telerik Cloud Data Sync now can be integrated with any Azure Mobile Service enabling you to easily store locally and synchronize your data among multiple devices. With a single line of code.
Cloud Dev Center for Windows Phone. This is your developer tool to handle notifications and feedback you are receiving and sending by using the CloudNotification and CloudFeedback controls from the Cloud Controls suite.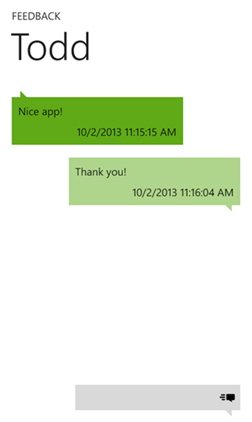 A brand new, scenario-derived Cloud Control: CloudCalendar. With this control you can implement the native Windows Phone Calendar experience including adding/editing/removing appointments stored in the Cloud, browsing appointments and planing accordingly.
Social Networks Login is now supported by our CloudLogin control. You can easily allow your users to login via Facebook, Google or LiveId without having to send complicated OAuth 2.0 requests and parse HTTP responses.
Pinterest-like Virtualization Mode for DataBoundListBox. With this layout mode for DataBoundListBox you can implement Pinterest-like scenarios in your Windows Phone application. Utilizing the already established UI virtualization mechanism of the control, you can bind and visualize huge amounts of photos in a beautiful, mobile-friendly manner.
Read more about:
Check out the Cloud Controls Demos app on the Windows Phone Store here
You can find a more detailed report for the new things in the Beta in the Release Notes.

The official Q3 2013 release is coming later in October, but if you are interested in testing the Beta, you can download the trial build from here. For the license owners, the registered beta build is available under downloads section under their accounts.

We are going to award with Telerik points, every real bug report and suggestion for improvement so don't hesitate to send us your feedback via the Feedback Portal, the support ticketing system and the Beta forum.