In mid-August, sometime after the Q2 2011 release, we upgraded RadControls for Windows Phone 7 to support Windows Phone 7.5 (Mango) and released an official build that contains some major performance improvements in RadDataBoundListBox and also all major controls that were introduced back then with Q2 2011:
Enough time has passed for us to gather some very valuable feedback from you to prepare a Service Pack which addresses some critical issues, introduces a new control (RadBulletGraph) and a meaty new feature in our powerful RadChart. We have also managed to greatly optimize the performance of our Data Engine by using the new System.Reflection.Emit APIs.
RadChart alone represents a whole new world of possibilities in the Data Visualization domain and we are constantly working on extending its capabilities. RadChart has now been further polished and extended with support for different palettes that you can use to bring a personal touch to the appearance of the charts in your application: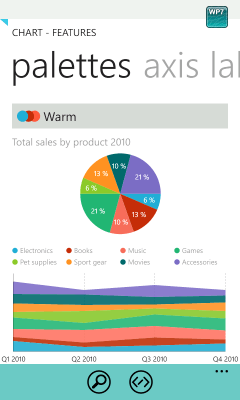 An entirely new control that comes with RadControls for Windows Phone 7 Mango SP1 is RadBulletGraph (BETA):
RadBulletGraph is a data visualization component that clearly and concisely describes a single datum compared to one or two additional data. The main datum is called the featured measure and the other data to which it is compared are called comparative measures.
We have updated our Demos application with two new examples for RadChart and RadBulletGraph to reflect the new functionality. The demos app is available within our download package and will soon be available on the Windows Phone Marketplace as well.
Besides all this we have managed to address all issues that you reported which makes us really happy. Moreover, all fixes that come with RadControls for Windows Phone Mango SP1 are in Q2 2011 SP1 (which is also available for you to download) so go ahead, grab the updates and share your feedback!