We hope you're as excited as we are for ProgressNEXT, and are ready for day two which begins today! We'll be bringing you all the latest updates from the event live on this blog post throughout the day, so be sure to come back often to see what's going on as this post will be updated regularly.
First things first - if you can't catch it in person, we will be livestreaming the ProgressNEXT Keynote Speakers, so that you can watch it from wherever you are. Just follow this link or click below to stream the keynotes live. The keynotes begin right now!
Dmitri Tcherevik Keynote: Emerging Technologies and What They Mean for Your Business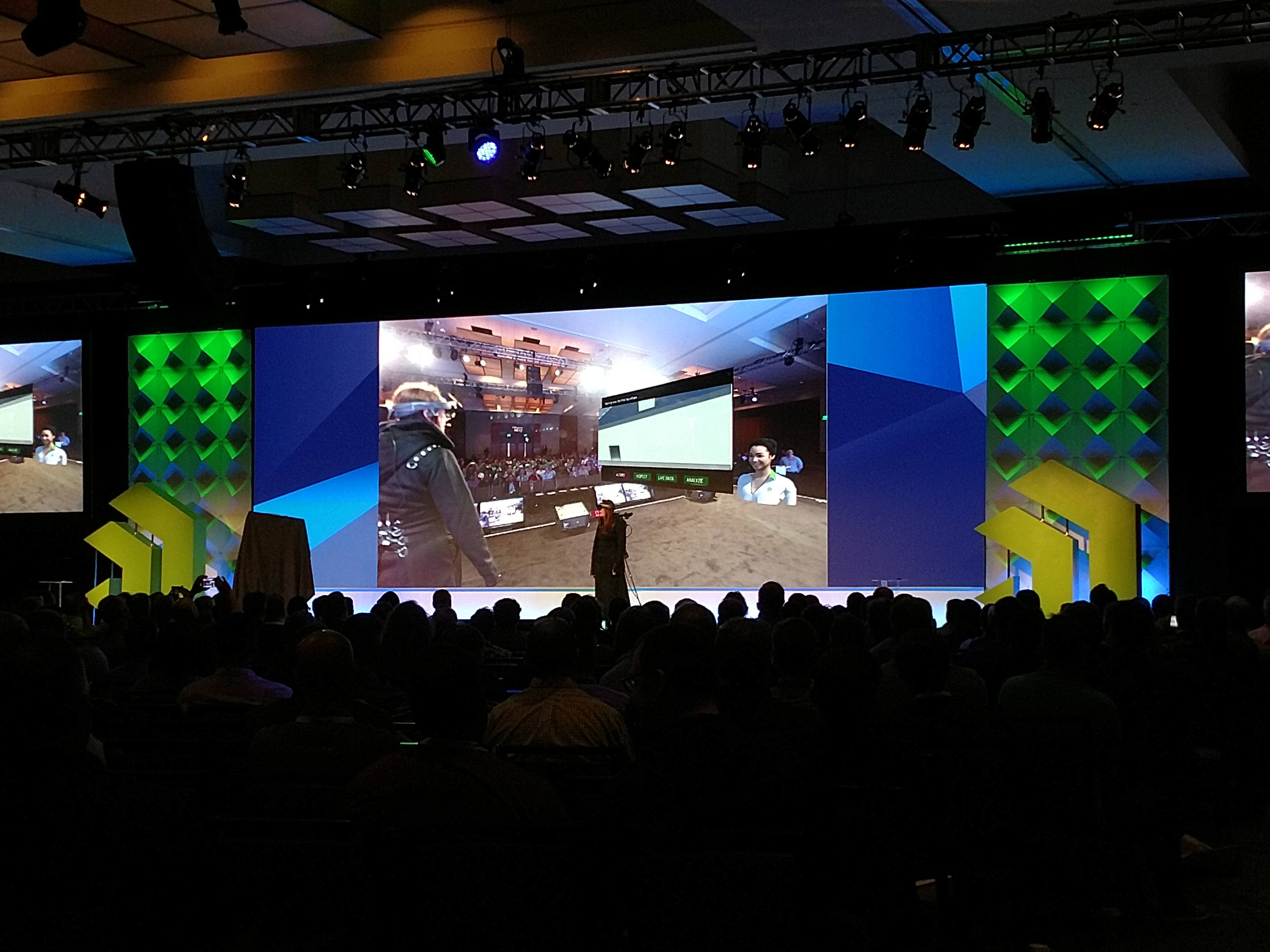 While yesterday on Day 1 Yogesh's opening keynote focused on the amazing things we can do today, Dmitri's presentation centered around what we will be able to do in the near future. He spoke about how the IoT is reducing the idea of a computer down to something that can be smaller than a penny, and the growth of mobility, mixed reality and conversational UI - although he noted how far we still have to go when he made the point that today you still have to "activate" a typical smart voice assistant by stiffly calling their name, something he doesn't even have to do for his cat.
The key to his presentation was a live demo of futuristic technology. In this demo, a factory manager (pictured above) handled daily tasks quickly via microapps on their phone and then donned AR goggles to virtually inspect a remote factory after her helpful chatbot warned her that a part was about to fail. A blockchain-guaranteed warranty was then called upon and a technician was sent out. As the demo continued, the technician also used AR and chatbots to walk through an AI-assisted installation of the new part, which was delivered live on stage via a drone! It was an impressive display, and with technologies like Kinvey, DataRPM and NativeChat, plus the work going on in the labs and with Telerik AR/VR, it's easy to see how this might soon become reality, which is pretty exciting.
Customer Keynotes: Improving the Experience with Personalization and Mobility
Next up we had a pair of customers who shared the success they had in improving the experience of their users using Progress technology. Along with the customer stories from yesterday, it was again really cool to hear all the different ways our technology is making life easier for organizations and their users.
Maud Bernard from Wärtsilä, which works in the global marine and energy markets, talked about the value she received from putting Sitefinity and the Digital Experience Cloud to work in terms of creating a truly personalized customer journey. The result? More prospects saw the information they were looking for and converted.
Raj Sadasivan from Schneider Electric, an international energy management organization (whose customers include the Boston Red Sox!) talked about the need for an effective mobile app. With 800 customer journeys in over 100 countries though, maintaining their apps was a huge challenge. With Kinvey, they were able to offload the backend support and release changes and bug fixes much faster, improving the experience for the users and earning them far more 5-star reviews.
Customer Keynote Panel
After a short break, we resumed with a panel of our five keynote customers, led by Michael Facemire from Forrester.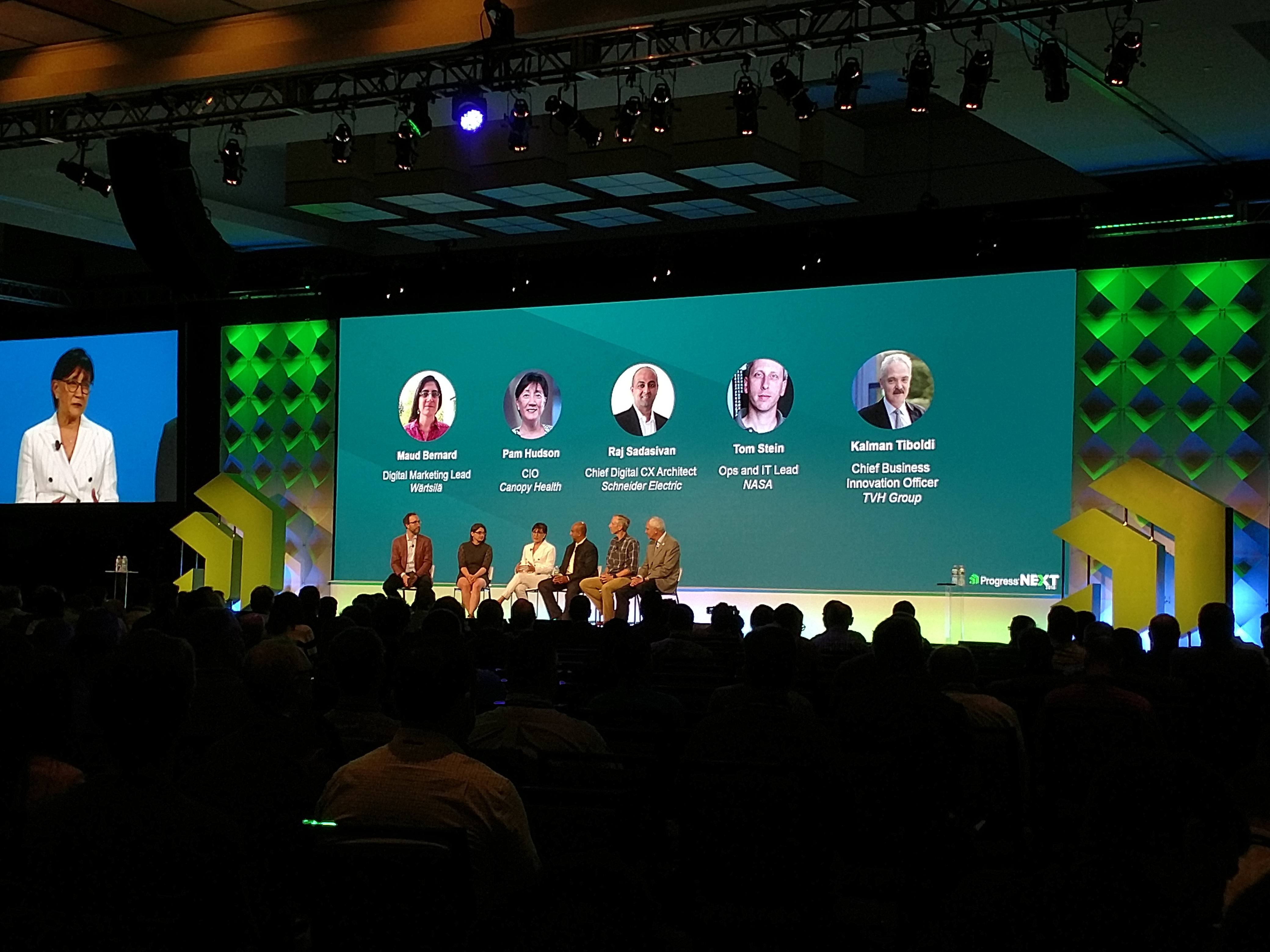 The conversation kicked off when Mike asked, "did any of you wake up one day and decide, today's the day I digitally transform?" From there a lively discussion ensued around how we can change cultures and prepare organizations to achieve digital success. Key takeaways focused around the choice of language - for example, calling it digital "creation" rather than "transformation," and renaming "failure" to "discovery," with the goal of creating an environment where people feel excited about and empowered to grow. There was also a lot of talk focusing on the need for marrying different objectives, such as the underlying technology and the business need and the user experience, and encouraging collaboration to prevent individual teams from forgetting about any of them. Ultimately, everyone agreed that although we talk a lot about technology and data, in the end it's all people-driven, and mindsets need to start there (for managing teams as well as serving customers and users).
App Innovation Awards Part 2
Before we broke for lunch, Loren and Yogesh presented the second trio of our App Innovation Awards!
Best Web UI: FDM4 took this one home for their work modernizing their ERP system. Now employing a Modern UI, it's now updated to appeal to their young and style-conscious audience, mobile-friendly and easy to update.
Best Healthcare App Experience: The big winner here was iTether. I saw them speak yesterday at the Kinvey panel breakout session, and they are doing amazing work with Progress Health Cloud to transform the experience for users recovering from addiction - quite literally improving and saving lives.
Best Industrial/Manufacturing Solution: Yogesh mentioned that this was an especially tough choice as so many of our partners and customers are in this space. The award went to our partner, QAD, for their amazing and innovative ERP system, powered by OpenEdge and Kendo UI. QAD is actively looking into including DataRPM and other Progress cognitive tech into their solution soon as well.
Lunch and Expo Hall Demos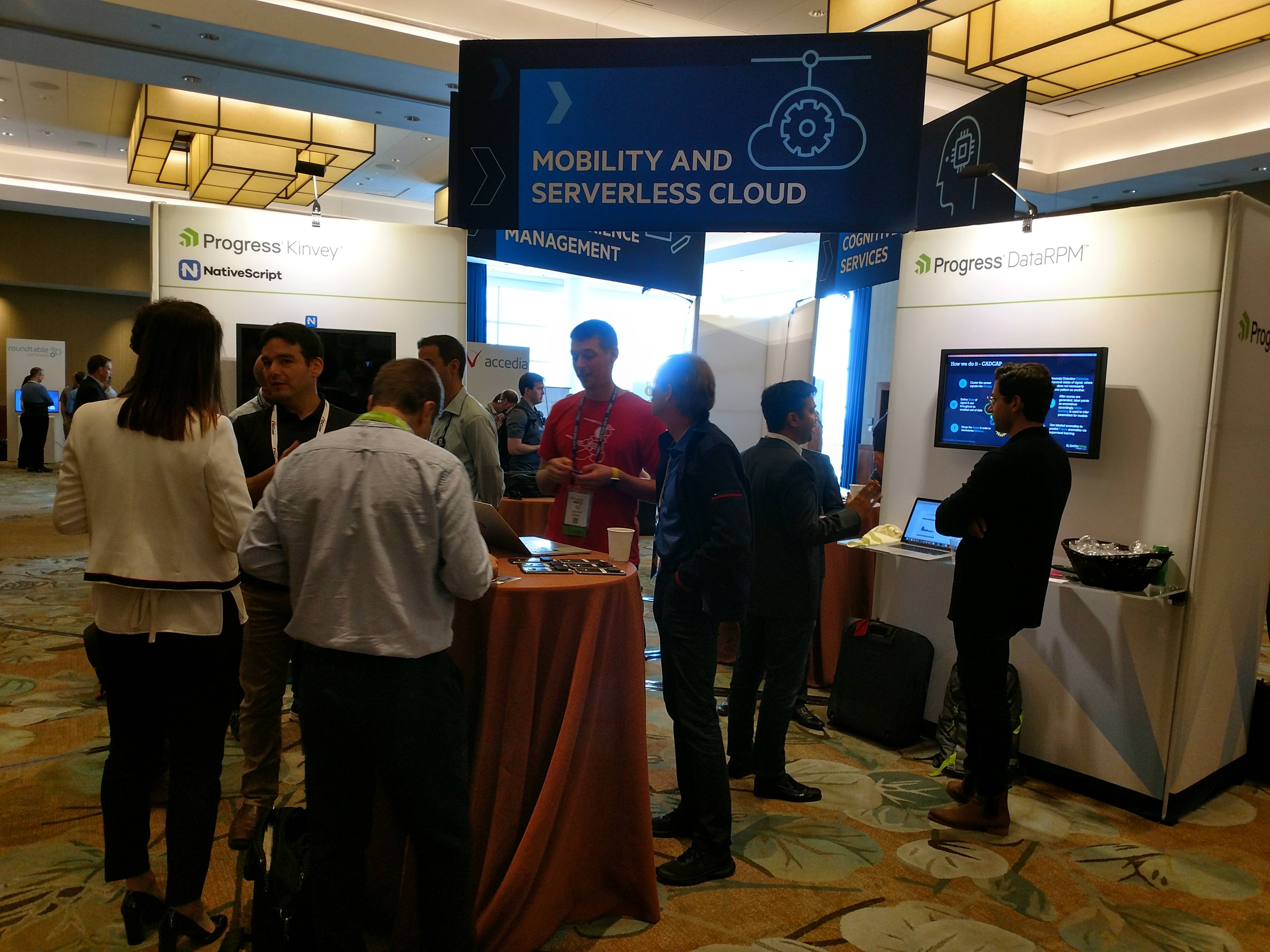 Once again, while lunch was going on our Expo Hall was bustling with demos where people could find out more about a variety of our products and those of our partners. Above, you can see folks from our Progress Kinvey and Progress DataRPM team hard at work.
ProgressNEXT 18 Trending Again!
Over lunch I checked in with our social team, and once again discovered we are a top trending event in Boston!
Join in the conversation! #ProgressNEXT18 is the hashtag to use - let us know what you think!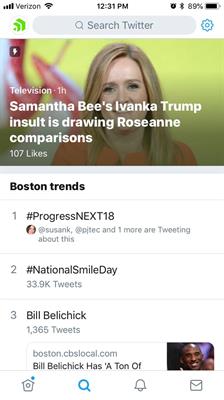 Breakout Sessions: Predictive Maintenance, Testing Automation, Future of UI and Modernization
After lunch there were a range of breakout sessions covering way too much for one person to see. Here are some recaps from the ones I was able to attend.
Self-Service Detection and Prediction Brings Machine Learning to the Masses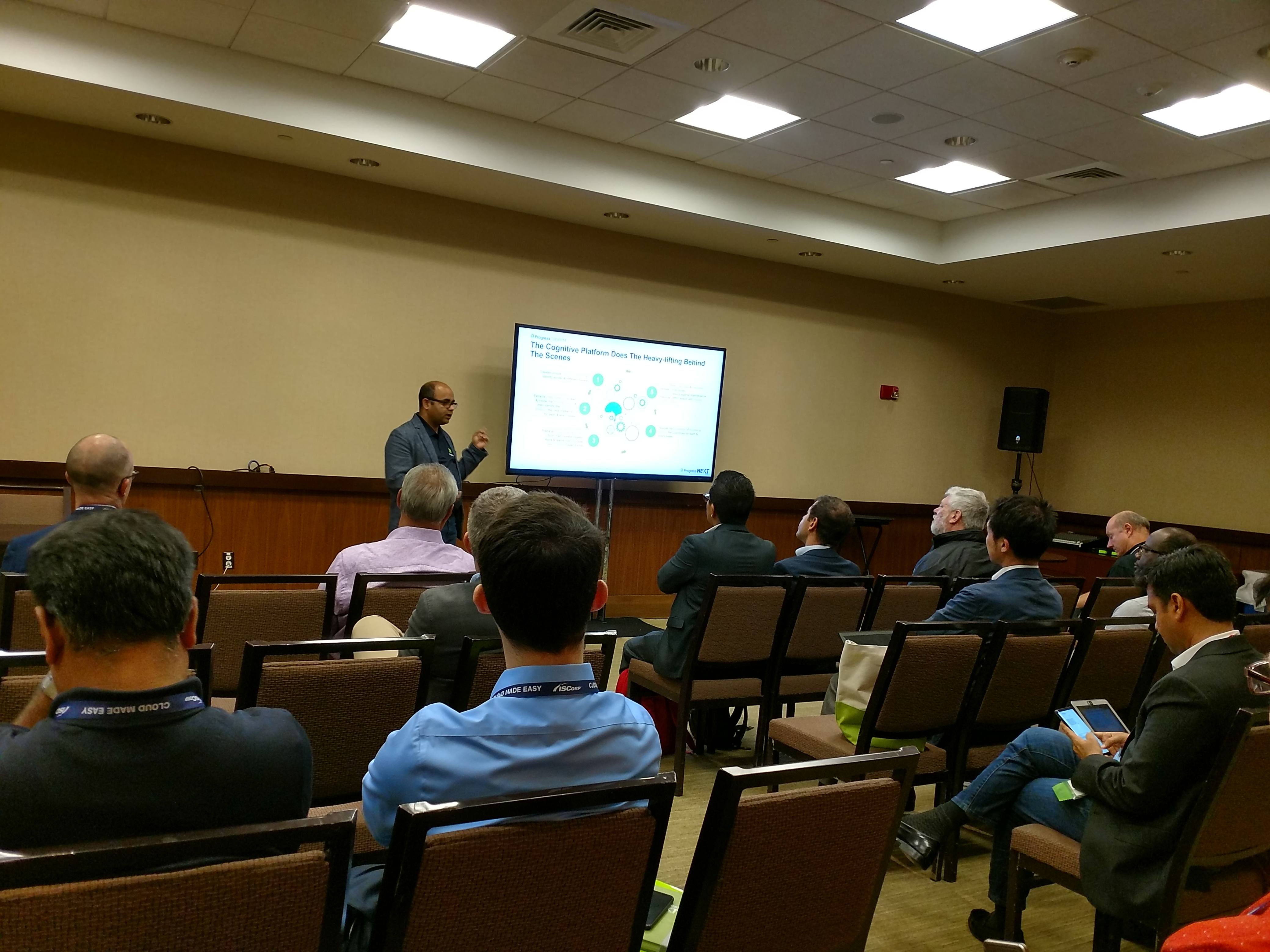 In this session, Ruban Phukan explained that the fourth industrial revolution is upon us, thanks to the proliferation of high quality smart sensors on machines. But there are challenges, like a massive shortage of data scientists to analyze all this data, plus the fact that 80% of problems are new and unknown - they can't be prevented just by avoiding a problem you've previously encountered.
Enter the DataRPM predictive maintenance solution, which can make predictions about what might fail before it event happens. It does this using meta-learning to train itself and making it easier to draw predictive insights - it's like a super power your data scientists can use to be far more productive. I watched a live demo of the solution in action, where Ruban uploaded timestamped sensor and event data in an Excel sheet, and in moments it delivered a report with insights about abnormalities, and visualizations displaying anomalies and predictions over time. There are advanced tools for data scientists to play with but it's essentially code free, and if you've been wondering how you will ever leverage the massive amounts of data you've been collecting, this interface makes it remarkably simple (take it from this non-data-scientist).
Go From Manual Testing to Automation With Test Studio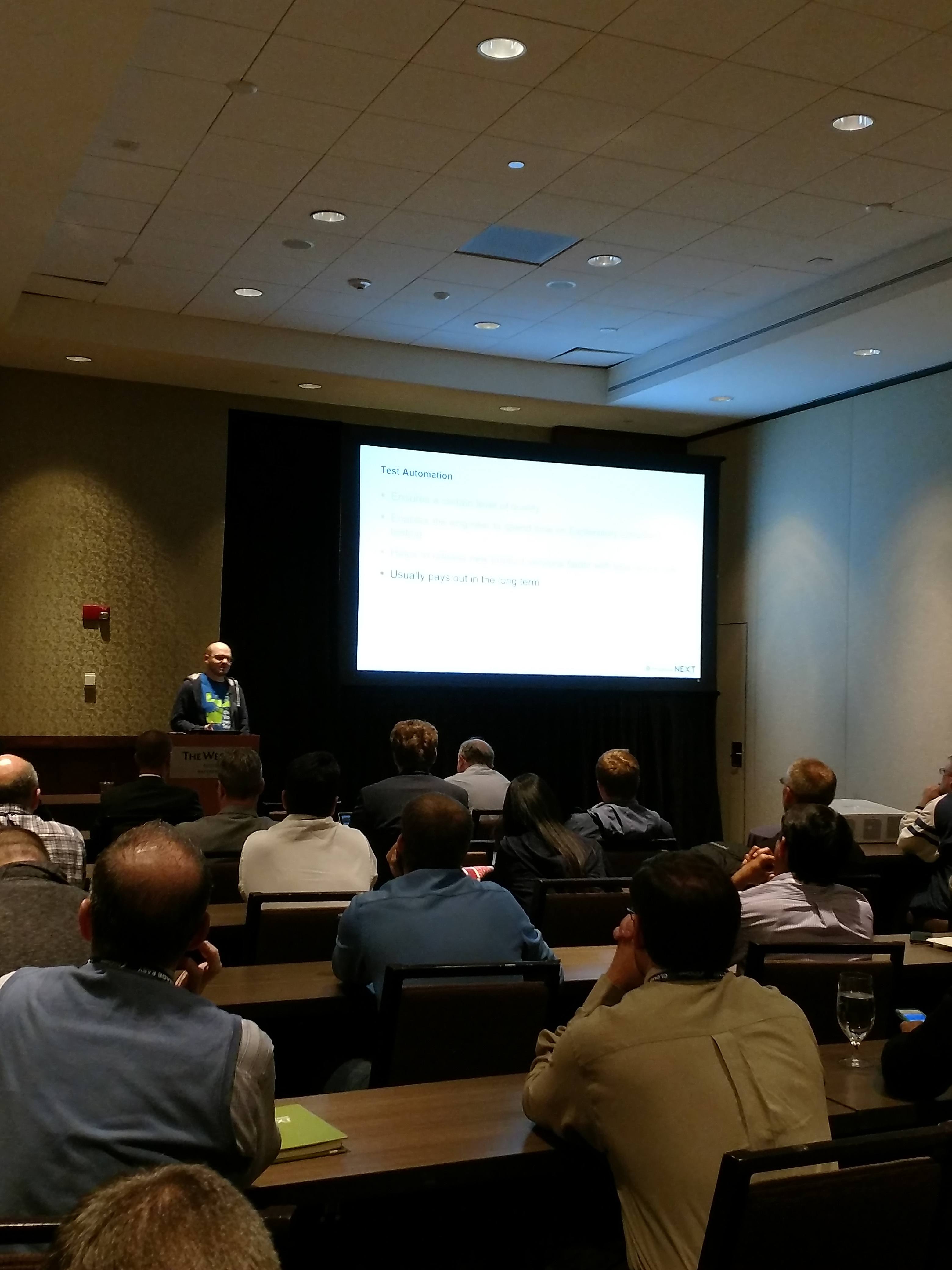 In this standing-room only session, we learned about the value of testing automation. Iliyan Panchev started us off by explaining that while automation is a good thing, it's important not to go crazy with it and automate everything just because you can - it's not the only way to test, nor should it be. While it can ensure a baseline level of quality and free up time for other exploratory testing, if implemented poorly it can actually reduce quality. Iliyan showed us how Progress Test Studio features like its powerful recorder, coding features, rich UI and dedicated support help make automation easy, and gave us a live demo showing it all in action.
The Road Ahead - Future of UI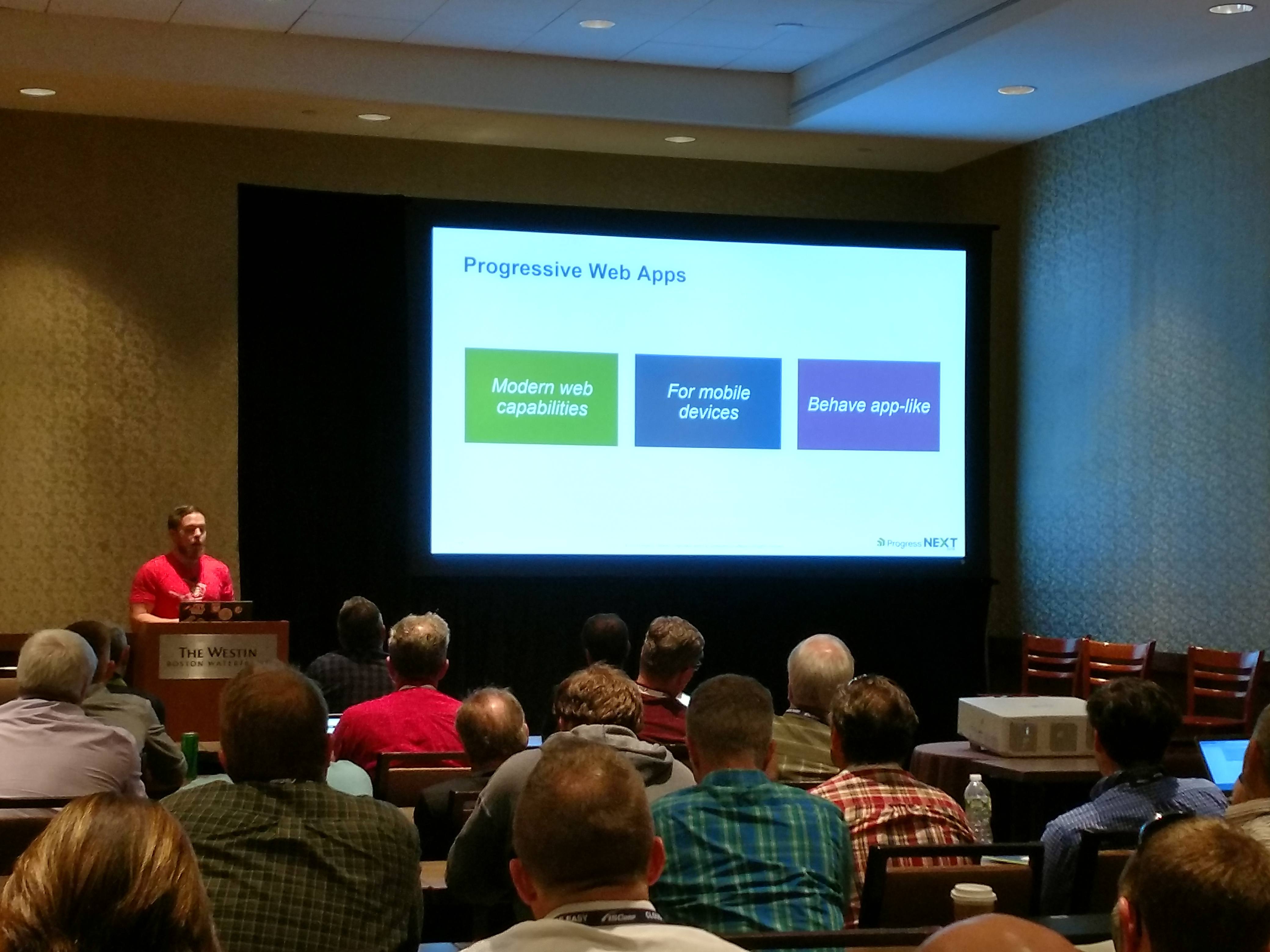 In yet another packed session, Carl Bergenhem and Stefan Stefanov took us on a journey to the Future of UI. They began with a quick history of the Telerik UI and Kendo UI tools, including brand new capabilities in Kendo UI for Angular and React, and powerful modernization tools we have in our UI for WPF and WinForms suites. Then we began to look ahead as Carl described how Kendo UI can play with Progressive Web Apps, Electron and Web Assembly/Blazor. Stefan also explained some cool benefits to the upcoming .NET Core 3, which will both enhance WPF and WinForms apps as well as improve .NET Core. Finally, we covered the cognitive world to come, particularly as it relates to smart chatbots, and how we can help power them with Conversational UI, as well as AR/VR and where we are headed with UI for the AR/VR space.
Modernization Journey: Upper Lakes Foods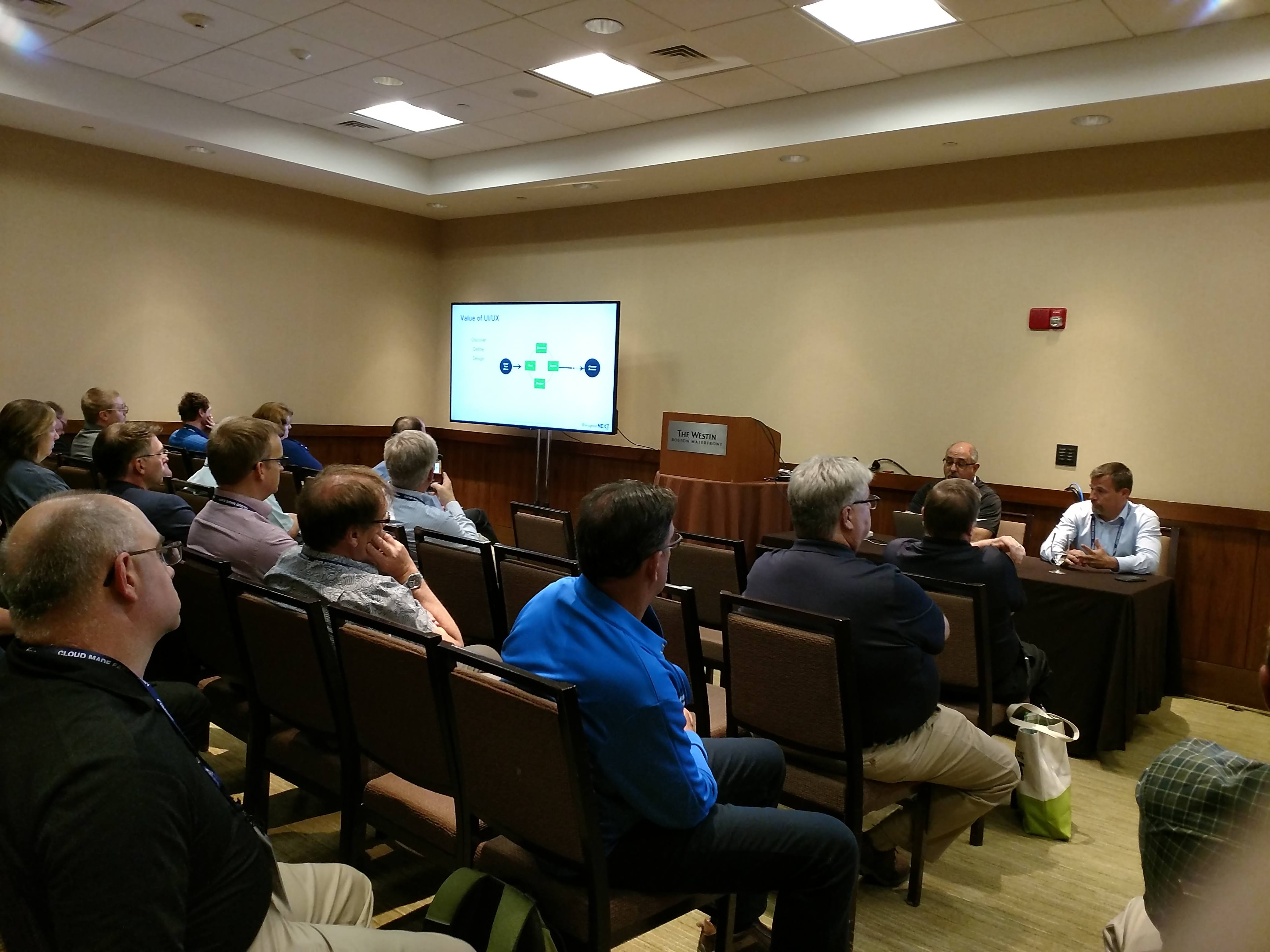 Alex Olivery from Progress Professional Services (along with Tim Nelson, CTO of Upper Lakes Foods) led us in a session on the modernization journey of family-owned Upper Lakes Foods, which distributies millions of cases of food in ten states to restaurants (both Mom & Pop and chains like Wendy's), hotels, schools and many other places. Using a combination of OpenEdge with Pro 2, Kendo UI and (soon) NativeScript, they upgraded their systems to add new functionality like a responsive online ordering system with a modern UI, compliance with GS1 global transparency standards and slick mobile apps for their drivers and pickers to handle inventory. These and other updates allowed them to meet specific customer demands quickly and increase the ability of their customers to self-service their ordering and data collection, making them happier and reducing calls to customer service.
And that's it for day two! Tonight attendees will be treated to a ProgressNEXT party. We'll be back here tomorrow on day three to cover the keynotes and breakouts to come.