Setting prices for your creative work can be stressful—to the point where some of you may just want to copy what the competition is doing. But what if those budgets are too high or low? With a quick but careful examination of your cash flow, you can come up with the perfect rates for your projects.
When you sit down to come up with the price for an upcoming project, where do you start?
If you've never gone through this exercise before, you may just be shooting from the hip. So when a prospective client asks how much it's going to cost them, you give them something off the top of your head. Or quote them the same amount you charged the previous client.
At the time, you might feel okay with the quote you give them. You're sure you can get the job done by the promised date as well as under budget. But what happens if you don't? More importantly, what does that mean for your earnings? While you might complete the project below the set budget, do you know how much of a profit that translates to?
When setting prices for your design jobs, you have to think about more than what will seem like a fair rate to your client. Because if you're not actually making a profit, it won't be long before you find yourself feeling burned out and wondering why you're working so hard but not seeing much of a return for it.
How To Create an Accurate Design Budget
There are a number of factors to think about when putting together your budget:
How much the project is going to cost you
What kind of profit you want to make to cover your costs and pay yourself
What your client is going to get out of this
Follow these five steps to come up with a design budget quote that works for you and your client.
As a bonus, you can download this project budget template I created in the making of this post.
Step 1: Gather Up Your Overhead Costs
Overhead is the money you pay to run your business, maintain your systems and market yourself. So things like office rent, utilities, insurance, taxes, etc. Even if you didn't have any projects to work on, you'd still have to pay for them in order to stay in business.
Overhead can be tricky to calculate because the lump sum has to be distributed across all your projects. Here's how I handle it: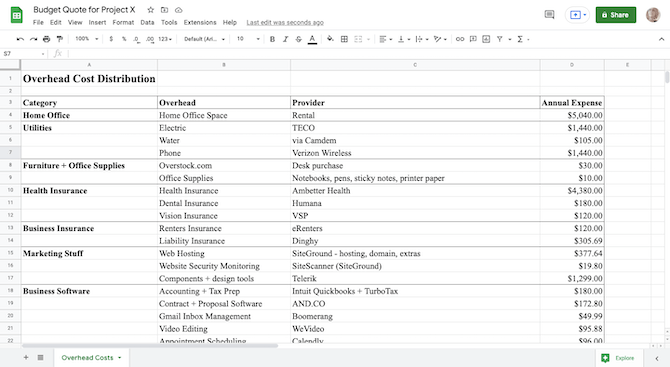 I keep a running tally of everything I spend money on all year long. This includes costs related to:
Home office
Utilities
Furniture and office supplies
Health insurance
Business insurance
Marketing and sales
Business management software
Professional membership fees
Business licenses and taxes
Payment processing fees
To figure out how much to allot to each project's budget, I do the following:
Add the annual cost of each overhead item to the spreadsheet
Total up all the costs at the bottom
Divide the total by the average number of projects I complete each year
The cost distribution might not be perfect since some jobs will take longer and cost more than others, but that's okay.
Keep in mind that the point of this exercise isn't to charge clients for your costs. What we're doing is trying to figure out how much money goes out of your business every month. If you have no idea how much you're spending, then there's no way to know how much to charge. So, we use these numbers to establish your cash flow, set a baseline for how much to charge, and then make sure you make a profit from each job.
Next, you need to figure out how much the direct costs of the project will be. While you can calculate overhead once a year and usually be done with it (unless you add or remove business costs throughout the year), this one will need to be done for each job.
As a designer, you might not have much in the way of costs for individual projects. Maybe licenses, hosting or apps, but that's about it.
Don't forget that time is money, too. The monetary value of your time (and the time of any of your project collaborators) should be counted toward your total project-related costs.
Here's how I tabulate this data: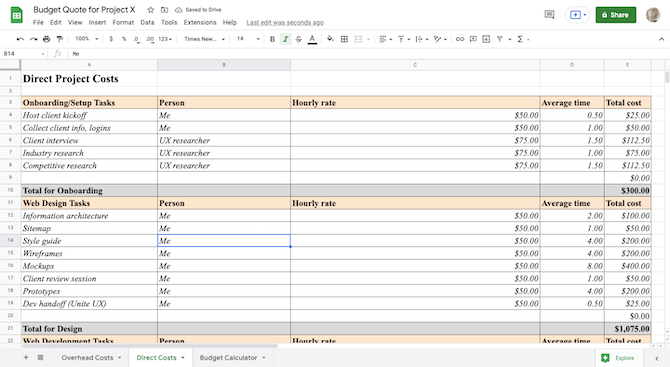 I've broken this spreadsheet down into different phases:
Onboarding/Setup
Web Design
Web Development
Copywriting/SEO
QA
Project Management
Tools
Depending on the scope of the job, I write in all the relevant tasks, along with the person responsible, their hourly rate and the average time it'll take to complete the task. When setting up your own, feel free to add or remove phases and adjust the columns accordingly.
If you don't have the timing data on hand, I'd recommend setting yourself up with a time tracking app (like Toggl) and then keep tabs on everything you do. After a few months, evaluate the data and calculate the average completion times for each task—do this for your design work as well as for your project administration duties.
Until you have that data, use estimates in the Average time field. Then multiply the average time against the hourly rate in each row to get the direct cost for each task.
Sum up the total costs at the bottom of each phase. We'll be using these values soon.
Step 3: Figure Out Your Project Min and Max
One of the reasons why you need to use a time tracker instead of going with your gut is because you need real data in order to guarantee real profits. But there's another reason why you should use one.
Not every job is going to go as quickly or smoothly as the others. And some will go way better than others.
While you'll use the data gathered above to come up with your quote, you should also know what your project min and max are before you finalize it.
When you compare all the projects you've completed and their associated costs, look for the lowest (min) and highest (max) values. These jobs should be more or less the same size so you have an accurate picture of what you're capable of achieving in terms of high and low project costs.
Make a note of what these values are once you've found them. You're still going to calculate your budget based on your average costs, but you'll reference the max value when determining the markup. Otherwise, you risk charging too low of an hourly rate or markup and then end up losing money.
This analysis will also help you evaluate what happened on the projects with higher costs.
Ask yourself this: Are there certain types of recurring issues or circumstances that keep you from staying under budget? If so, then something needs to change.
One thing you may have to do is modify your process to remove the related inefficiency or to cut down on costs if you're paying for stuff you don't need. Another thing is to update your contract. If unwieldy clients are the source of the issue, make sure your contract outlines all associated penalties—like fees and project pauses—if any such issue should arise.
These kinds of adjustments should help keep your project costs from running too high.
Step 4: Enter the Costs in Your Calculator and Set Your Price
In the last step, you're going to bring together all of the data we've gathered so far to come up with your quote.
What I do for this is use a simple budget calculator: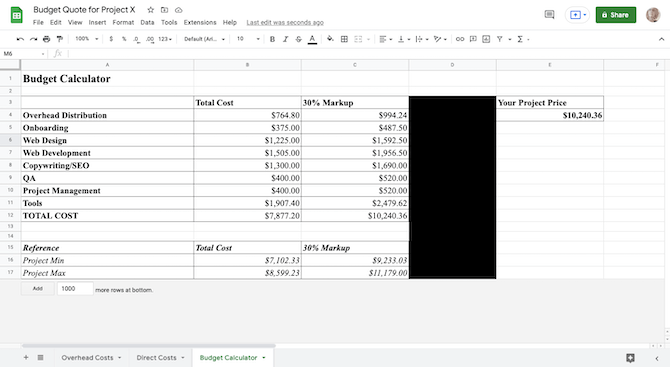 The main section on the left pulls in all of the costs from the "Overhead Costs" and "Direct Costs" tabs under the "Total Cost" column. You can see that I've also included the Project Min and Project Max at the bottom as a point of reference.
By the way, most of these values are connected to the other tabs, so I don't have to fill in anything in this step except the min and max values: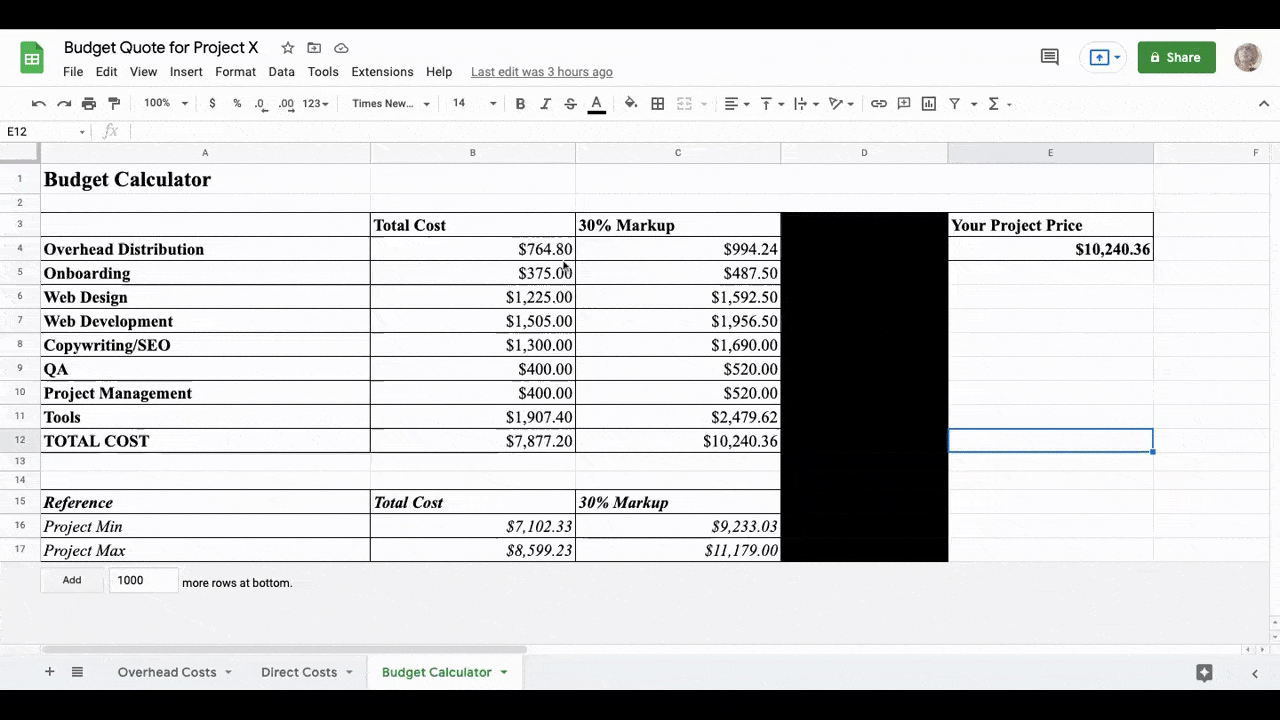 When I update the data—whether it's because my overhead has changed or because I'm quoting for a new project's costs—the budget calculator automatically reflects those changes.
I then apply a 30% markup (just multiply the values in column B by 1.3) to come up with the total cost for the design project.
It's up to you how much you want to charge in terms of a markup. I've found that 25% or 30% is a good number to start with, as your profit may be around a quarter of each project's earnings. Depending on the goals of your business, you may want to increase this so you have more cash to put toward hiring and scaling up your operation. But it'll have to be justified. You can't just charge a 75% markup because you want a bigger chunk of the pie.
A good way to keep your price and markup in check is to look at what the going rate is in your industry. Is your project price much lower or much higher than what everyone else charges? Now compare your unique selling proposition to theirs. If you offer more value, the price difference may be valid.
Also consider what your clients get out of it. What does one user, lead or customer mean to them in terms of money? For instance, if you design a website for a prestigious law firm that charges $500 an hour and the site gets them their first client within a month, they could realistically cover the cost of a $15,000 site within a couple months.
So, if the resulting price looks too high to you, don't immediately rush to amend your numbers. This calculator should help you understand the context of what you do and why you charge what you do.
Wrap-up
When it comes to creating quotes for design jobs, why risk putting yourself in the red and one project away from burnout simply because you didn't run the numbers? I know it's no fun having to sit down and do accounting stuff like this, but think about what a world of difference it would make if you could:
Templatize the process and get quotes out the door to prospects in no time at all
Ensure that you cover your business costs every month
Charge a competitive rate that also conveys the value of what you do
Have the freedom to scale your business any which way you want and to have the resources to do it
Bottom line: This is a simple enough process to follow and is going to make your life and your work a heck of a lot easier.