With the R2 2018 release of our Telerik products we will be adding the Format Painter to the Telerik UI for WPF RichTextBox & Telerik UI for WinForms RichTextEditor. Here is a short preview of the feature and its functionality.
New functionality is coming to the Telerik UI for WPF RichTextBox & Telerik UI for WinForms RichTextEditor – the Format Painter – with the R2 2018 release of Progress Telerik. A huge thanks to all of you, who actively suggest features and updates to the suite via our Feedback Portal. You've been of tremendous help to us in shaping the product roadmap. Based on your requests, I now introduce to you the Format Painter!
What is the Format Painter?
If you have used any of the common document and text management applications in Microsoft Office, like Word, Excel or Powerpoint, you have faced the challenge of styling and formatting texts to fit the rest of the content in the file. This is where the Format Painter comes into play.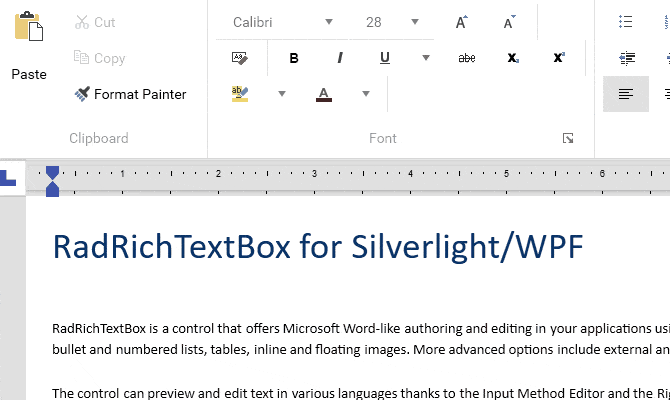 By highlighting a certain part of the document and using the format painter, you can easily duplicate all the formatting from the source to another part of the text with just a single click, making it extremely easy to have consistent formatting across different sections. As you can see from the GIF, the UI closely resembles the one in the Microsoft Office applications, which provides a smooth user experience to the end-users of your application.
Try the New Features on May 16th
Update: The R2'18 Release is live and available for the taking.

The Format Painter is just one of the many new features and functionalities shipping in Telerik UI for WPF & Telerik UI for WinForms with the R2 2018 Release. Conversational UI, the official version of the file dialogs, RegEx validation to the MaskedInput control and ChartSeries animations in the ChartView are among some of the other top highlights of the WPF release, but that's still not the full list!
The new version will be live on May 16th and ready for you to test and use in your WPF and WinForms desktop applications right away, so make sure to either upgrade through Your Account, or simply download a fresh trial on the big day.
Learn More at the Webinar
While you are patiently waiting, consider signing up for the Telerik R2 2018 Release Webinar, where our developer experts and product team members will be covering all the latest and greatest features of the release in detail. See you there!