Forbes Bulgaria recently featured Telerik Academy as an "incubator for developers." We're honored to have our investment in developing people recognized.
Telerik Academy
, a free educational initiative for training software engineers, has been in the press a lot lately, winning
several
recent
awards
. Telerik Academy is designed for aspiring engineers of all ages, and has successfully trained students across Bulgaria.
This academy is entirely sponsored and organized by Telerik, a Progress company. Over 4,000 adults and 5,000 kids have completed the training since its founding in 2009.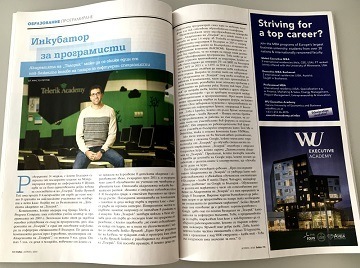 Boyko Iaramov, co-founder of Telerik and Telerik Academy Director, recently sat down with Forbes Bulgaria for an interview. The article (
Incubator for Developers
, pictured right) talks about the growing need for developers in the region and the critical role Telerik Academy plays in satisfying that need.
As Paris Childress, Business Development manager of Google for Bulgaria (and a current partner of Telerik Academy), puts it in the article: "In recent years, Telerik Academy has established itself as the most renowned and respected IT training institution in Bulgaria."
Without further delay, we're happy to share the whole article with you below (translated into English). We've long been focused on developing people—thank you for your support in helping us make a difference in our communities!
Incubator for Developers

Telerik Academy may turn out to be one of the strongest trump cards on the software specialists market, serving an industry worth BGN 1.6 billion.

Written by by Hristo Petrov, Forbes Bulgaria
Photo by Forbes Bulgaria

The record breaking 14 medals that Bulgaria won at the last International Informatics Competition in Shumen were just one aspect of the good news for Telerik co—founder Boyko Iaramov. He contributed significantly to the ranking of 4th and 5th graders at the leading 8 positions: they all are trainees of the Telerik Kids Academy.

The company operating under the brand Telerik, a Progress Company, has been running its own training center for developers since 2009. Today, the Telerik Academy, which started as an attempt to meet its own demand for developers, is one of the major sources of software specialists in Bulgaria. The company reports that nine thousand people have participated in the courses held by Telerik Academy. Five thousand of them are children and young people, most of whom registered for the kids academy courses – a training unit set up in 2011 and focusing on training pupils from 4th to 12th grade only. The academy has demonstrated remarkable growth since then: the unit has established its own schools in 10 Bulgarian towns and the list will most likely grow. The latest initiative of the company – classes for kids from first to third grade - also generates significant interest. The fifty places for the first class are usually filled within just 4 minutes.

This is how Telerik closes the cycle and trains kids from the first to the last school year of the high school program, thus meeting 'not only its own demand for staff, but also that of the ecosystem', explains Boyko Iaramov. 'Years ago my parents used to say that a foreign language is the window to the world', says Iaramov, who is director of the Telerik Academy. He provides examples how kids from the academy develop games for mobile phones or their own educational platform – 'We believe that programming is one of the new windows leading to progress. Not only in the IT world. Developing logical thinking in kids from the earliest age allows them quickly find their path in the world.'

The financial stake behind training centers like the Telerik Academy is not small at all and is estimated to be at least BGN 1.6 billion. This is the amount of the income of the software industry in Bulgaria in 2015 according to the preliminary data of the Bulgarian Association of Software Companies (BASSCOM). The sector has been sounding for years the alarm that the labor market needs more qualified developers. This may be a serious stumbling block for an industry which is expected to generate as much as 2% of the Bulgaria's GDP (with 1.86% in 2015 and 1.65% in 2014) and in which 80% of the companies expect to employ more staff this year. Although most of the people who graduate from the Telerik Academy are employed in the company, some of them move to other companies and this partially solves the problem with the demand for work force.

This in turn makes Telerik do what other training centers do – becoming an intermediary between employers and developers. In March the company organized its first career forum where it arranged a meeting between its former trainees and representatives of software companies operating in Bulgaria. 'This is a step we have long been dreaming to make', says Iaramov. 'I do not know the exact number of job offers but I am sure that most of the forum participants have been offered jobs.' The employers at the forum were represented by Bulgarian start-ups, such as Taxi Me and Domestina, as well as large-scale companies like VMWare.

If these names do not impress you enough, what about Google, the giant that last year requested from Telerik to train specialists in digital marketing. Telerik responded with an 8-week course called Telerik Digital Academy. The project, which is in its early stages and is expected to provide Google with people who can work with its digital tools, will train about 50 people per course.

Google seems to be happy with this. 'In recent years, Telerik Academy has established itself as the most renowned and respected IT training institution in Bulgaria,' says in an e-mail Paris Childress, Business Development manager of Google for Bulgaria. 'Digital marketing training seemed a natural extension for Telerik Academy and has been a top priority for Google in Bulgaria. We saw a great opportunity to work together to supply the market with much needed digital marketing talent.'

Boyko Iaramov also has a reason to be happy: the partnership with Google is an even stronger validation of Telerik as an incubator for software talents. This, and the advantage to be the number 1, indicates whom the employers are most likely to contact, when seeking software engineers. Iaramov knows this very well. 'What started as a private initiative with some 70 trainees today is a living system with more than 9000 students', he says, 'This is surely important for them'.

Forbes Bulgaria