We are very happy to start off 2016 with applause. This week Telerik, a Progress company, has once again been distinguished by Forbes Bulgaria, winning two first-place awards: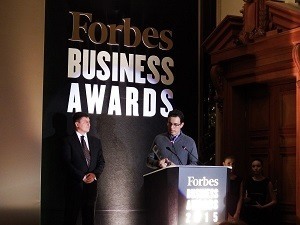 Telerik Sitefinity CMS and Digital Experience Cloud (DEC) are web content and digital experience management solutions, trusted and used by thousands of customers worldwide. The Sitefinity and DEC platforms empower businesses to engage, convert and retain customers on the web. They also help attract new customers and prospects. In 2015 Sitefinity was included as a Visionary in Gartner's Magic Quadrant for Web Content Management (WCM).
Telerik Academy is a free educational initiative for training software engineers in Bulgaria of all ages, from kids to young professionals. Telerik Kids Academy is a national program teaching kids ages 10-12 how to code. With two learning tracks—algorithmic programming and game development—and a wide national scope, the program annually engages an average of 600+ school children in 10 Bulgarian towns. Since 2010, over 3,000 children have been trained by Telerik Kids Academy.
This is the third time Telerik has won multiple awards from Forbes Bulgaria. In 2015, the company took home a grand total of four awards—first-place awards for Business Development, Product Quality and a special accolade Deal of the Year at Forbes Business Awards, plus Best Corporate Website for Telerik.com at Forbes E-volution Awards. Telerik also earned two Forbes Business Awards in 2012, for Human Resources Development and Community Involvement.
Forbes Business Awards are held annually in Bulgaria to honor inspiring and enlightening business stories and encourage good business practices, innovation and entrepreneurial spirit in Bulgaria.
With such a great start, we at Progress believe that 2016 will be an exceptional year for us. Because we have the most important element to make it one—an exceptional community. So we would like to thank and wish the whole Progress community a year full of successes, empowering innovations and high entrepreneurial spirit!