So this is not my normal type of post, but I wanted to take a moment to thank the folks over at the Fairfield / Westchester Code Camp for a great time this past Saturday. They had 24 sessions going over 4 tracks to cover the day, with a lot of great content on everything from my personal favorite, Silverlight, to Azure, F#, Poweshell, and a ton more. Looking forward to all of the presentations being posted online so I could see some of what I missed.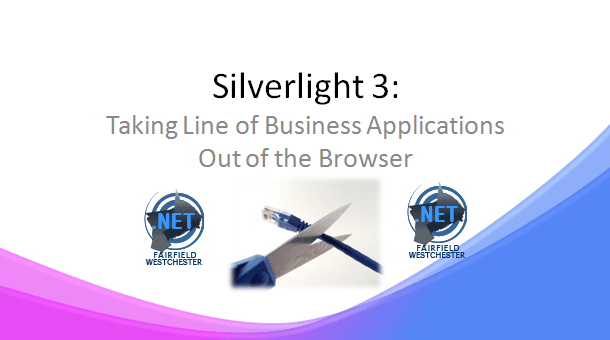 Telerik was one of the sponsors for this awesome code camp, but aside from that I was able to present a session on Silverlight 3, specifically in regards to the out of browser functionality and all the fun stuff that entails. I knew it would be a conversation starter and people seemed to have a great time. There's so much to consider in those scenarios and I am thankful, especially in the more cozy Code Camp format, to have gotten such a fun discussion going over all the considerations that go into the client-side application scenario. If you wanna check out the demo apps, you can download the sample code here.
All in all it was a great experience, and while next week at PDC is going to be crazy, it's great getting to spend time at and to sponsor regional code camps, because there is such a great community in this area!