A mobile app will look better if you have a designer helping you, right? This one is a no brainer. Reality is that many Windows Phone developers don't always have this luxury. Matching the Metro design guidelines to the highest Metro standards can also be tricky sometimes.
To help you on this front, RadControls for Windows Phone introduces Metro Design templates for Windows Phone with this second release for the year. More than 20 page and content Metro design templates will make your app nicer and your job easier. On top of that you get a Visual Studio wizard helping you configure the app's entire infrastructure. What's left for you is to fill-in your apps' content:


The templates include: about page, error handling support, trial messages, pages with details, galleries and many more which are of course following the Metro design guidelines.
If you are already fascinated, you can just go ahead and download our Q2 2012 release which includes the Design Templates, if not – keep reading.
Application Wizard
The Design Templates come with two wizards that are fully integrated with Visual Studio. The first wizard is the application wizard. When you create a new project you have the option to create a new RadControls Windows Phone Application. Then you can choose what pages you want to include and whether you need some of our Application Building Blocks and when you click "Finish" the application is automatically generated and the selected pages and building blocks are created and integrated nicely into the application: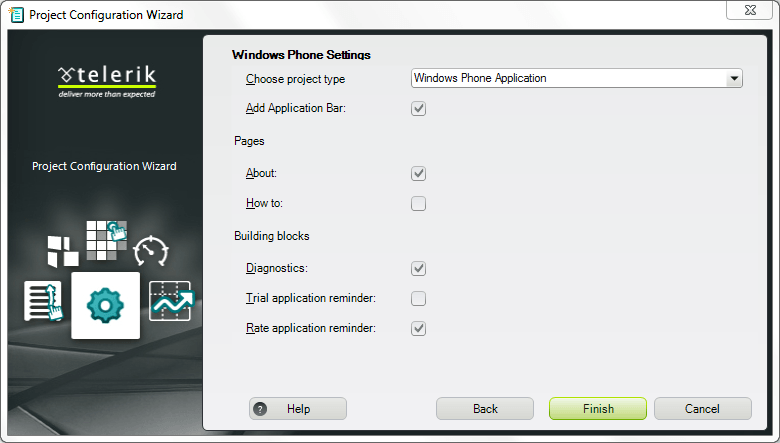 Item Wizard
The second wizard can be started by choosing Telerik Item from the Add New Item menu. It allows you to add other pages to the application: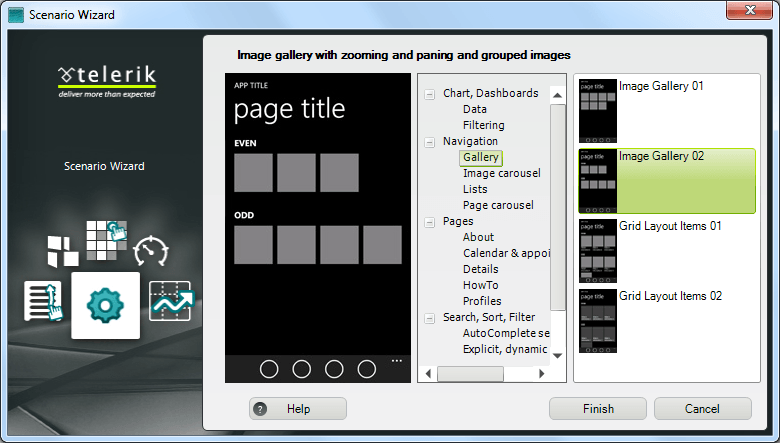 The templates are grouped into categories and have multiple tags, which make them easier to find in the wizard. The tags include dashboards, galleries, lists, calendars, searches, profiles and many more.
It gets even better
The templates also provide a solution to common design challenges. Their aim is to help not only developers create the application easier, but also the designers to come up with a professional looking application with minimum effort. For example, if you need a page with a gallery, you can browse the templates with the "gallery" tag and select the one you like most. Then you just add the photos and your gallery with thumbnails, pagination, panning and zooming is ready to go.

We are planning to deliver even more templates and we will be more than happy if you share whatever feedback and suggestions that you have in our forums. The templates themselves are part of our Q2 2012 Release which you can download here. And hurry up because while you were reading this blog post, someone has created a full application from scratch by using Telerik Design Templates for Windows Phone.