For those of you who haven't taken a look at Telerik Trainer, I highly recommend you give it a once-over and see it for yourself. Using the newest technology that .Net 3.5 has to offer, we have a rich, interactive, and easy to use training application that provides you with not only fantastic video tutorials, but also tips along the way and source code that you can follow along with to help in the learning process: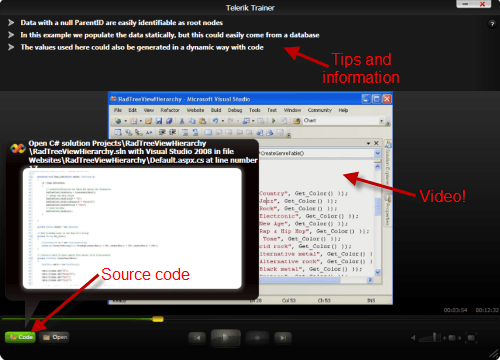 But I think that Ivo and John both have enough nice things to say about Telerik Trainer, I'm going to show you a neat new way that you can access these resources.
Considering that Telerik Trainer is built with the latest and greatest .Net 3.5, does that mean people still running on .Net 2.0 are left in the dark? Of course not! This is where our support resources tie together... Let me direct you to Telerik TV, our undeniably sweet looking video portal to host all of the content that our evangelists and developers create.
So how, you may ask, do these tie together? On the Telerik TV site, located the search box in the upper-right hand corner, type in "trainer", and hit enter. Your results page will include every video from our Telerik Trainer presentations. This means that for anyone unable to run the state-of-the-art Telerik Trainer program, you don't have to miss out on all the resources and the comprehensive videos that we have produced. Also, while you're there be sure to check out all of the previous videos we have from RadTips, Edge of Dev, Telerik Watch Minute, and Telerik Real World.
Happy coding!