Favorites and Not-So Favorites
The previous post spotlighted the ListView control and used it in a couple of different capacities. But it didn't touch on one of ListView's coolest features: support for item swiping, also known as cell swiping. Set the control's IsItemSwipeEnabled property to true and a series of events culminating in an ItemSwipeCompleted event fires when an item in the control is swiped left or right. Furthermore, you can use the control's ItemSwipeContentTemplate property to specify content to be revealed alongside the item when a swipe occurs. That content can include interactive elements such as buttons.
This is the approach Tagit uses to allow images that have been tagged as favorites to be "unfavorited." The Favorites page uses a ListView control to show all the images that have been designated as favorites. The control has item swipe enabled and an ItemSwipeContentTemplate that looks like this:
<telerikDataControls:RadListView.ItemSwipeContentTemplate>
<DataTemplate>
<Grid>
<Grid.ColumnDefinitions>
<ColumnDefinition Width="80"/>
<ColumnDefinition Width="*"/>
</Grid.ColumnDefinitions>
<Grid Margin="0,10,0,0">
<Button BackgroundColor="#D90000" Clicked="OnUnfavoriteClicked" BorderRadius="8" HorizontalOptions="FillAndExpand" VerticalOptions="FillAndExpand"/>
<Image Source="ic_action_unfavorite.png" Aspect="AspectFit" HorizontalOptions="Center" VerticalOptions="Center" InputTransparent="True" />
</Grid>
</Grid>
</DataTemplate>
</telerikDataControls:RadListView.ItemSwipeContentTemplate>
Swiping an item to the right reveals an Unfavorite button (note the Button control with the Image overlay in the template) that, when tapped, unfavorites an image and removes it from the list: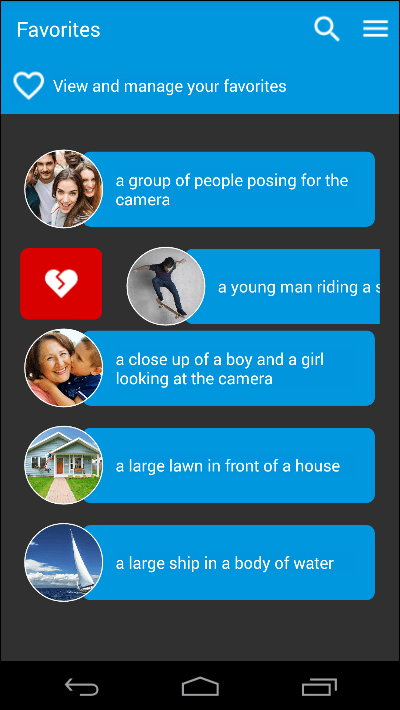 You can designate an image as a favorite immediately after it's uploaded, or on the page that shows the image details. But thanks to item swipe, unfavoriting an image is a lot sexier (and a lot more fun).