Users are now spending 2 hours and 42 minutes per day on mobile devices. We've recently seen statistics revealing that native app usage on smartphones is increasing at the expense of the mobile web 1. In some industries, mobile sales are steadily increasing and even eating up web sales for certain retailers 2.
It is hard to believe that as huge and fast growing as the native mobile apps market is, it is still in a pre-page rank phase. Mobile developers, marketers and business owners don't have the ecosystem to collect advanced performance data and users can't discover content and services efficiently.
This is where deep linking can help.
What is Deep Linking?
Mobile deep linking is a methodology that allows mobile apps to communicate with the mobile web or with other mobile apps via clickable links directing users to a specific landing page or screen inside the app instead of sending them back to a mobile site or store. Deep linking helps reduce the conversion friction by shortening the users' path to the piece of content, product or promo they are interested in.
What type of apps can benefit most from deep linking?
For apps such as shopping, travel, hotel booking, music and news the ability to send users to a specific product, offer or promo page can have tremendous effect over conversion rates and ultimately revenues. If deep linking is enabled, the user can be navigated directly to a certain hotel booking page for which he has seen an advertisement instead of the app's home page. Last year Facebook announced its deep linking ad format, letting users come back to familiar apps from ads in their feeds.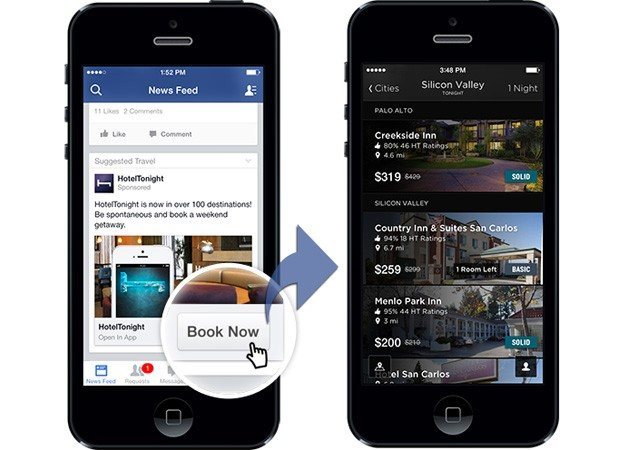 Image source: http://www.engadget.com/2013/10/02/facebook-deep-link-mobile-ads/
Another scenario might be when your app posts to Facebook on behalf of its users. If it has a deep link in the post and the user's friends interact with the post, they will be directed inside your app instead to the app store.
Fitness apps are another type that can benefit from deep linking. For example, let's imagine an app that tracks your runs. You may run a route and view details about your run in one app which then lets you view it in google maps for more detailed mapping info. That same run could then be logged in another fitness app that is designed to keep track of what you are doing each day.
But deep linking works only for users that have the app already installed, right? Not true.
Deep linking benefits both pre-installed and new users. There are solutions (for example, Tapstream) that can carry forward the saved request. If the user doesn't have the app installed, he/she is sent to the App store and, upon opening the app after the installation, is directly taken to the deep linked page or screen eliminating further search for the requested content.
Even if deep linking is only used as a re-engagement mechanism to bring users back inside the app, it has an enormous potential to drive conversions and ROI.
Practical Benefits from Deep Linking
A big use case of deep linking is email campaigns to existing users. As they likely have the app already installed, they are basically a click away from a given promo or exciting offer. Another use case is social media campaigns and share buttons, which, with the help of deep links, will be able to send users to dedicated content.
Overcoming the limitation of having one generic starting point for the users app journey will have a huge impact on the profitability of mobile revenues.
With deep linking, we can get a much cleaner read on our analytics, as users are being dropped into the optimal experience for their device – therefore deflating bounce rate and revealing a more accurate conversion rate for mobile web", says the marketing director of a curated online menswear shop, which was recently reported to have the same share of mobile sales as those from web.3
Twitter announced a few months ago that Twitter Cards support deep linking, allowing users to download your app (if they don't have it installed), or navigate to the in-app content (if they have the app installed on their device). If you are unfamiliar with the Cards UI, in a previous blog post I talked about why Cards UI is becoming so hot in mobile and why brands such as Google, Pinterest, Facebook and Twitter use them.
Deep linking resources
There is no established standard for deep linking. The native platforms have some guidelines and there is a community effort to establish such standards. There are also a number of 3rd party vendors offering more advanced solutions such as deep links analytics, deferred deep links, retargeting frameworks and more. Below is a list of useful resources for developers interested in learning more about deep linking:
Apple resources
Android resources
General resources
3rd party solutions
Twitter
Google
Adding deep linking to Google+ posts shared from your Android app
Facebook
If you are already using deep linking in your mobile apps share your thoughts in the comments section below.
Have you tried Telerik UI for iOS? They are native controls that bridge missing functionalities in the UIKit Framework.
Learn more about UI for iOS features here
.