The new release of RadControls for Microsoft Silverlight is out with a couple of new controls and tons of improvements in the old components. In case you've missed, the new demos are uploaded and available here. You may need to delete your browser cache if you still don't see the new cool home page: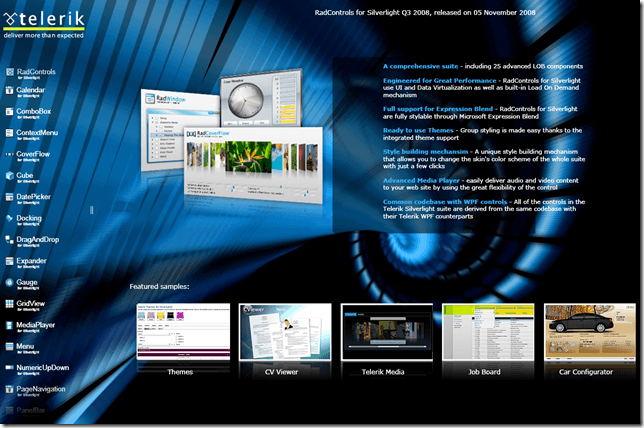 Along with the other improvements, the UI Automation support in Silverlight controls suite is greatly enhanced. Now the following components (I've ordered them alphabetically) officially support UI Automation:
- ComboBox/ComboBoxItem
- Expander
- Menu/MenuItem
- NumericUpDown
- PanelBar/PanelBarItem
- ProgressBar
- Slider
- TabControl/TabItem
- TreeView/TreeViewItem
- Window
What's next?
Our test results look good so far, but we still have many ideas on improving the UI Automation support of those controls. Since our requirements on the quality of UI Automation controls are quite high, we will keep working on that until we get the things perfect.
The team has also started the UIA implementation over the rest of the controls so the next official update (probably in a month) will definitely make the above list longer. Meanwhile, should you have particular request, please drop us a line and we will prioritize the upcoming tasks accordingly.