The Q3 2011 BETA release of RadControls for Windows Phone is on its way (expected within several days) and I cannot wait to share what's new in our charting component. Along with several important bug fixes reported by our users, two brand new series that bring the financial charting to your applications are included.
Candlestick series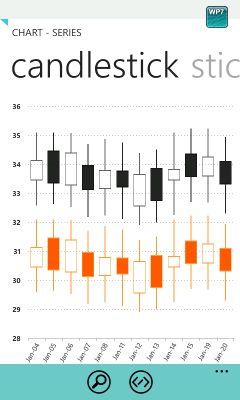 According to Wikipedia, these series are used primarily to describe price movements of derivatives or currency over time. Supporting true UI virtualization, the series are capable of displaying thousands of data points. Using the Pan-And-Zoom behavior you can move through the timeline to a certain time slot and see the actual price movement within it.
OHLC series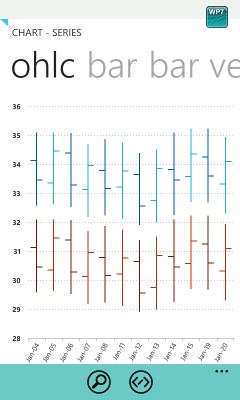 OHLC are the other most popular financial series and are primarily used to illustrate movements in the price of a financial instrument over time. They differ in appearance from the candlestick one and display ticks rather than boxes to visualize the Open and Close data of the financial instrument.
The Stocks example
Knowing that a real-world example is worth a thousand words, we prepared a demo that illustrates the usage of both financial series, combining them together with a PanAndZoomBehavior to navigate through the time period and a TrackBallBehavior to emphasize on the details of a single data point. The example will be available for you to explore in our Demo application that is shipped with the installation package.
Do not hesitate to grab a copy of the BETA once it is out and to give these tasty new series a try. And we will be looking forward to your feedback which will help us deliver even greater tools.