In case you missed the news, during TelerikNEXT we announced the release date of the first version of the Telerik Report Server, which is slated for June 24, 2015. While demoing the server, we witnessed great interest from our customers, so I decided to share more information on what we are working on. (If you missed TelerikNEXT, feel free to register for the keynote re-run at the end of this post.)
We released the Telerik Report Server as a CTP at the end of February (see my previous blog post). The CTP introduced report storage, ability to upload and delete reports, report versioning and a data connection console. Managing the server happens via a responsive web application, which offers access from any device without tradeoffs in user experience.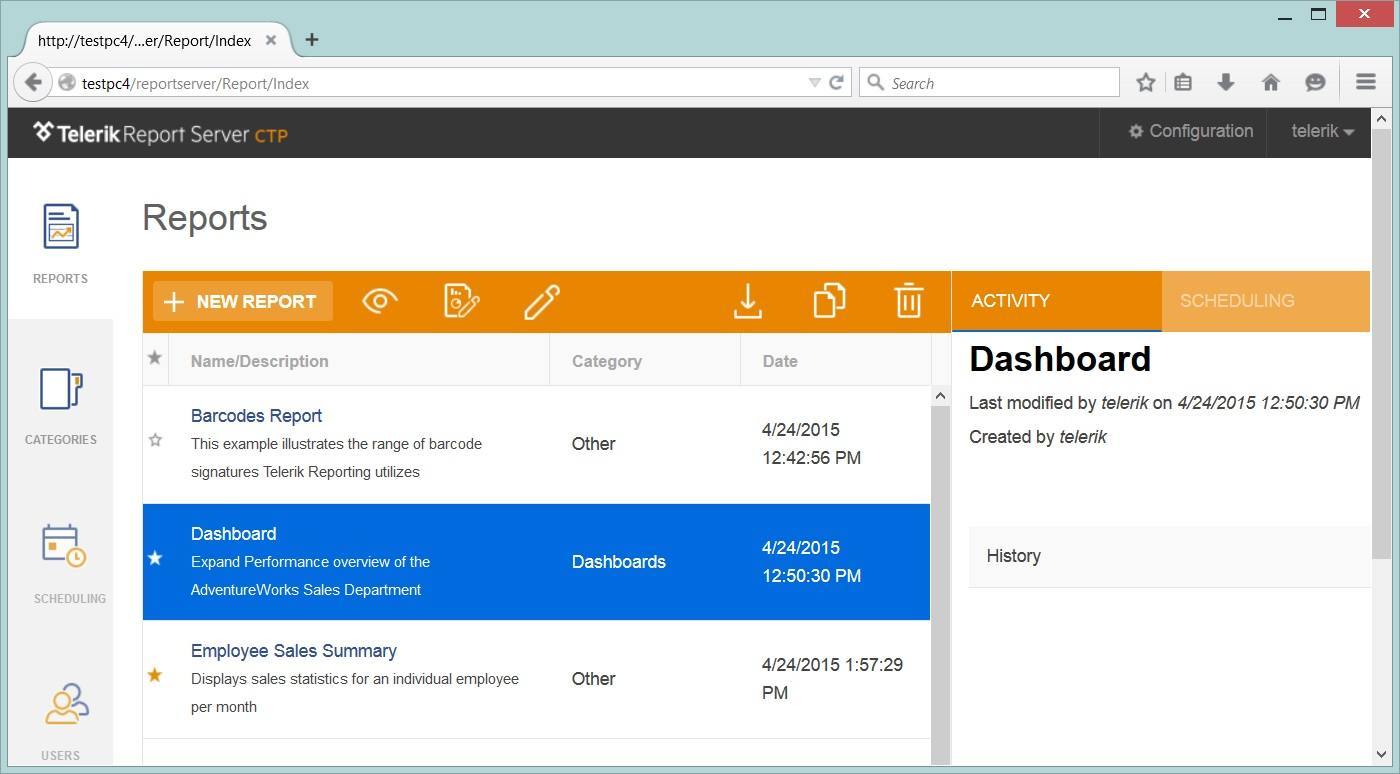 First Official Version Coming with User Management
As I write this, our reporting team is working on a User Management module with user authentication and authorization, which will allow you to specify what users (or groups) in your organization have access to, and what permissions they have over different reports. This will secure your reports and enable report sharing between peers and co-workers. In addition to the current Forms Authentication, we hope to also add Windows Authentication.
The Following Version
For the Fall release of the Report Server, we plan to add report scheduling to automate some reporting tasks, such as sending reports via email or printing reports at a certain time of day. In addition, we will introduce tight integration with the Telerik Report Designer to edit reports stored on the Report Server. Once the report is edited, it can be saved back in the Report Server, under a new version. If the report has been embedded in an application (HTML5. MVC, AJAX, WPF, WinForms or Silverlight), it will update automatically.
A Word on Licensing
The Report Server will be sold as a separate product. A developer version of the Report Server will be included as part of Telerik DevCraft Ultimate suite to allow you to play with it and set it up. A starter pack will include the server and limited number of concurrent license users (CALs) with ability to buy more CALs. Stay tuned for pricing.
Register for TelerikNEXT Online To Learn More
Learn about Telerik's future vision on web, desktop and mobile development, see demos of our new features and more. We'll also host a live Q&A with a full panel of Telerik experts to answer your questions.