Note: Xamarin polls needed

https://twitter.com/Telerik/status/715578186726248448
https://twitter.com/Telerik/status/715567963450052608

(may add some intro text here)

Last week at the Microsoft Build 2016 conference there was a lot of excitement about some of the big announcements. We undertook a quick Twitter poll to gauge people's immediate reactions, but then we let it run for another day to get a little bit of a bigger sample.
Without further delay, let's share the results, starting with HoloLens: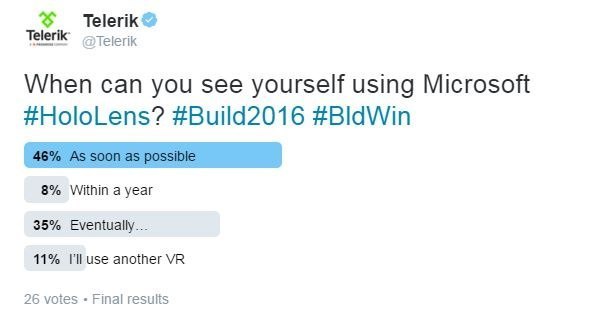 And now for the Bash poll: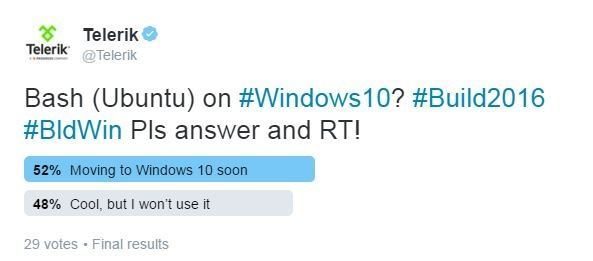 Compared to our last polls, it looks like excitement about HoloLens continued to build, with more people saying they want in ASAP and fewer people saying "eventually" or "I'll use another VR." The results for Bash were more or less similar, with a majority of respondents psyched enough to say they'll make the switch.

For your viewing pleasure, here are the combined results: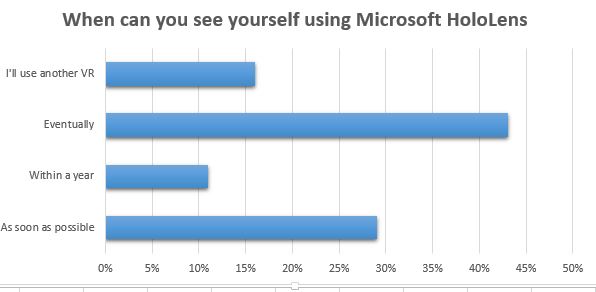 Do you agree with these polls? Weigh in down in the comments and let us know how this lines up with your own feelings on the big news from /build.

You can catch up on all the highlights from the conference in our wrapup posts about day one and day two, and take a deeper dive with us into the Xamarin changes.