Viewing and manipulating PDFs is an increasingly common task, but still a cumbersome one - especially on mobile devices. That's where the new PDF Viewer for Telerik UI for Xamarin comes in.
With the first release of the year (R1 2019), the Telerik UI for Xamarin UI library expands with a new PDF Viewer Control enabling the end-users of your mobile application to view PDF documents without relying on third-party applications.
Nowadays, we deal with PDF documents almost daily, ranging from bank statements to invoices and formal documents and business memos. As mobile devices become more and more powerful and commonly used as an extension (or replacement) of a desktop application, we turn to reviewing PDFs on our handhelds as well. However, in order to view these files, we rely on a separate application to review them, which often requires us to switch back and forth between applications.
In the case of mobile devices, this process is quite cumbersome and does not provide the best user experience. This claim was further backed up by you, our customers and we've received numerous requests from you to provide the option for reviewing PDF files inside the mobile app itself - we heard you loud and clear!
We are happy to announce that as of the next release of Telerik UI for Xamarin, a brand new control is coming to life - the PDF Viewer. This allows you and the end-users of your application to review PDF files straight from inside the mobile app, without needing to install a third-party app.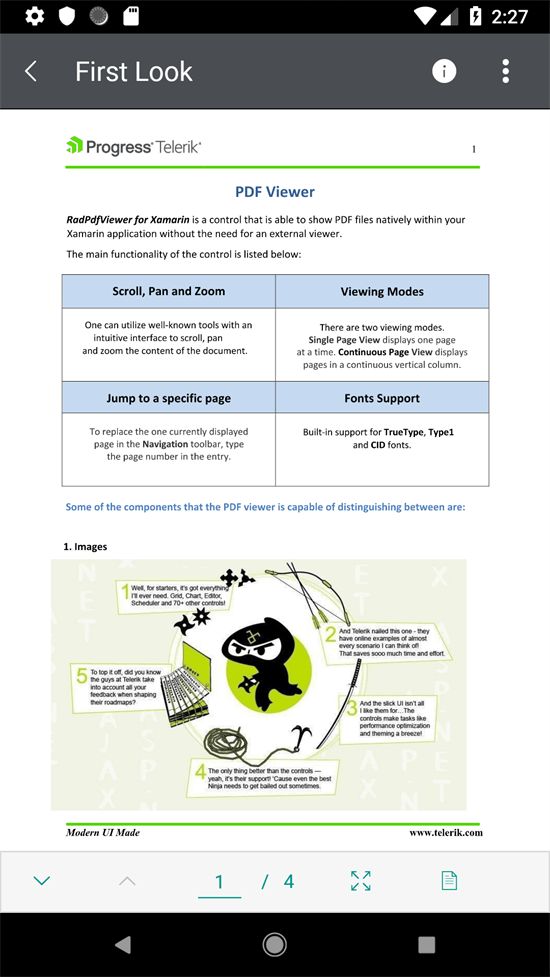 But we didn't stop there, and we've also added a number of extra features to provide you with an even better user experience. Here is a list of the features that will ship together with the release:
PDF Document Visualization: Display PDF documents with text, images, shapes, colors, lists, bullets and more
Single Page and Continuous Scrolling Support: Easily scroll the document in the viewer with a fluent experience
Commands Support: Be it Zooming, Navigating from page to page, FitToWidth or Toggling the Layout mode, you got it
Toolbar Support: With the built-in toolbar, all commands and actions are already set in place
We are still actively working on the control, so expect a few extra features too :). The R1 2019 release will take place on January 16th (yes, it's close!), at which point you will be able to download the latest version of the Telerik UI for Xamarin toolkit and explore the control for yourself and try it out in your application.
As we previously mentioned, the PDF Viewer came to life based on your continuous feedback and support, and we couldn't be more thankful. Please, continue sharing your thoughts, as this is one of the key factors we take into account in building our roadmap.
Last, but not least, you can get a detailed overview of everything new in R1 2019, across all our products, together with our developer experts, so make sure to sign up for the Telerik R1 2019 Webinar on January 18th.
Save My Seat for the Release Webinar
We look forward to sharing more with you after the release. Hope you are as excited as we are!