Hello Kendo UI community – I've got some really good news to share about the Kendo UI team: we have a new addition to the family with Carl Bergenhem joining as Product Manager!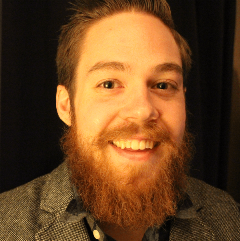 Who is Carl and why should you care?
Carl joined Telerik in 2009 shortly after graduating from the University of Connecticut with a Computer Science & Engineering degree. During his time with Telerik he held a lot of different technical positions including support, developer relations and sales engineering. During this time he had a chance to be deeply involved on a technical level with every product in the Telerik portfolio, and when Telerik was acquired by Progress he spent two years covering the entire Progress portfolio.
Even with balancing all of these products, Kendo UI has always been the main focus for Carl. In fact, he was a part of the original pre-launch events team for Kendo UI, and really proved that he was willing to do whatever was required when he dressed up in the full Kendoka outfit while manning a booth. Fortunately for him, I don't have any pictures of this to share with you.
He's served as one of the main technical resources for Kendo UI throughout his time in developer relations and sales engineering, conducting technical presentations and deep-dive trainings on the product, including our recent DevChat.
Carl has a long background in web development (hence the love for Kendo UI) and is constantly tinkering and developing with the latest and greatest tools and technologies including Angular, React and Vue. He's spoken at events and conferences across the globe on web development and is a passionate evangelist about the awesome world of web development.
Amazingly, with all of this going on Carl actually does have a personal life as well. In his free time Carl tries to stay as active as possible and can often be found in the gym or, weather permitting, hitting the slopes to get a snowboarding session in. While his original goal as a professional FPS player didn't quite pan out, he still is an avid gamer, having slayed countless virtual monsters and players alike throughout his career.
Carl loves nothing better than talking with people from the web developer community. Feel free to reach out to him via twitter (@carlbergenhem) or email bergenhem@progress.com.
Welcome to the team Carl!