A common problem facing Nigerians and Africans is the inability to get a visa to attend international conferences. A group of awesome Nigerians stepped forward to solve this problem by bringing these speakers to Africa to speak in person. Hence, Concatenate 2019. Here is my report.
Many communities are built on different principles, most of which are based on a collective or common problem. The joy of community is that it creates a safe space for people with common interests to nerd out about things they are passionate about or just work in general.
This particular community, "Concatenate," was founded on the common problem facing Nigerians and Africans with the inability to get a visa to attend international conferences. No doubt Africa has been on the rise in terms of technology, more specifically Nigeria.
https://twitter.com/ShillaSaebi/status/1052305069213794307
I digress. A group of awesome Nigerians stepped forward to solve this problem by figuring out a way to connect Africans with these international conferences by bringing these speakers to Africa to speak in person. And, it's free to attend!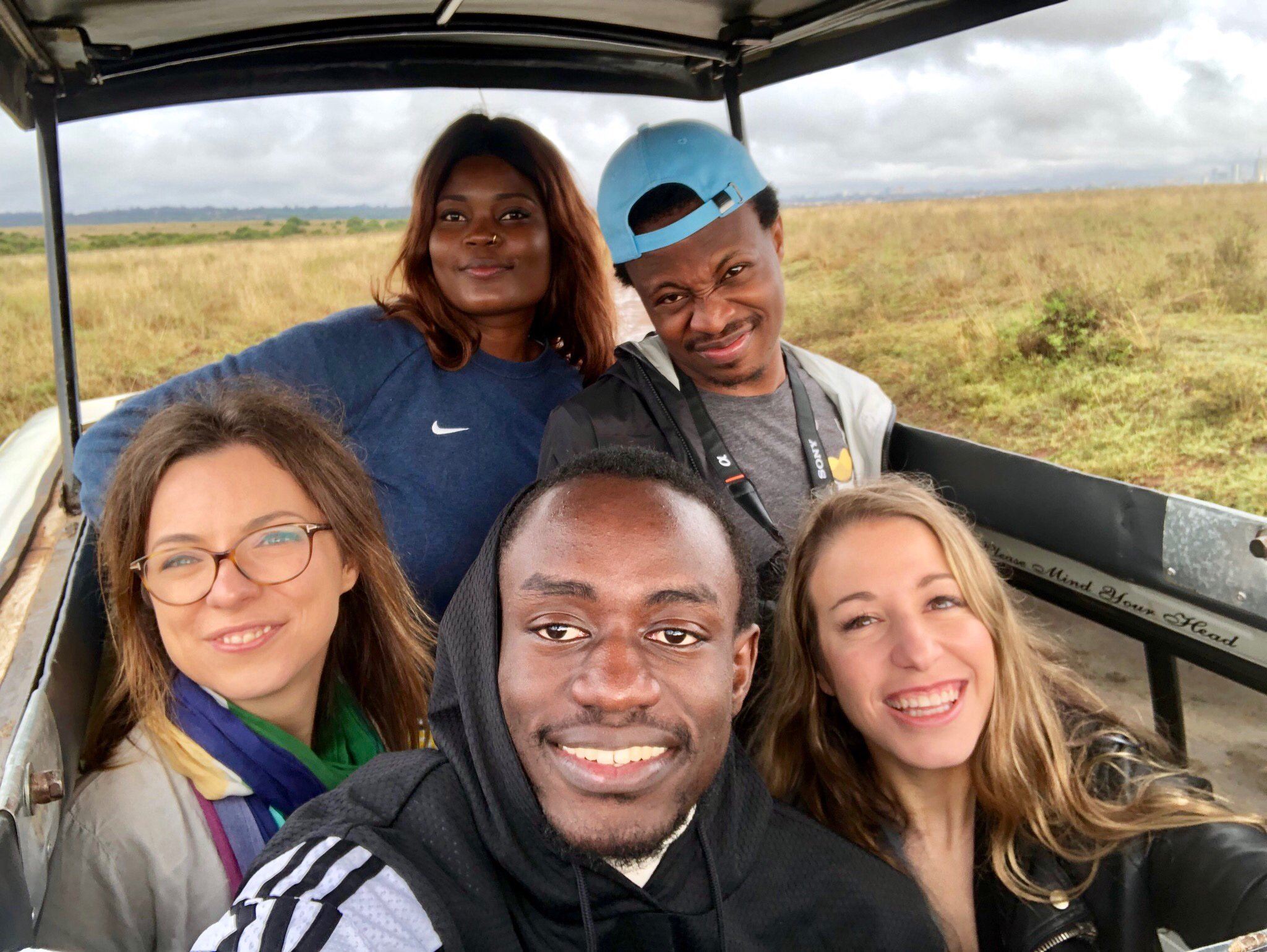 Workshops
The conference kicked off on the 9th of October with workshops. They had a lot of exciting workshops lined up for developers to learn new things or learn more about what they already knew. We had the "serverless queen" herself, Simona Cotin, kick off with a workshop on "Introduction to GraphQL and Serverless." That was really awesome because Simona works with "JavaScript in the cloud" a lot.
In the other room, they had the awesome Anjana Vakil taking a workshop on using the Mapbox API to create custom maps.
Sadly, I didn't attend the first two workshops. 🙂 I did, however, get to attend the workshop with Sarah Drasner on "Let's Build and Deploy JAMstack sites with Netlify," which was really amazing because I have been writing a lot of articles and giving talks on JAMstack.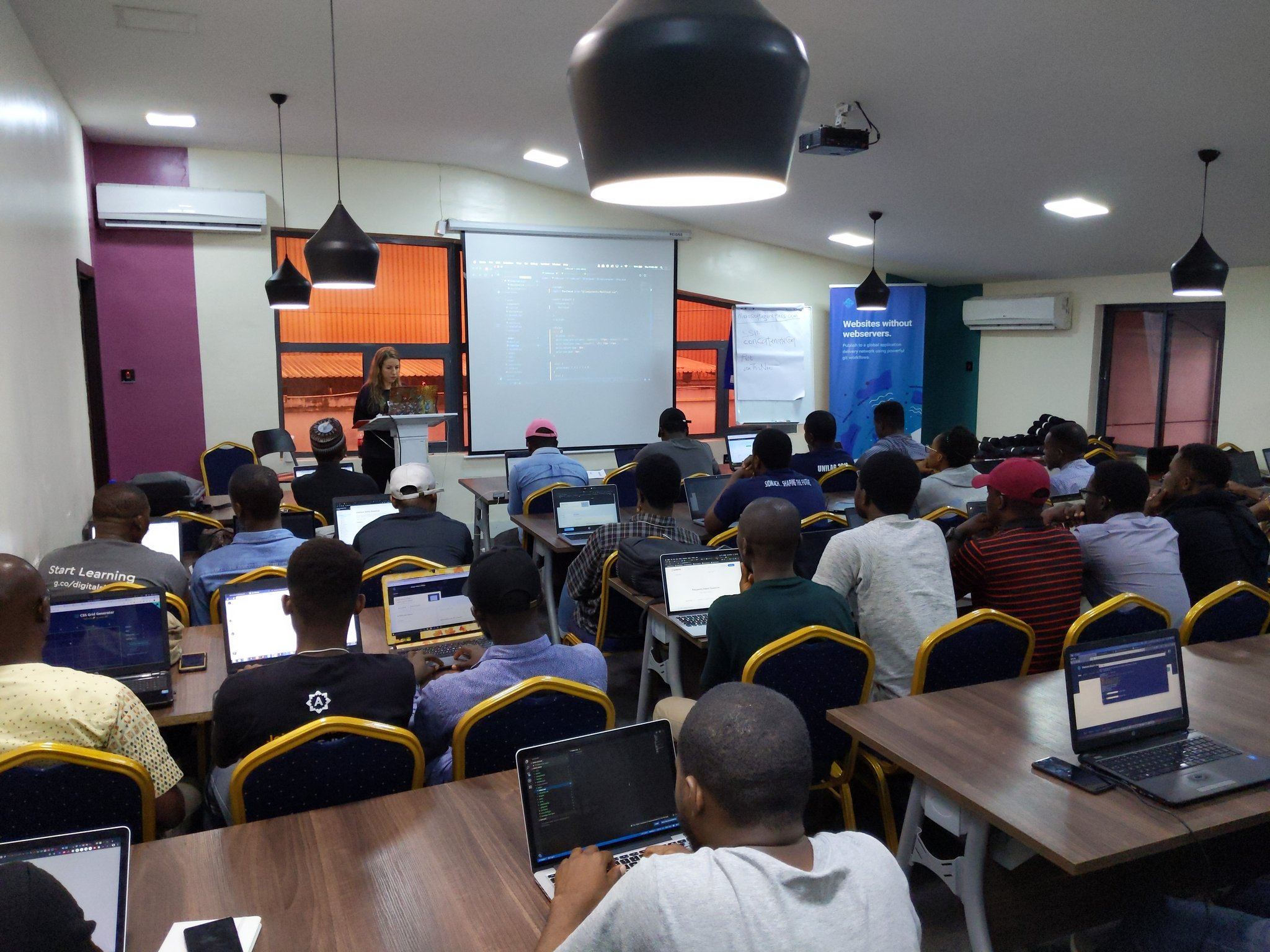 It was so nice to get first-hand information from Sarah on how Netlify supports the idea of the JAMstack with instant deployment. Just because Sarah is such an amazing teacher, we had a mini VueJS workshop within the JAMstack Workshop.
There were other workshops handled by Gift Egwuenu and Sharon Steed. Gift hosted the Vue Vixens workshop, which was super awesome. The Vue Vixens community has had a massive turn-out and impact on the number of women in tech.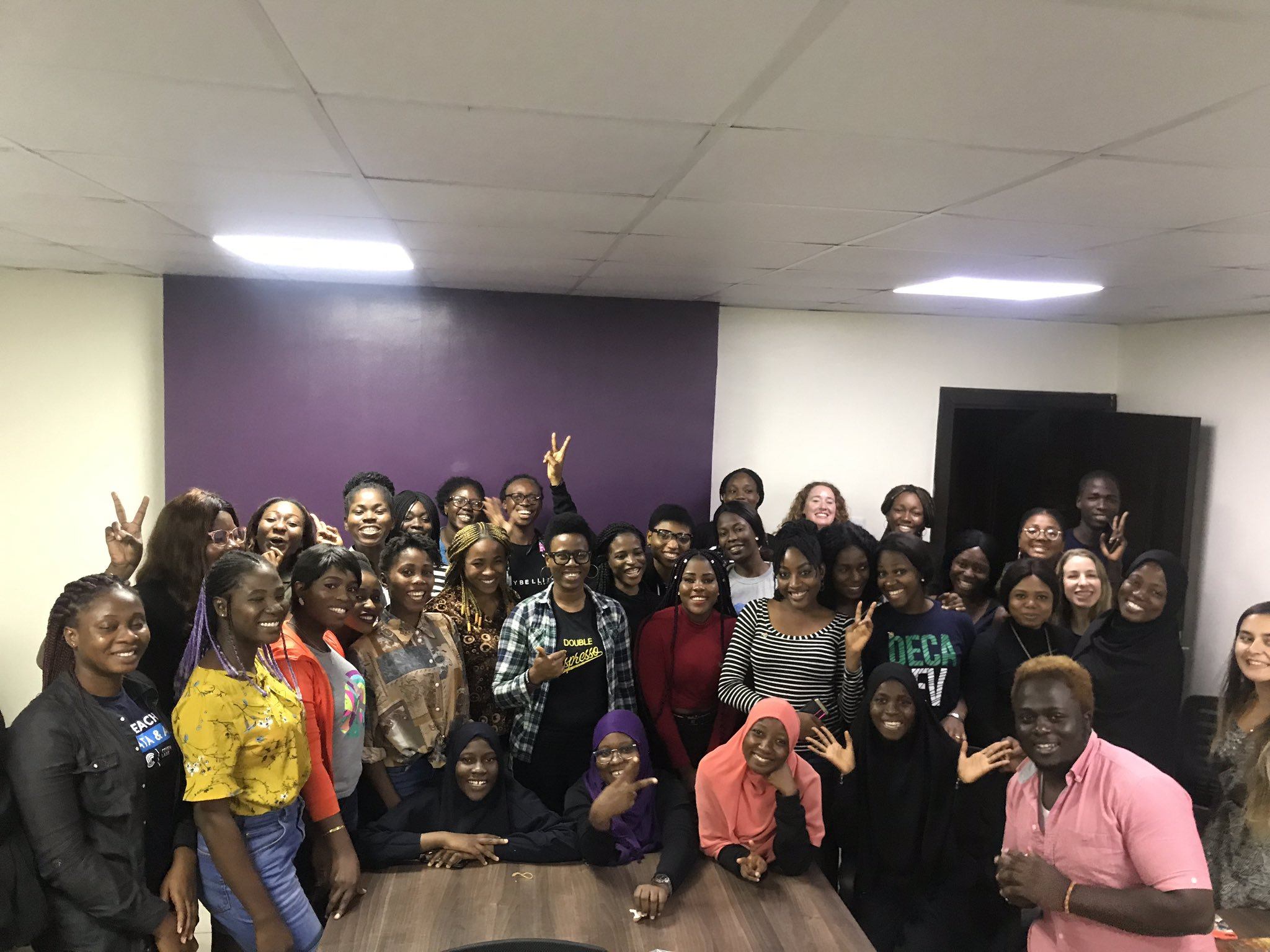 Sharon did a workshop on "Communicating with Empathy," which focused on teaching developers and designers the behaviors needed to be effective communicators in order to build inclusive tech teams.
Conference Day 1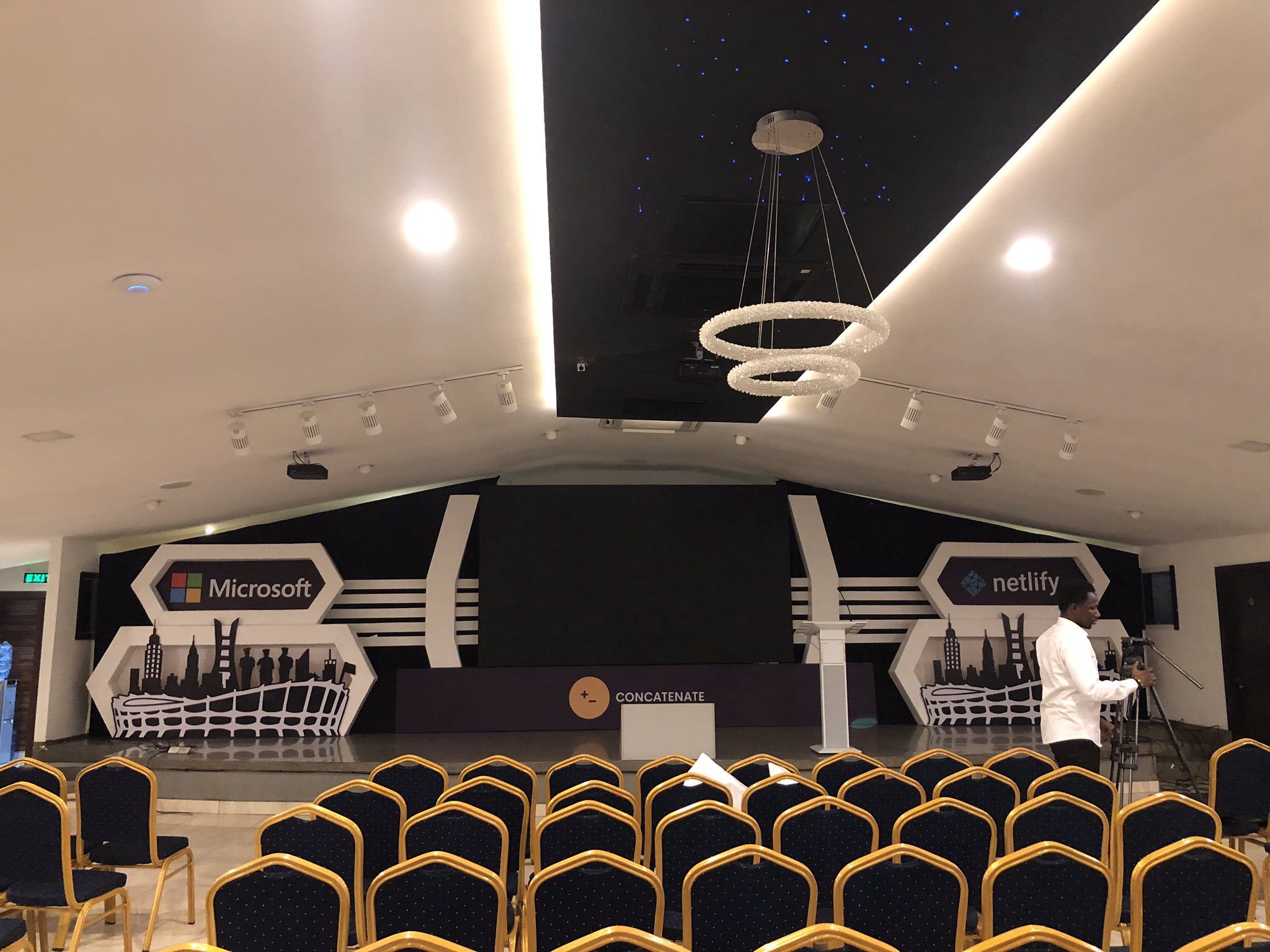 I particularly love the look of this stage.
The conference portion of the event kicked off with a talk about "Engaging Empathy: Using Empathy to Transform Your Culture," by Sharon Steed. This talk focused on communication in the work space in an empathetic manner while sharing her story of having a stutter and not seeing it as a bad thing. She emphasized that collaborating with empathy is about putting people first.
Next we had Ives van Hoorne taking us through his experience building CodeSandbox. My takeaway from this talk was focusing on the important stuff when building, and building tools that solve a problem.
If you're a developer, then you've always had to deal with debugging. We had the amazing Adora Nwodo, who is a software engineer at Microsoft, talk to us about "Productive Debugging: Because time is money."
Understanding performance while debugging is also important, so we had Yoav Weiss, who is "on a mission to make the web faster, one perf feature at a time," while working on Google's Chrome developer relations team, speak on "Performance Debugging."
Lightning Talks
They had a couple of lightning talks planned out before the break, and I gave one of them (Yay!!). Mine was on "Building an Empathetic Web for the Next Billion Users," which was centered on web accessibility. I also put out an accessibility challenge, which you should check out, as there are a lot of cash prizes to be won.
Also, we had an awesome lightning talk on "The asSASSination of CSS" by Ursula Okolie, which was super awesome as she pointed out key features on SASS as a CSS preprocessor that would make it super useful for web developers to learn now.
After the lightning talks, we had talks from Burke Holland on "JAMstack Application with Azure Functions, Azure Storage and Cosmos DB"; Leslie Cohn-Wein, who gave a talk on "Spreading the JAM: Getting Started with the JAMstack Using Gatsby and Netlify Forms"; Ada Oyom on "Deep Dive into Modern Developer Experience"; Mina Markham on "Art Direction + Design Systems"; and Addy Osmani, who gave a brilliant talk on "The Cost Of JavaScript in 2019," which was really exciting.
To end the day, we had an amazing talk by one of the organizers, Sarah Drasner. She gave an awesome talk on "The Future of Web Animation," which changed the way I think about web pages and building web pages. She also shared the story of how the conference came about, which was really emotional.
Conference Day 2
Day 2 started off with a very heavy rain. However, that didn't stop attendees from coming back for another awesome day with lots of incredible things to learn. The day kicked off with a talk by my favorite person, Tatiana Mac, who gave a talk on "Systems of Systems."
The serverless queen herself, Simona Cotin, returned to walk us through the benefits of migrating to serverless architecture in her talk, "Building Scalable APIs using GraphQL and Serverless."
Should product managers and developers learn to design? Silm Momoh answered this question with an amazing talk on design called, "Building Usable Products," using a very practical approach.
Lightning Talks
We had awesome talks by Hack Sultan on the challenges of moving from a beginner level to an intermediate developer level. He also spoke about the work devcareer.io is doing to help increase the number of developers in Nigeria.
Networking is very important in the ecosystem, and Amarachi Amaechi helped us understand this importance in her lightning talk on "Sharing Valuable Knowledge."
After the lightning talks, we had a talk from Julie Lerman on "Docker for Dev and Test," which was really exciting as it brought a new light to using Docker. Kent C. Dodds gave a talk on "AHA Programming," which focused on abstraction and how you can improve a codebase by applying and creating abstractions more thoughtfully.
Jason Lengstorf taught us about Gatsby and JAMstack. Chris Sevilleja gave an awesome talk on coding a business, as he shared a lot of insight from his experience building Scotch.io. And Anjana Vakil gave an electrifying talk on "Functional Programming" — she did this using pizza.
We finally got to find out the mystery speaker was Scott Hanselman, who shared his story about living with Type 1 Diabetes and how he uses technology to solve the problem of checking his blood sugar level, which was fascinating.
Until Next Time
Like all great conferences, the stage, the diversity of the speakers, the blend of light and color, the sound check to ensure everything was perfect — Concatenate Conf had it all, from an awesome diverse speaker lineup, to a wonderful set of organizers that are passionate about bridging the gap between tech communities across the world. Until Concatenate Conf 2020 (I have a feeling the conference will include a new country), stay awesome and keep winning.