We are proud to announce the availability of Q1 2010 Beta release that will give you a preview of what you can expect with the official Q1 release expected in March.
The Q1 2010 Beta release adds 3 interactive controls to the suite – RadMap, RadBook and RadTransition. Just like in the
Silverlight suite
, the 6 out-of-the box themes get a major facelift, and the performance of the suite is optimized through streamlining the templates and reducing assembly size. The Grid, Map, Chart and Scheduler controls implement serious new features.
Check

ONLINE DEMOS



The downloads are now available in

your account

(or

free trials

): both full installation (MSI) or manual installation (ZIP)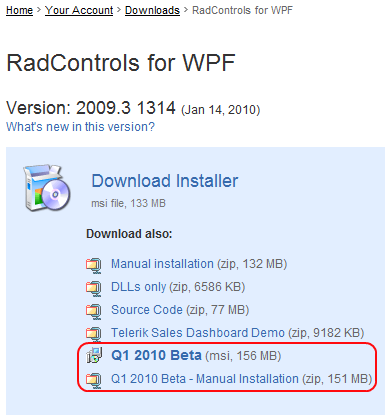 Full details (release notes) can be found at:
http://www.telerik.com/community/labs/radcontrols-for-wpf-q1-2010.aspx
For any questions, suggestions, etc, please use this forum thread. We will try to handle all your inquiries in a timely manner. You can also use the dedicated forums for the new controls -
Book
,
Map
and
TransitionControl
.