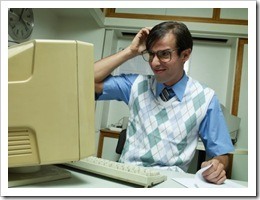 Unplug your wireless mouse.
I promise I'm not crazy. That's really the answer. And now that I've gone Tarantino on this blog post, let me give you the rest of the story.
My development lately has been solely on my new laptop. However, tonight I decided to rebuild my desktop PC, loading it up with Visual Studio and the latest RadControls for ASP.NET AJAX so that I could work on a project. After spending several hours installing Vista, drivers, and Visual Studio I was finally ready to load up the Telerik bits and get to work. The installation went smoothly and I thought all was well, that was until I started up a new project and went looking for my favorite RadControls. Nothing. Hmm, that's not right. They're supposed to be installed into the toolbox automatically. So I go to add them manually and much to my surprise they are already there, but disabled.
For the next two hours I rack my brain trying to figure out why they wouldn't be showing up in my toolbox. Sure, I could manually add the DLL and register it in my web.config, but that's extra work and the prospect of repeating such an annoying task for every project isn't too appealing. Not to mention the fact that my inability to solve this mystery is driving me crazy. So I started scouring the Telerik forums and Google in hopes of stumbling upon a blog post or forum question from someone with a similar problem. And finally, after bouncing through several forum threads and blog posts I came to the solution: unplug your wireless mouse. Huh? How in the world would my wireless mouse be keeping the controls out of my toolbox. Well, I've tried just about everything else, so I went with it. Sure enough, the solution was that simple. RadControls were pleasantly staring back at me from my toolbox and another problem was solved.
It turns out this problem rears its ugly head most often with the Microsoft laser mouse. It's also not a problem specific to Telerik's controls, but with Visual Studio itself. I had a hard time digging up dirt on the specifics, but Rick Strahl blogged about it more in-depth earlier this year.
While the why is still a mystery to me, I'll leave the how here for you. May it save you hours of frustration.
Close all instances of Visual Studio
Unplug your wireless mouse
Launch Visual Studio and open your project
Wait for the controls to appear
Plug your wireless mouse back in