1st click, 2nd click and you are ready to go. These are the steps required to install any Telerik product as of the Q1 2011 release. The idea behind this change is to provide better user experience during installation. To achieve this we have minimized the steps that you have to perform when installing any Telerik product while at the same time we have left the same flexibility to customize what is installed.
Let me introduce the new installation workflow:
Step 1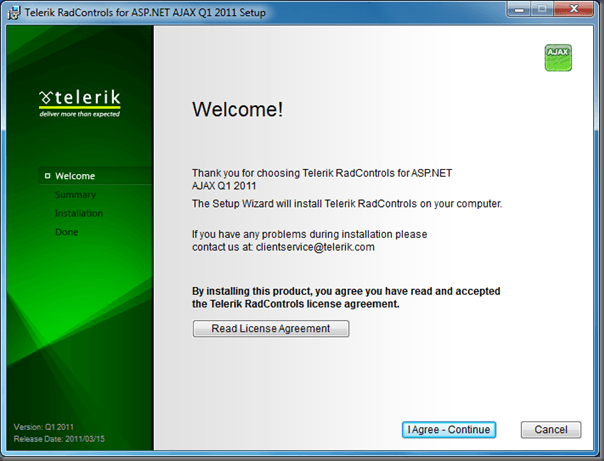 On the first dialog you can read the license agreement of the product if you click the Read License Agreement button. By continuing to the next step you agree to this license agreement.
Step 2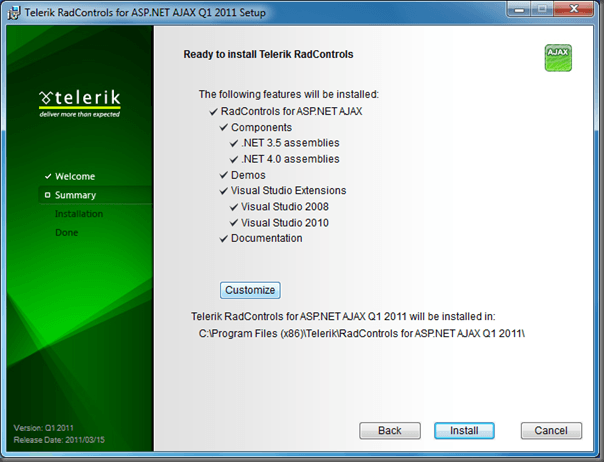 On the second dialog you can see what components are selected for installation and what the target installation location is. You can perform custom selection by clicking on the Customize button. If you prefer default installation then you can simply click on the Install button and the installation process will start.
We are really excited about the improved installation experience and hope you like it too. We will be glad to hear about your impression so don't hesitate to share it with us.
Happy installation,