Forbes Magazine Bulgaria published an extensive profile on co-Founder and CEO Vassil Terziev in their March 2014 issue. The magazine has been very kind to give us their permission to translate into English the story and to republish it here. Happy reading!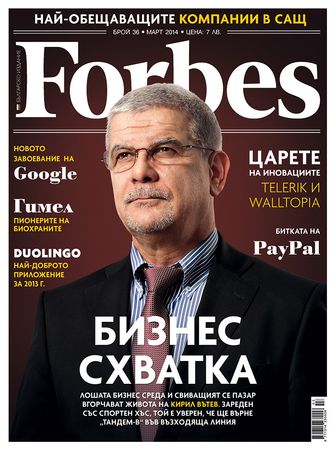 The text and photos below belong to Forbes Magazine Bulgaria.
Telerik co-founder, Vassil Terziev, wants to unlock the door to a market worth tens of billions. And he believes he's found the key.
Written by Hristo Petrov, Forbes Bulgaria
Photos by Elena Nenkova for Forbes Bulgaria
In one of the seventh floor offices at the Telerik building, Vassil Terziev meets the Forbes team in a clearly good mood, not solely attributable to the uncommonly warm February morning. Terziev, co-founder of the software company, and one of the two Chief Executives, is just back from his trip to California, where he visited the brand new Telerik office in Palo Alto—Mecca of the IT industry. Despite a visit crammed with an exhaustive schedule, which included a lecture before students attending Stanford University, the 35-year old Terziev returned from the USA with a broad smile on his face.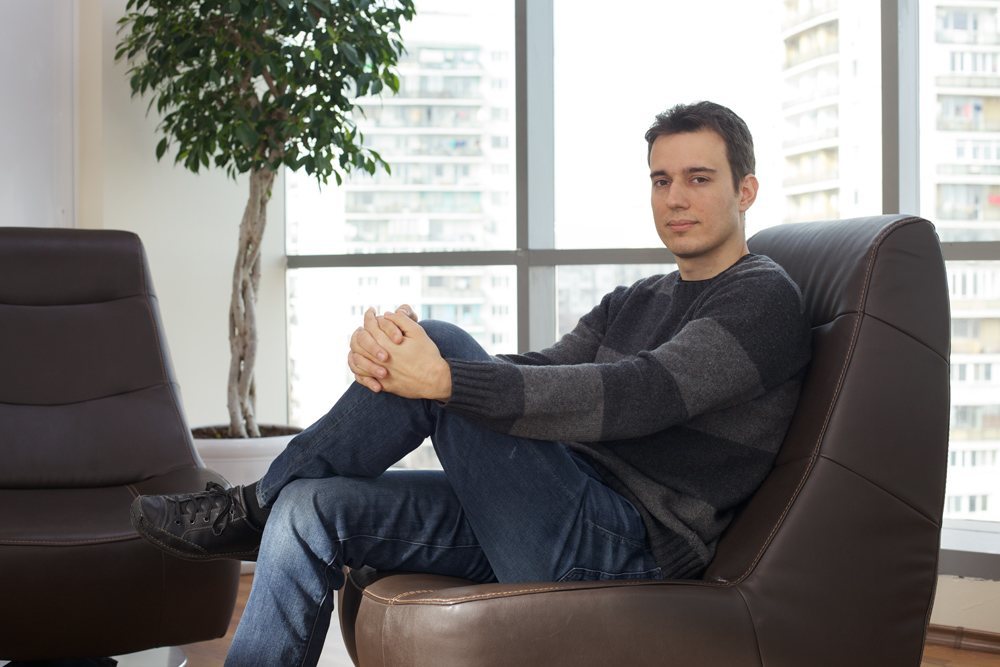 At the beginning of the year, Telerik introduced the Telerik Platform – a suite including most company products, unified in a single software platform for developing mobile and web-applications. Telerik markets this platform as an end-to-end solution: i.е. an integrated service, by which a developer can go through the whole cycle of creating an application – from the concept and first versions, until final testing and launch of the finished product. "The creation of the platform was a large evolutionary step," says Terziev. "This is a transition from developing individual functions, to a complete platform. From fragmented products to integrated products. From tactical products, to a rather strategic product, such as the Platform."
Telerik is mainly a supplier of components for consumer interfaces for Microsoft's ASP.NET platform. The traditional clients of the company are developers using its ready-made scripts and instruments, instead of writing their own. Combining company products into a large integrated system is just a logical step for Telerik, which totally changes the scale of the market at which the company wishes to operate. "We are talking about a market worth tens of billions of dollars, which after this initial euphoria, will need more integrated solutions and consolidation," Terziev says. "For us, this is an extreme growth opportunity."
Analysts agree that application development is a vast business; the exact size of it is up for debate, however. In the European Union alone, income from the development of mobile applications is estimated at 17.5 billion euros for 2013, according to a report published by the European Commission. The forecast from Brussels through 2018, is that the market will grow up to 63 billion euros. At a global scale, the consulting company VisionMobile projects that through the year 2016 the application business will grow to be worth 143 billion dollars.
In light of the above figures, Terziev has grounds to feel comfortable with the first results achieved with the Telerik Platform. Three weeks after releasing the first version, it achieved over 61 thousand registrations. Eight thousand people joined the online presentation of the platform.
"For the time being, everything is extremely positive," Terziev says. "Starting with the media opinions and feedback from the 20 plus analysts who reviewed the product and, and last but not least, the eighteen thousand people who registered for our keynote."
Telerik, which works with over 130 thousand clients from all over the world, offers 4 different packages of its new product, including one free version. The most popular package costs 224 dollars per month, or 149 dollars per month with an annual subscription. One of the main Telerik trumps is their promise that, with the Telerik Platform, developers will be able to make all three main application types – native, web, and hybrid (generally, different software packages are needed for each of the three). "What we noticed is that developers focus on HOW to make the specific application, instead of WHAT they have to make," Terziev says.
Terziev's words reflect the new company philosophy, announced in January when Telerik re-branded its corporate vision. In order to highlight its new product even more, Telerik has also changed its corporate slogan to "Develop experiences." Thus, Telerik attempts to convey a clear message to developers: "People's expectations for software has changed a lot over the last few years," says Terziev. "Consumers seek an enhanced experience, and developers must answer. That is why we wanted to take a different view of how to create experiences, and not just make software."
As a part of their marketing campaign, Telerik also relied on a witty slogan: "Mobile Apps are Dead." However, do not be misled by the shocking statement—no one at Telerik believes mobile applications are really dead. On the contrary, Terziev expects mobile applications to stay and believes the company is well positioned to serve the market, "It is our view that mobile applications are not dead, but rather," he says "it is the current approach to creating mobile applications that is dying."
Meanwhile at the Telerik headquarters in Sofia—the main R&D center of Telerik—the change is already quite visible. Employees dressed in sweatshirts bearing the new company logo walk down the corridors. Though because of the dynamics of the events, the building is still branded with the old slogan and logo of Telerik.
This new sequence of events adds to the brief, however upward, history of Telerik. Last year, the company acquired the Danish company EQATEC A /C and opened an office in Copenhagen. It is rooting in Palo Alto, however, that will open doors for Telerik to enter into new partnerships and secure engineering talent and potential clients which cannot be found elsewhere in the world.
The California invasion may also solve another substantial problem for the company: weak recognition of the Telerik brand in the international market. To illustrate, Terziev provides the example of Telerik Kendo UI, relatively popular amongst programmers, though not many of them know who actually develops it. "The purpose of all this rebranding was to unify all products under a single corporate brand," Terziev says, "and not just have separate products, identifiable on their own, but no one knows the company standing behind them. We are relatively quick in building our contacts, developing an eco-system, and becoming recognizable. This is, however, a time consuming process."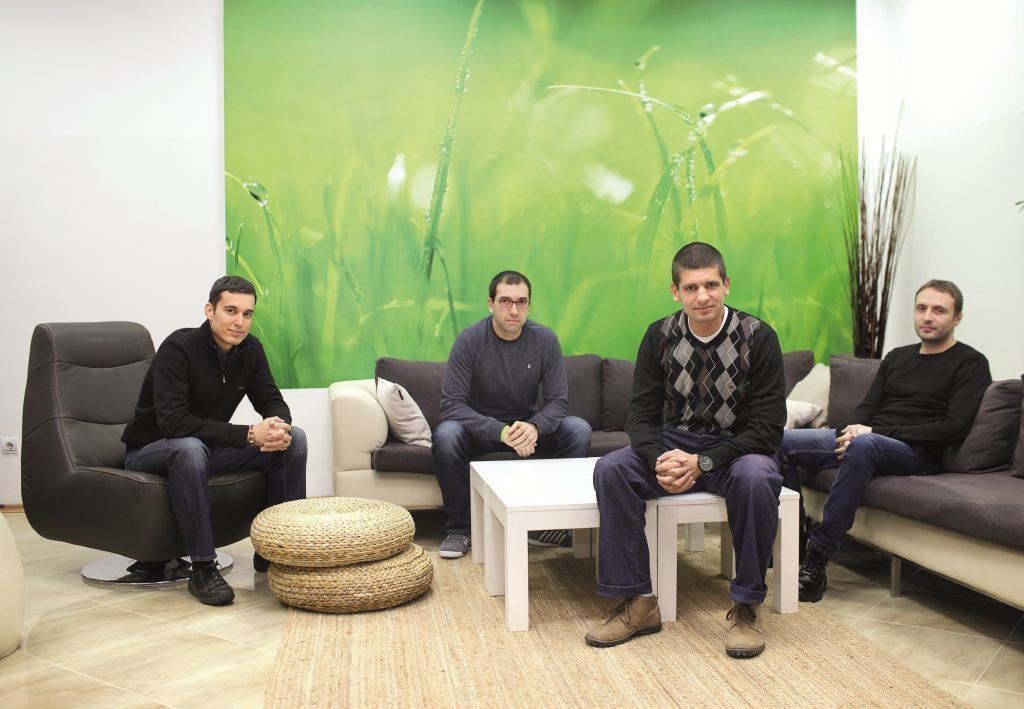 The four Telerik co-founders during their Forbes interview in December 2012. Left to right: Vassil Terziev, Boyko Iaramov, Svetozar Georgiev and Hristo Kosev.
From its founding in 2002 by four friends in college, Telerik has come a long way to reach its office in California. The initial plan of Vassil Terziev, Svetozar Georgiev (the other Chief Executive), Boyko Iaramov (now Chief Process Officer) and Hristo Kosev (Chief Technical Officer) was to produce software for web developers, and gradually start modifying products according to their clients' requirements. They also preserved the right to offer these modified products to other clients as well, something Svetozar Georgiev discerns as "one of the first ingenious things we ever did."
In 2008, the US investment fund Summit Partners became a shareholder in the Company, which allowed Telerik to start its aggressive expansion in international markets and initiate a number of acquisitions. With its ever expanding operations and quickly growing revenue, it is not surprising that the eyes of the co-founders were ultimately directed towards Silicon Valley. Terziev admits that the Bulgarian company is still little known there since it is part of the eco-system of software giant, Microsoft, and in Palo Alto, "Microsoft partners are generally accepted as guests at the table."
In other words, the company will no longer rely to such an extent on Microsoft technology, the pipeline through which it acquired a large portion of its clients. And this changes the rules of the game, as Telerik tries to win top position. This game has no current leaders, insofar as the market is still fragmented, an advantage for Telerik. Consequently, Terziev is not at all uncomfortable to share "what we have drawn as a plan for 2014 is to have the first end-to-end platform for mobile applications. Furthermore, our vision reaches far beyond mobile applications. This is a large, developing market and we are happy to plant our flag there."