Telerik is hosting a party at /BUILD 2016. Join us as we demo some brand new products and bring the latest in mobile, desktop and web tech—not to mention free drinks.
Build 2016 sold out in a minute. An amazing feat for a $2,200 conference without product giveaways. Kudos, Microsoft!
The almost-instant sell-out was the fastest in Build's history. In 2013 Microsoft sold out its ticket supply in about 24 hours; in 2014 it took 31 hours.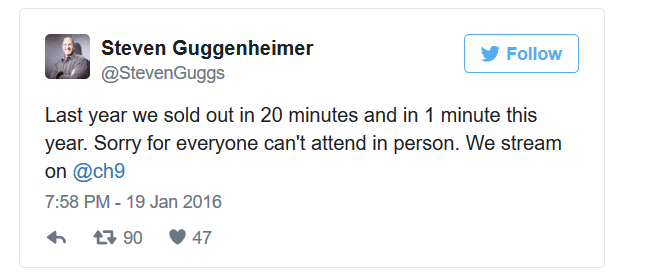 We're not sure whether this was some type of a marketing stunt, but it sure looks that way—we have yet to find a non-sponsor non-speaker who made it in the initial list. Were you one of the lucky devs who made it in? Let us know in the comments below.
The good news is that people on the waiting list have started receiving registration emails: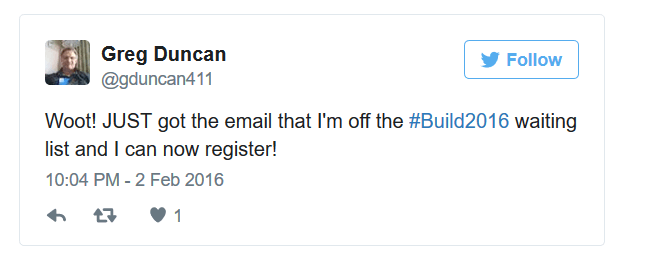 The best news is that following the hugely successful party we did in 2015, we will host another...
Telerik Party at /BUILD 2016!
If you are heading to
Build 2016
, make sure to arrive a day earlier and join us for a few drinks, on us, just for being awesome. The huge party will be on:

March 29th, 7:30-10pm at Thirsty Bear Brewing Company

661 Howard Street, San Francisco, CA 94105 (
map
)
(415) 974-0905, (415) 974-0905, (
add to calendar
)
It is a block away from Moscone Center. Come geek out and enjoy an open bar w/ snacks.
Want extras?
Tweet this blog post
, show us the tweet during the party and grab cool swag!
@JohnBristowe
,
@Samidip
,
@BurkeHolland
,
@EdCharbeneau
and myself,
@VassilPetev
, will be your handsome go-to guys with all the answers!
Also, if you know anything about Telerik, we know how to throw a GREAT party. If our past TechEd/BUILD parties are any indication, you'll have an awesome night with some of the best brains in the industry. Let the beers flow!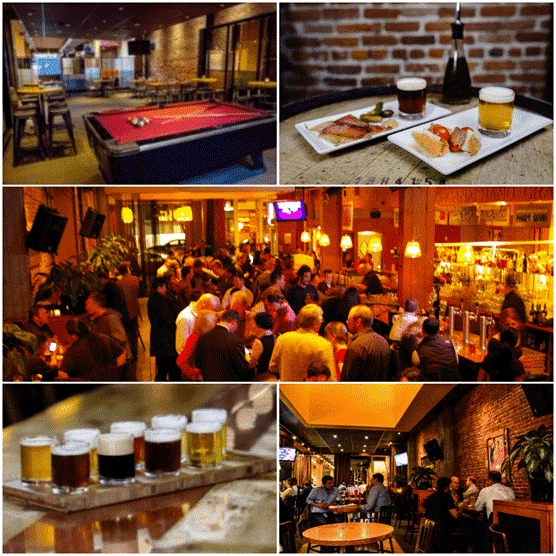 A Booth at /BUILD
We are aiming to have extensive presence during the conference, however nothing is confirmed yet, so stay tuned for more info. We will nevertheless come armed with the latest and greatest technology to address today's web, desktop and mobile challenges, plus we will demo a few brand new products which we are not allowed to reveal yet. We'll keep you posted as /BUILD approaches.
Tweet this