We are very excited to announce the launch of the Telerik Virtual Windows 8 Accelerator – a program designed for early stage startups focused on building Windows 8 apps. If you believe in the future of Windows 8 and are working on an app prototype or simply have a really clever idea – the Telerik Accelerator might be what you need to help you transform an idea into an app installed on thousands of devices.
The winning team will receive:
US $30,000 investment
One week startup boot camp in Hong Kong with AcceleratorHK (covered by Telerik) and 3 months of virtual mentorship afterwards
Promotion of the app via Telerik and Microsoft Hong Kong channels
Access to free perks and discounts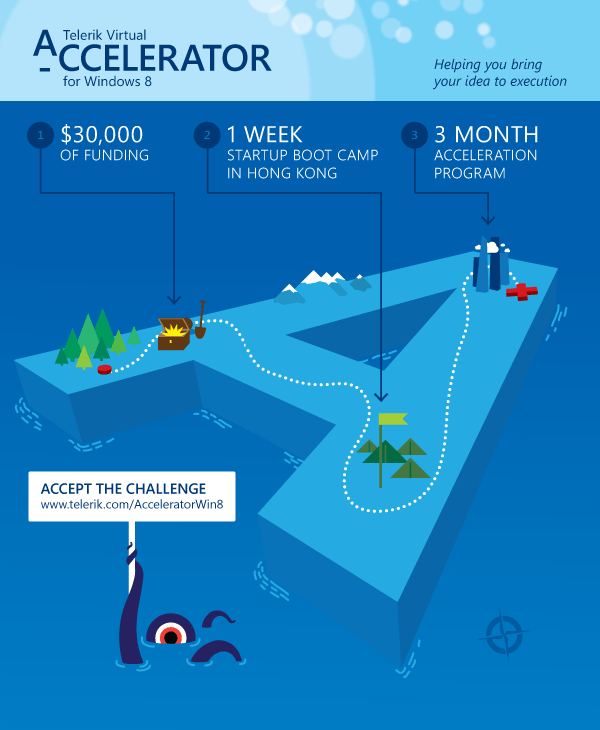 Read all about the
Telerik Virtual Windows 8 Accelerator here
The program is organized together with AcceleratorHK and in partnership with Microsoft Hong Kong. You don't even need to have a fully functional app in order to apply for the program. A mock up, a wireframe or even a drawing would be enough for our judges to assess if your idea is strong and your presentation is convincing.
Applications must be submitted by March 15, after which date, 5 shortlisted candidates will be chosen. The judges and the shortlisted teams will schedule online interviews to be conducted between April 1- April 10. The winner will be announced on April 15th.
The jury comprises of four individuals with rich experience creating and mentoring successful startups Microsoft technologies and building and developing products for the past … well many years:
Stephen Forte - the Chief Strategy Officer at Telerik, sitting on the board of several start-ups. Speaker at industry conferences around the world.
Chris Sells - the VP of the Developer Tools Division at Telerik. He's written several books, including Building Windows 8 Apps with JavaScript and Programming WPF.
Paul Orlando - startup co-founder, now focused on working with early-stage founders. Director of mobile-focused AcceleratorHK, and TechCrunch Disrupt NY 2012 Hackathon winner.
Robert Scoble - a geek who grew up in Silicon Valley and since 1985 has been building online communities.
And while our judges will select the winner of the Telerik Windows 8 Virtual Accelerator, the audience will have the opportunity to choose the community's most favorite app. The app that gets the biggest number of facebook likes will win a Surface and a free license for RadControls for Windows 8. Read more about the community vote here.

For all Telerik Accelerator and general Windows 8 news follow @TelerikWindows8 on Twitter!
We are waiting forward to your submissions.

The Telerik Windows 8 team