Last week, AppPrototyper – the prototyping tool that helps you quickly build an interactive preview of your mobile app – came out of Beta. You will find a handful of new features which complement the functionalities you may be familiar with from the public Beta release, plus important enhancements and bugfixes.
If you have missed the public Beta of AppPrototyper, check this blog post. It will introduce you to the product and how it can help you with your mobile apps development. Below, you will find the highlights of what else we have cooked up for you (for a full list of features and enhancements, check out the release notes list here).
Export Project
After creating and approving a prototype, you usually start developing the actual mobile app. Wouldn't it have been great if there were a way to create a bridge between your prototype and the app to kick-start your development? As a first step in this direction, the AppPrototyper official release lets you create the backbone of your app – the file structure with all the necessary files for your app.
You can achieve this with the Export feature that currently lets you Export to Hybrid Template. This option creates a template for a hybrid mobile app using the prototype screens you've created. It's up to you whether the screens will be grouped by tag in one mobile app screen or there will be separate mobile app screens corresponding to each prototype screen. Once you export the prototype project in an archive, you can easily import it in AppBuilder and continue your mobile development from there.
This is only the first step. We plan to enhance the Export feature so it will create mobile apps that come closer to your actual app using the prototype as a starting point. Stay tuned for more exciting developments here.
Most of the Shapes Are Now HTML-Based
If you have created prototypes in AppPrototyper using shapes, you may have noticed that they are SVG (Scalable Vector Graphics) shapes. More or less, this is not the optimal technology for the shapes and because of that, many useful options weren't available or were hard to get for you to use and edit. With the official release of AppPrototyper, we started to change this at a great pace – now a lot of the shapes are HTML-based. This means easier editing process and a larger set of properties from which to choose from. Shapes scale better after resizing, preserving the border thickness and corner-radius. The text is better positioned and wrapped and behaves better overall.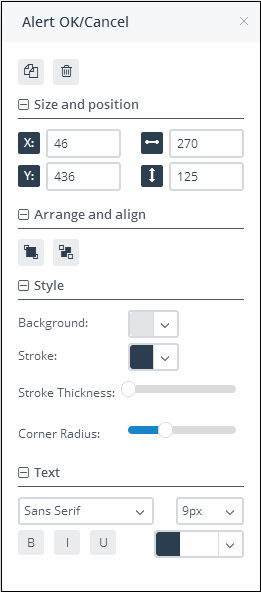 Of course we need to spend some more time making all shapes HTML-based but we will do this in the very near future.
Improved Save/Synchronization Functionality
Have you ever worked on a shared project? If yes, you already know how important synchronization is, especially when multiple collaborators work on the same project simultaneously. We made another good step in the direction of having a good Save/Synchronization functionality. If any of your collaborators change your prototype while you are modifying it, we will notify you. You will have three options how to proceed – override your local copy with the remote changes, override the server copy with your local changes or create a copy of your changes so that nothing is lost.
We will definitely continue improving this feature.
Introduced Different Devices
The public Beta of AppPrototyper offered only general devices (and frames) for your mobile app prototype. But with the official release, we have enriched and granulated these choices and now you can select from a rich set of mobile devices like Android tablet and phone, and iPhone and iPad.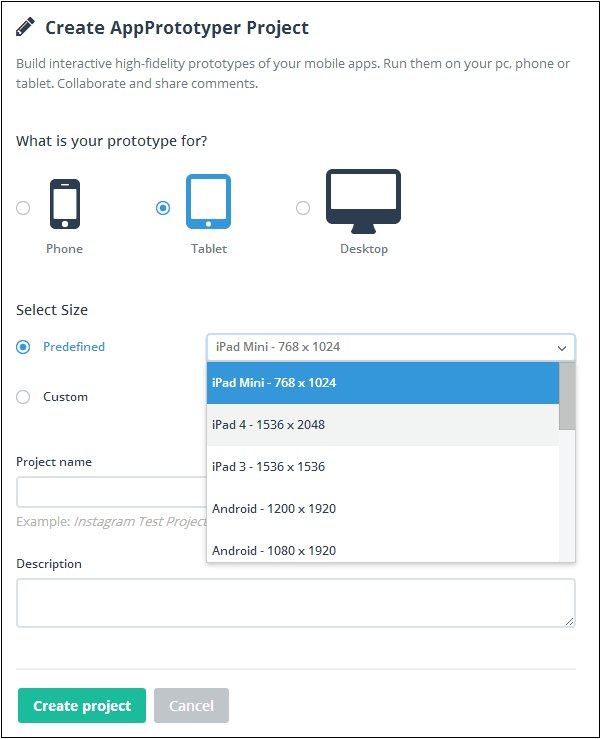 Duplicate Prototype
Another very useful new feature is Copying (Duplicating) an existing prototype. It's really useful:
When you want to create a new prototype from an existing one and reuse your already built screens;
When you want to branch a prototype (create different versions of it) and send the different versions (branches) to your potential customers for feedback.
What's Next?
We will soon have a public roadmap in place for you to review and follow. Before that we will build on and enhance the features we have introduced in the official version. And meanwhile …
We Want Your Feedback!
As we take your feedback very seriously and we strongly believe that it will help us make sure we are taking this product into the right direction, you can get back to us at: