We are very excited to announce the official release of the R1 2011 version of our agile project management tool TeamPulse. This release expands the tool's feature set with the addition of a Bug Tracking module, which allows users to record, triage, assign and evaluate bugs in an easy and intuitive way. We also wanted R1 2011 to be about increasing individual and team productivity. That's why we introduced features like the "My Perspective" view, and the interactive TaskBoard, which give users more control over their daily work. Read through for the full list of new features.
Bug Tracking
As of this release, TeamPulse introduces its new Bug Tracking module, supporting the complete workflow of bug capturing, triaging (evaluating and prioritizing), and work around assignments.
My Perspective
The new personalized My Perspective, provides users with an immediate, personal perspective on assigned stories, tasks, and bugs. By aggregating everything that each user is working on into a single location, the tool allows team members to stay focused and be more productive.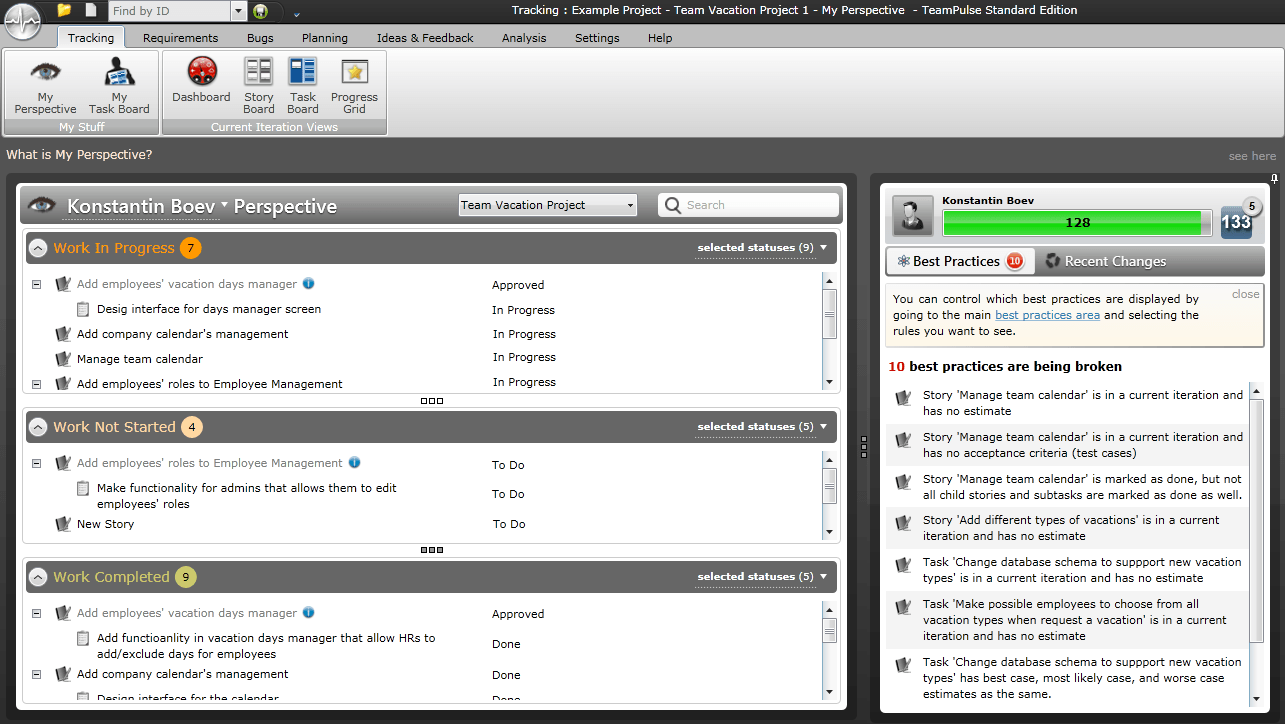 TaskBoard
With R1 2011 we also introduce the new interactive TaskBoard, which allows tasks to be represented as index cards on a virtual whiteboard, and to be organized in different columns based on their status. Tasks can also grouped by rows with various filters. The TaskBoard is ideal for daily Scrum meetings, allowing teams to quickly review, move, and edit cards in real time.
In addition we also introduced My TaskBoard which is the same as the TaskBoard, but displays only the tasks assigned to the user viewing it.
A quick Quick add story option for creating new stories has also been added to the StoryBoard and TaskBoard allowing team members to create stories right from within those views and never leave the context.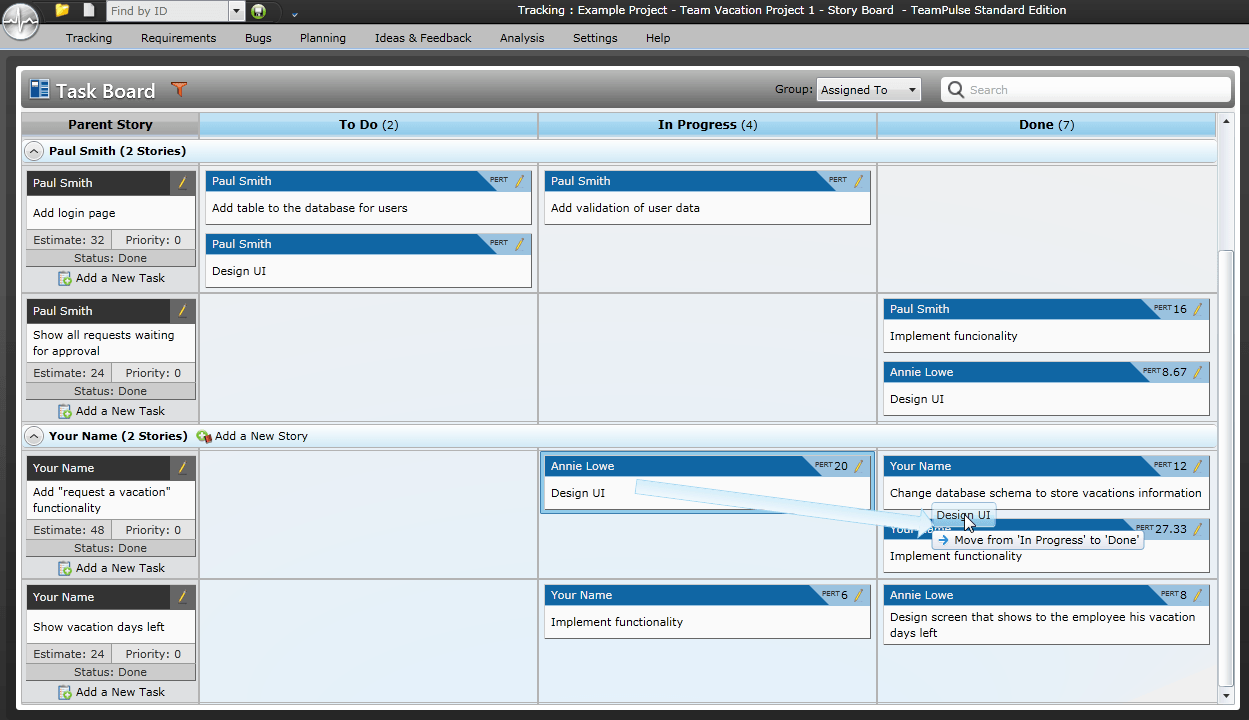 Tracking of Risk and Issues
This new functionality allows users to record and track risks and issues related to the project so that the team is better prepared for change.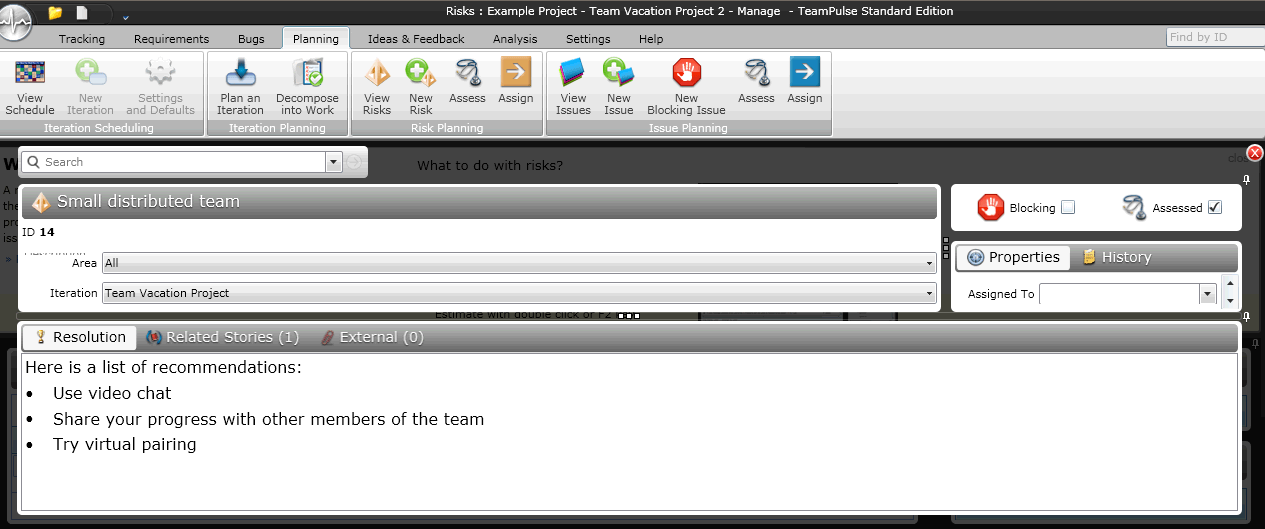 Capture Customer Feedback and Request
In addition to ideas with R1 2011 users will be also able to capture customer feedback and incorporate it in the product's development plans.
Search for items by ID
Small but valuable new functionality is the ability to search project items by ID and quickly navigate to them from the search results.

Create New Project Wizard
Users of the latest TeamPulse version will be able to benefit from the new Create Project Wizard, which will guide them through the process of creating their first agile project.
New Pack of Best Practices and Reports
New best practices and reports are shipped with this release to track key agile metrics like velocity, iteration burndown, estimate by area and more. They can be also used to measure the level of agile adoption by the team as well as the health of the project.
Hosted Trial
Along with the new TeamPulse features with R1 we also launched a 60-day Hosted Trial of TeamPulse. You can now create a dedicated account which will be stored on our servers for 60 days and will let you evaluate TeamPulse without the need to install it.
and
Register for the What's New Webinar for a more in-depth overview of the new features.