The TeamPulse team is kicking the year off with the availability of the newest service pack for TeamPulse 2010 Q3. Our main goal for this release was to significantly improve memory consumption and data load performance and we have succeeded. We also managed to add some great new features and enhance the existing ones.
We are sure you will notice the difference as soon as you try the new version but here is a quick preview of the new things.
Improved Performance
Starting from the performance improvements, now over a 1.5kbs connection, you can make
Story board loading up to 10 times faster
Progress grid loading up to 3 times faster
Requirements grid loading up to 3 times faster
Planning screen loading up to 2 times faster
Story decomposition loading up to 5 times faster
Idea screen loading with project filter up to 5 times faster
Memory consumption overall was reduced by a staggering 50%
New Features
Along with making things snappier we succeeded in adding more new features and improvements.
Streamlined Story Cards
The TeamPulse story cards now introduce a new clearer and more intuitive look so you can more easily manage the captured information.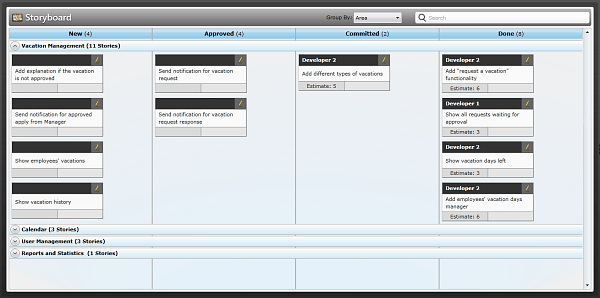 Remembering the Collapsed/Expanded States of Nodes
TeamPulse now remembers the collapsed/expanded states of nodes in the various hierarchical views found throughout the application. So, no need of additional selections and expansion, you will be automatically brought back to the view and selection you last used. By having this it will be much easier to navigate and get to the item you are looking for, especially as your project grows in duration and complexity.
Iteration Selection on the Dashboard
Users now have the ability to choose which iteration to be visualized in the dashboard report right from the Dashboard page.
Spell Checking in Rich Text Areas
We are happy and believe you will also be happy to hear that we are introducing spell checking in all rich text fields. Spelling mistakes will now be a thing of the past!
TFS Synchronization Enhancements
With Q3 2010 SP2 we also bring a number of new features for those of you who are synchronizing their TeamPulse projects with TFS (Team Foundation Server).
Sync a single TFS project to multiple TeamPulse projects. This is good news for those organizations who have lots of information tied up into a large TFS project, but would like to segregate the information when it comes to managing it within TeamPulse.
Specify a TFS query which allows you to filter the items that are considered for synchronization from TFS into TeamPulse. This is great for many scenarios, for example if you have legacy data in a TFS project that you don't want to get into TeamPulse.

Schedule your synchronizations to occur one or more times per day. By adding a few configuration entries into a configuration file, you no longer have to manually synchronize your projects with TFS; you can now configure it and trust that it will happen automatically at the times specified.
We hope you like the work we've done to make your experience with TeamPulse the best ever! As always feel free to share your feedback and comments below or in our forums.
Download latest TeamPulse >>