Recap
Thank you for joining us in the DevCraft Q1 2014 online conference. I hope that you enjoyed the session on using Telerik Reporting to share your data on any screen. This session began with a quick introduction to
Telerik Reporting
, then we reviewed some of the new functionality delivered by the Q1 2014 release. These features include
implicit styling for XAML-based report viewers
, rendering performance improvements, a
ServiceStack reporting server implementation
, as well as powerful new
mapping functionality
. We then demonstrated the implementation of a Telerik Reporting solution to many different form factors, including desktop, web and mobile. Lastly, we used the stand-alone royalty-free Telerik Report Designer tool to demonstrate the creation of a new report that showed off some of the new mapping functionality.
Q&A
1) Is there going to be support for Google Maps too?
Due to license limitations we are unable to provide Google Map tiles.
2) Can we export reports with maps to PDF?
Yes! You can export reports with maps to PDF as well as to 20+ other formats.
3) Can you add text to the series, e.g. 68 in white text on the America bubble ?
Yes! PointMapSeries provides a set of properties for configuring data point labels such as DataPointLabel, DataPointLabelStyle, and more. Find more information on this here: http://www.telerik.com/help/reporting/t_telerik_reporting_pointmapseries.html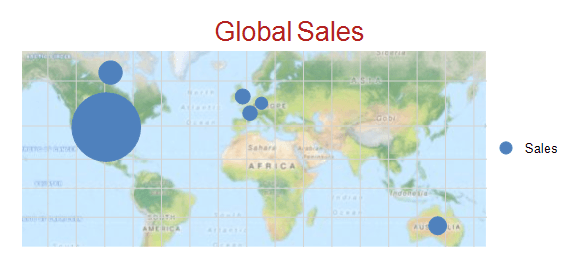 Wrap-up
Telerik Reporting is a great solution to your cross-platform and cross-device reporting needs. Be sure to update your projects to the most recent version in order to take advantage of these fantastic new features and improvements. If you don't already have Telerik Reporting, I urge you to take it out for a spin by downloading a trial.
The videos for the entire conference will be available on-demand at http://www.telerik.com/devcraft-release-online-conference until March 20, 2014 and then will be available on the Telerik YouTube Channel (https://www.youtube.com/channel/UCo-utdNlq6HvjCX0SduL4bA) after March 20.