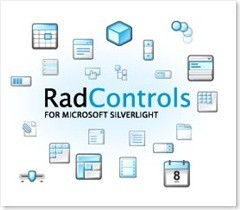 The RadControls for Silverlight 2 have remained a beta product as we waited on Microsoft to finish the second major version of their browser plug-in. Well, without much fanfare Silverlight 2 was officially released today. In case you haven't been paying attention, this version is huge and introduces an enormous amount of improvements from version 1, the biggest of which is its support for .NET code in the browser. As with our other control suites, the Silverlight team at Telerik has remained on the cutting edge of this new technology and is eager to release the official version of its RadControls for Silverlight 2. With the Silverlight 2 release candidate released almost 3 weeks ago we were able to bring our control suite up-to-date and ready for prime time. If you have been writing your Silverlight applications on the beta versions of Silverlight 2, check back soon so you can download the new bits and make the switch as soon as they go live. You'll also want to check out this list of breaking changes between the beta version of Silverlight 2 and the release version. A breaking changes document for the RadControls for Silverlight will be made available as soon as the controls are released.
Here are some of the features you can expect Telerik to offer in the RadControls for Silverlight 2 suite:
A rich set of controls in the toolbox, including the RadCalendar, RadComboBox, RadCoverFlow, RadContextMenu, RadMediaPlayer, RadMenu, RadTreeView, RadUpload, and many more. Check out a full set of demos for the new controls here.
Custom layouts. There are three new layout controls available in the RadControls for Silverlight suite.
Drag-and-drop and page navigation capabilities. The Silverlight team has done an excellent job providing an advanced framework for easy page navigation and adding the ability to drag-and-drop objects around on page in a visually rich way.
Full support with Expression Blend. All RadControls for Silverlight 2 are fully customizable in Blend.
A common API. The RadControls for Silverlight share a common codebase and API with the RadControls for WPF. This means that you'll be able to reuse your Silverlight skills and even some of your code when porting your Silverlight applications to WPF.
Look for more exciting controls and features as we ramp up for the next release in Q3, slated for the first week in November. In the meantime, head over to your Client.net accounts and download this new release, and be sure to check out some of the recent blogs posts from members of the Silverlight team for more details on the amazing Silverlight tools they continue to deliver.