I thought I should drop a line to let you know about our plans for changes in the common skins of the Asp.Net product line. For the upcoming Q2 release this September we are planning to refresh the default look of our controls, discontinue development of two common skins, and add two new common skins in their place.
Default Skin Refreshed

The current default skin (the look of the components when you drop them from the toolbox;
browse a preview of all current common skins here
) has served well, but the time has come for a fresher look. While we wanted to preserve the skin neutral and clean, we have added contrast and a more modern look: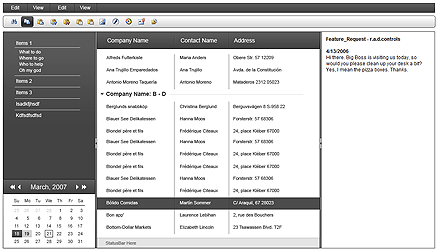 The Q2 dlls will ship with this new look built-in, so when you update your projects all components that use the default skin (or have no skin set) will automatically assume the new look. If you want to preserve the old default look, we will have the outdated version available for separate download from
http://www.telerik.com/skins
.
Discontinued Common Skins
We will say good bye to the Outlook common skin – 7 years after the introduction of Outlook 2000 it is time we move on to better things. The Inox common skin will need to go too – unless we get an overwhelming no from you, we will no longer update this skin in the future releases. Both skins will still be available for download.
New Common Skins
We are adding a Black Vista skin to all components and another web-style common skin that is still under discussion. Now is the time to get back with requests for a new look – if you've spotted a style you would love to have, leave a comment here and we will consider it.
Apart from all these changes, we have a host of new product-specific skins coming with the Q2 release, which is promising to be a major uplift for our Asp.Net interfaces. While we're still cooking it all, we will appreciate any feedback you might have for the direction you want to see us heading.