3/4 of the Telerik Evangelism crew (Todd, Gabe, & John)
In case you missed Todd's announcement, Telerik welcomed two new evangelists back in September. Many of you have met (or maybe already knew) John and Gabe at the many conferences we've been attending lately. Last month we were at DevReach in Bulgaria and PDC in Los Angeles, and next week we'll be at DevConnections in Las Vegas. During PDC Todd recorded a nice introduction video for all of us in an episode of Telerik Watch Minute (I'm the goofy guy in the Howdy shirt). But whether you've met John and Gabe or not, how many of you know where to find their online hangouts?
First, there's Twitter. I know, I know, some of you avoid it like the plague. But for the rest of us cool folks, Twitter is a fun way to keep tabs on what we're up do on a daily basis and I for one have found it to be a great outlet for spreading Telerik news. If you want regular updates on the latest Telerik buzz or breaking news (be it in the technology world or otherwise), you can follow me on Twitter @TelerikBuzz and John at @JohnKellar.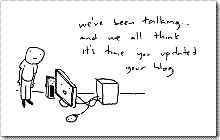 Second, and most importantly, we blog. You probably already know that I write exclusively here on the Telerik blogs, and that Gabe and John post here from time to time as well. But unlike me they have their own blog spaces that they brought with them when joining the Telerik evangelism crew. They post great content on a regular basis and I'd hate for you to miss out on all the cool stuff they're writing about. You can find Gabe's blog at www.goondocks.com and John's blog at http://johnkellar.blogspot.com/. Head on over and check them out. Heck, subscribe to their feeds and see what they're talking about. All the cool people are doing it!