Every fall, the kids go back to school, the weather gets cooler, Munich kicks off its annual Oktoberfest festival, and the fall conference season heats up. It seems that I always miss Oktoberfest. I had friends who lived in Munich earlier this decade and each year my trips to Mt. Everest got in the way. Now that Telerik has a Munich office, I got to go to Oktoberfest (O#) with geeks. I can see the eyes rolling by the non-technical readers of this blog (basically my Mom is the only non-technical person who reads this blog), however, geeks can drink a lot, judging by how I had to crawl up the spiral staircase in my hotel room last night. (Yes you read that right. I also thought that European rooms were suppose to be small. I think that the staircase is a cruel joke for Oktoberfest and they only give the room to dumb, obnoxious Americans, but I digress.)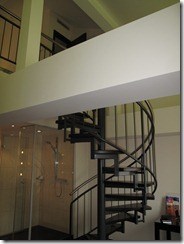 While I am here to talk about the future direction of OpenAccess and how to further evolve the WCF Wizard that I recently wrote a blog series on, we all will be headed up to Mainz for Basta 2009. Since the fall conference season is upon us, I figured I will outline here all of the events I will be speaking at this fall, plus a special trip to Nepal I want to tell you about.
Basta! 2009, Mainz, Germany 21-25 September
This is my first Basta event, but many of my colleagues have spoken there for years (including fellow RDs and ex RDs Ingo Rammer, Markus Egger, and Christian Weyer.) and have raved about the passion of the audience. I'll be speaking on scrum as well as doing a keynote on Silverlight's line of business applications (this keynote will be one long demo.) Telerik is also going to be there, as a sponsor and with a booth. We have enough tee-shirts for every man, woman, and child at the conference. Should be fun!
School building in Chyangba Village, Nepal, 25 September-October 6
Instead of going to Mt. Everest this year, I will be going to my sherpa's home village and help construct a library for the local school. I am also going with a few other geeks like Richard Campbell, Kathleen Dollard, and Maciej Pilecki. We are raising money for the village and trying to set up an endowment. I would love to see the tech community help us. Since speakers don't get paid for these events, my tagline this fall will be asking for geeks to donate to the cause. (Hey if people can "walk" for cancer, I can speak for a village.) More on this on a blog post later this week before I fly to Kathmandu, but you can sponsor here. I have to thank Telerik for being so supportive of this passion of mine.
DevReach, Sofia, Bulgaria 12-13 October
DevReach is another passion of mine since the conference founder Martin Kulov reached out to me for help in planning the first ever DevReach in 2006. It is also how I met the Telerik boys. It is also how I discovered how beautiful Bulgarian women are. All of that said, it is a great show, now in our 4th year and of course Telerik is a huge sponsor and will have a great presence there. I'll be doing the scrum session as well as Data Access Hacks and Shortcuts and Building RESTful Applications with Microsoft tools.
CodeCamp, Cracow, Poland 17 October
Fellow RD Tad Golonka, who is totally awesome, introduced me to the crazy country of Poland (also another land of beautiful women, seeing a trend??) Long story short, but if you remember I was the global recruiter for the Curing Cancer project, and one of the folks I hired was Szymon Kobalczyk (also recommended by Tad.) Szymon, who says I have changed his life (I just hope for the better!), runs the CodeCamp, so I could not say no! Talking scrum and data as well and I expect to have a great time.
Software Developers Conference (SDC), Arnhem, The Netherlands, 19-20 October
This will be my 12th year of speaking at SDC (something like 15 events) and my first SDC was back in May 1998. The SDC took a chance on a young inexperienced speaker (I only spoke at a few Advisor DevCons in the United States before then) and I am forever grateful. To be honest, I have no idea why the Dutch like me so much, I constantly show up for sessions drunk (one year they even put the word "Beer" in my session title (start listening at 22 minutes in)) and insult Dutch people. I got very drunk and very abusive in 2007 and they made me do a keynote in 2008. I guess I am not learning. That said, I will be back with the usual cast of characters. This is my favorite event of the year.
Tech*Days Hong Kong 2-4 November
This will be my first time speaking at Tech*Days in Hong Kong. There are usually a few thousand folks at this event and I will doing a session called "Sharing Code between .NET and Silverlight" as well as my Daily Scrum talk. Looking forward to this one!
Tech*Ed Europe, Berlin, Germany 9-13 November
After setting a TechEd record of doing 10 sessions last year (only to break that record and do 11 in LA this year), the TechEd Europe organizers figured that they had enough of me and only assigned me 2 sessions (Estimation and "Agile Tools and Teams".) I lost track, but I think this is my 10th TechEd in Europe! Telerik will be there in force with a booth and developers staffing the booth. This should be a great event.
PDC 2009, Los Angeles, California (why?!) 17-19 November
While PDC is pretty much a Microsoft only speaker event talking about future technology, Joel and I will be doing a BOF session on Agile Tools and Teams. Basically a repeat of our BOF at TechEd in LA (and my session in Berlin. Watch this related video.) Telerik will be at the PDC in full force, as a sponsor and with a booth. Known for great software and also awesome must have t-shirts, we will have over 1,000 copies of our new t-shirt, making its debut at PDC. Stop by the booth for that (as well as .NET Ninjas, Geeketts, and some others.) Also Telerik will be unveiling its newest product and will have demos all week will give away licenses.
That is a lot of events, but it will be great! Hope to see you at one (or all)!