The JustTrace team has been busy working on some great improvements to Telerik's memory and performance profiler!
The new Beta ships two brand new features: 'Profiling Windows Services' and 'Compare Performance Snapshots'.
Currently, JustTrace is able to profile only Windows Services on Windows Vista and later versions. Future plans include support for Windows XP and Windows 2003. The new 'Profiling Windows Services' capability' entails a new, easy to use dialog, which enables you to see the list of all services and their status. And just above it you can find three buttons that allow you to start, stop and restart the selected service. In the same dialog, you can attach the Sampling profiler to a running .NET4 windows service.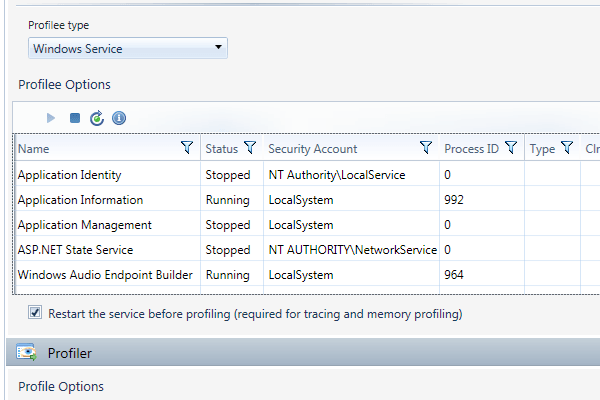 Another cool feature that ships with the new Beta is the 'Performance Snapshot Comparison'. By dragging-and-dropping one snapshot tab over another, the user can find out how the app's performance has changed. The resulting comparison tab will show key performance metrics, enabling the developer to choose the better scenario, or to revert to a previous state if a certain optimization technique has not produced the expected results. There is a simplified color scheme for easy hot spot identification, too.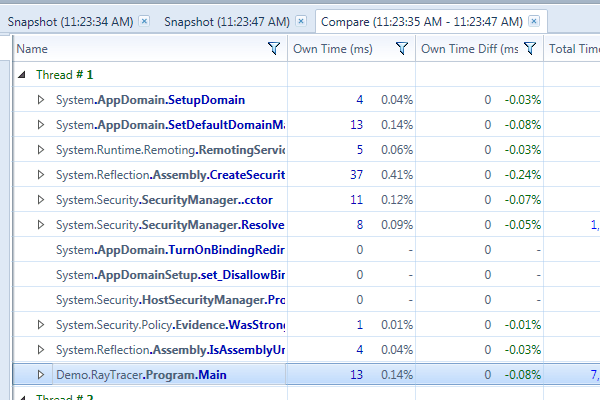 We'd love to hear your feedback once you've had a chance to try out these two hot new features!
The new JustTrace Beta also boasts numerous performance improvements. The data collection process has undergone significant changes, resulting in performance that can be twice as fast in some scenarios. We've also decreased the size of the collected data (files footprint). Memory consumption has been significantly reduced, especially in regards to the Memory Profiler.
Other significant improvements include Visual Studio commands compatibility and compatibility with Visual Studio add-ins, which use Telerik WPF controls.
The product team continues to work on various performance improvements and other reported issues. Please give the new BETA a try and let us know what you think. As usual, you can use our forum or send us a ticket through the support system to report any issues you come across.
Help us shape the future of JustTrace!
The JustTrace team