Our customers have been asking us for some way to have visibility across a number of projects at the same time. We also think this is a great idea!!! For that reason, we've dedicated our next release (targeted toward the end of January 2012) to providing cross-project views to our customers.
Before we started development, we really wanted to understand "who" would want such views – overwhelmingly, customers have told us that cross project views would be great for team members as well as roles such as the development manager, whose responsibility is to govern many projects at the same time. Understanding the persona behind the feature request allowed us to target the delivery of the highest amount of value.
Another overwhelming request we've had from customers was to provide a cross-project view outside of the TeamPulse Silverlight application in a very lightweight HTML based presentation layer. And this is exactly what we're doing!!! In fact, we're using our brand new HTML5 controls called Kendo.
One of the key design principles our approach was to "indicate the need for a conversation at a single glance" – where the cross-project views help alert your team to conditions that require further collaboration or conversation. When we asked customers what they would like to be alerted to, overwhelmingly they said they would like to know of any blocking issues or bugs, the overall progress of the release or iteration, and if expectation won't be met. Our goal is to highlight these conditions so that in a single glance you can see if a project needs attention or not; and if it does, to quickly understand where the hot-spots are.
Here's a few screenshots of what we've been working on. Our team is VERY agile – so, expect some of this to change based on your feedback. In addition, we urge you to provide us with your thoughts on our direction in response to this blog post as comments.
One the following screenshot you can see a dashboard listing all projects you have selected and the progress of the current iteration for each project.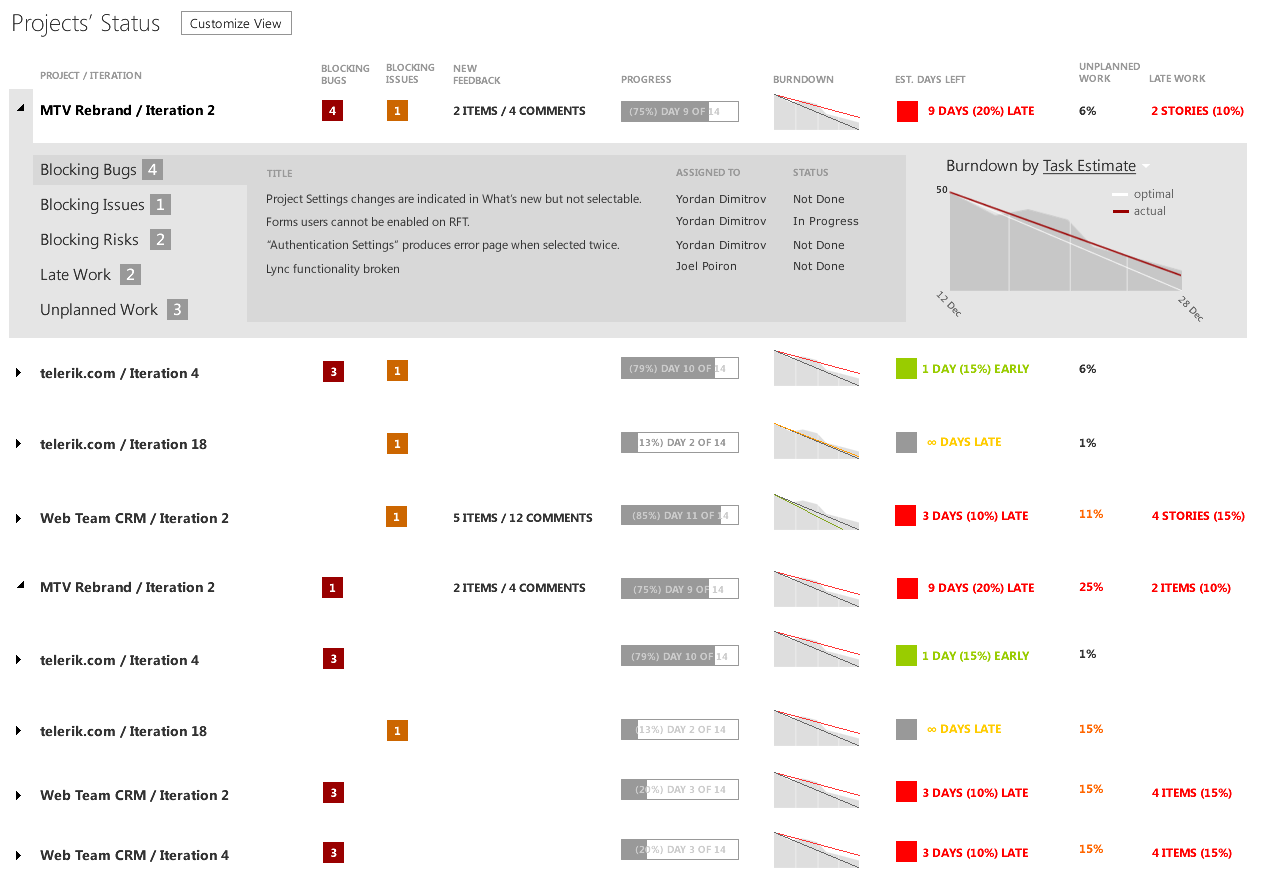 You can see that we have an expanded and collapsed view – the collapsed showing only summary information, and the expanded view showing a "bit" more detail. The screen highlights blocking bugs, issues, activity from the Feedback Portal, progress of the iteration, an iteration burndown and some indicators that help you to see if you're going to hit expectations and if not, how late could you be based on your current velocity, how many stories might not get addressed, and what amount of unplanned work the team is dealing with.
Customers also asked for a "people centric" view. This view would pivot on team members, and not projects, so that we can all have perspective on a person across all of the projects they may be involved in. The following screen shows a bit of this.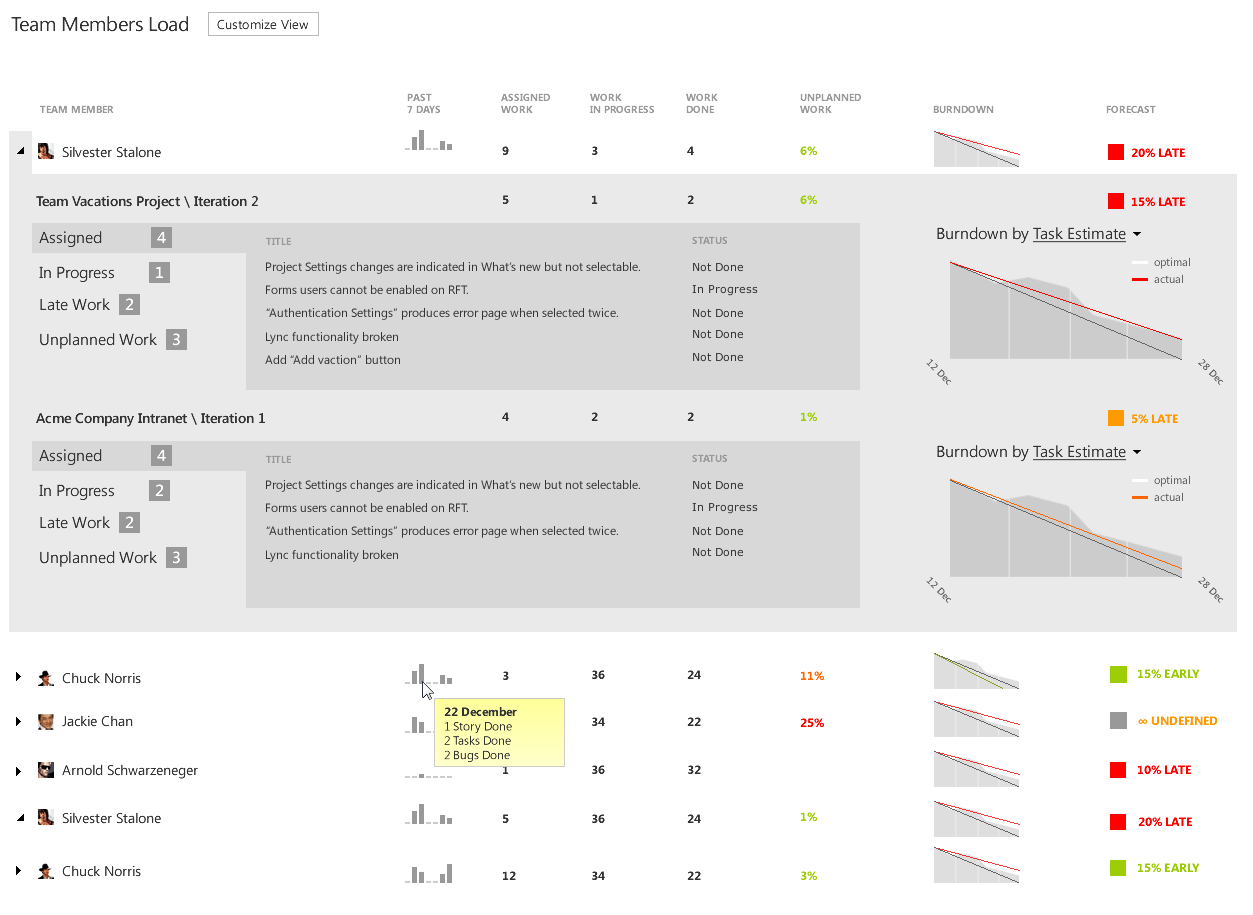 As you can see, the purpose of the People View is to give high level indicators of what work has been assigned to each person across projects, to understand the amount of work in progress each person is responsible for (we like it when this number is low), if people are dealing with unplanned work, and if each person will hit their expectations demonstrated through a "personal burndown".
In another view, we wanted to make it easy for team members to see what they are working on across all the projects they are involved in – essentially a Cross Project view of My Perspective.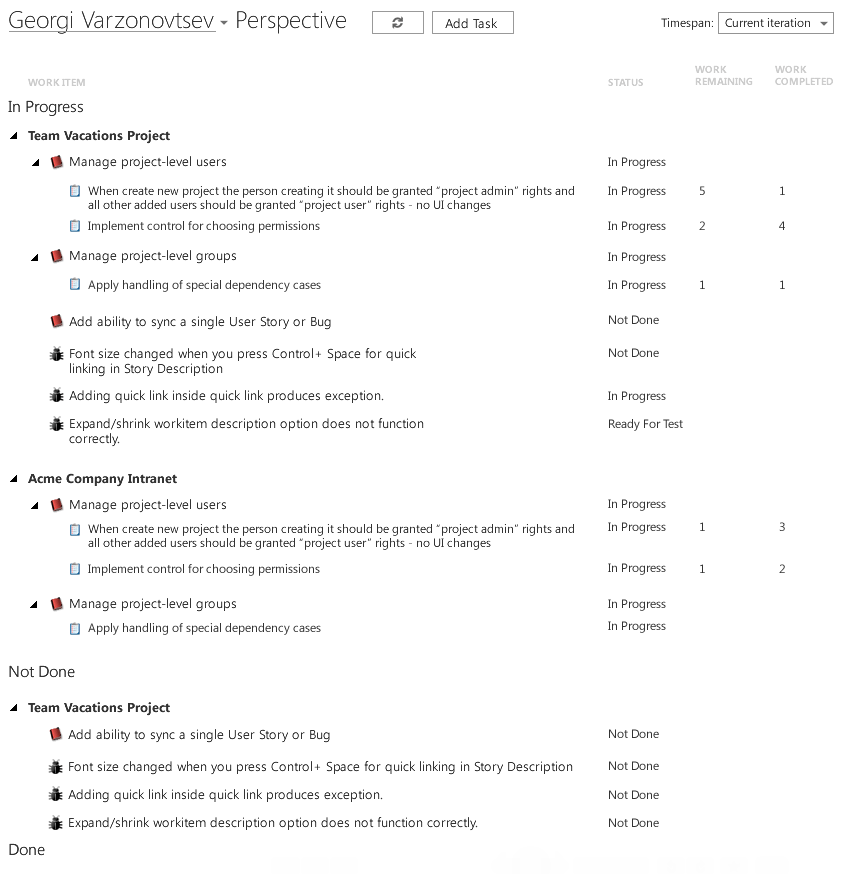 Again, please note that all of this is subject to change – rest assured, we're working as hard as we can over the holidays to deliver as much value as possible for our end of January release.
We'd love your comments and feedback.
Try TeamPulse R3 2011 Now