I don't know about you, but I run a lot of extensions in Visual Studio. Of course I have all of the Telerik tools installed, but I also have the Visual Studio Power Tools, Web Essentials, TypeScript, and more installed. This has made my context menu in Solution Explorer very long. So long that it was scrolling!
JustCode keeps adding more and more options and features with every release, and this of course was making the context menu even longer.
2013 Q2 Service Pack 1 to the Rescue!
Another feature from the latest Service Pack is a rearrangement of the JustCode menu options for the Solution Explorer. Near the top of the context menu you will find a container menu for the JustCode options (as shown in Figure 1).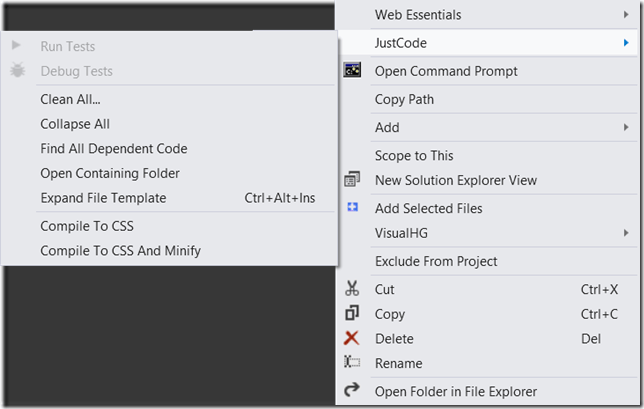 Figure 1 – The New JustCode Sub Menu
This is an awesome new "mini-feature" that saves me quite a bit of time, as I use the Solution Explorer context menu all of the time, specifically the JustCode options, and now they are right at the top of the context menu. No more scrolling, no more hunting for the options. It's all right there!
Haven't tried JustCode? Download a free, fully functional trial today and see how much more productive you can be!