Are you tired of clicking around to find that installer you swear you downloaded last week, only to give up and download it again? Are you annoyed by popup reminders, but turning them off means you may forget to update your controls? Well, worry no more! We've made it easier than ever to install and update your favorite Telerik products with the brand new Telerik Control Panel.
Getting Started
To get started, download the Telerik Control Panel from telerik.com by visiting your account page. The option to download and install the Control Panel is front and center on the page.
You can find the Telerik Control Panel in the Telerik menu in Start after installation. If you're using Windows 8, it will be located in Apps.
The Fun Begins
Upon launching the application, you will need to provide your Telerik account credentials then click the sign in button.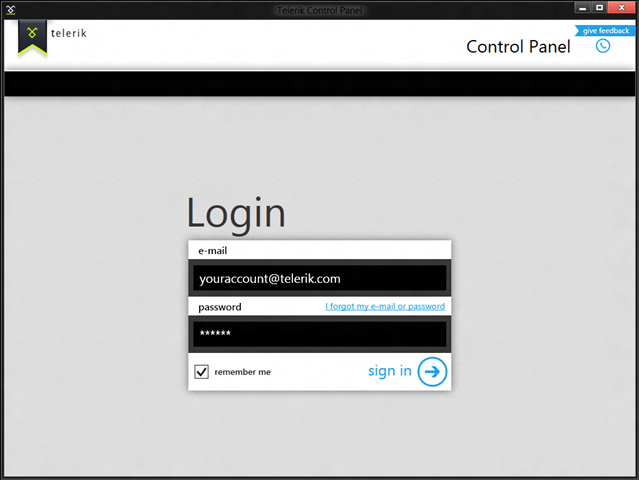 Afterwards, you will be presented with a screen containing sections for all products, purchased products, trial products, and free products. These sections each have a split screen view: the left contains installed products that can be updated; the right contains products that can be installed.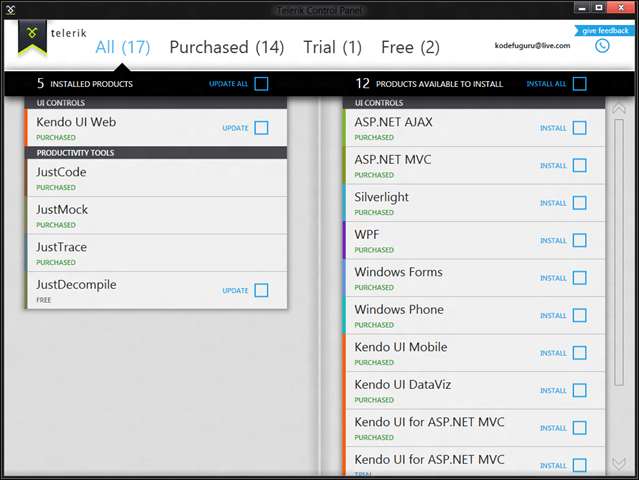 You can continue by selecting products to install or upgrade. The Telerik Control Panel makes it easy for you to install multiple products in one go. Simply select the products you wish to install, and the option to proceed or cancel will be displayed. You can mix and match purchased products, free products, and trial products.
Perhaps you are supporting WPF and Silverlight applications. Simply select both of them and click Proceed.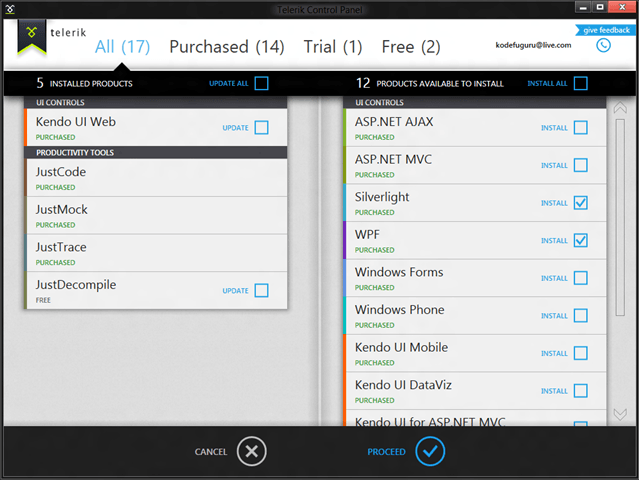 You will then be given the opportunity to review your choices and make changes to the installation folder. When you're ready to proceed, accept the license agreements and click Proceed. If you forgot something or checked the wrong box, click Back and correct your selection.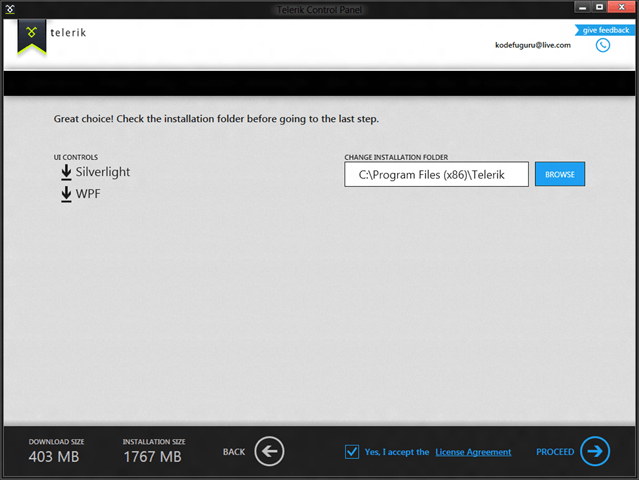 The Telerik Control Panel will download the necessary files for installation and then install them to their location. Easy as 3.14159265!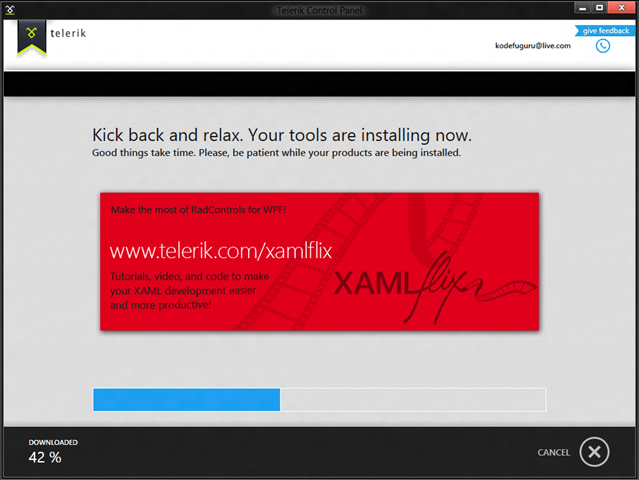 After installation is complete, you will be returned to the main screen to install or update more products.
Some Practical Advice
The Telerik Control Panel makes it easy to view our wide selection of products and download new solutions to evaluate. But that's not the only reason we created it.
If you have update notifications turned on in Visual Studio, you're probably used to seeing the occasional popup reminding you of new Telerik product versions. It's a brief message and isn't cumbersome with only a couple of products installed. However, if you have the Ultimate Collection, you may spend a significant amount of time updating everything from within Visual Studio.
Whenever a new Q release is available, you can now update everything you need at one time from the Telerik Control Panel; we want to make it as easy as possible for you to use the latest versions of our controls. If an update is available for a product, an Update checkbox will appear next to the product in the Installed Products panel. Use the Update All checkbox to select everything, or make your selection on an individual product basis.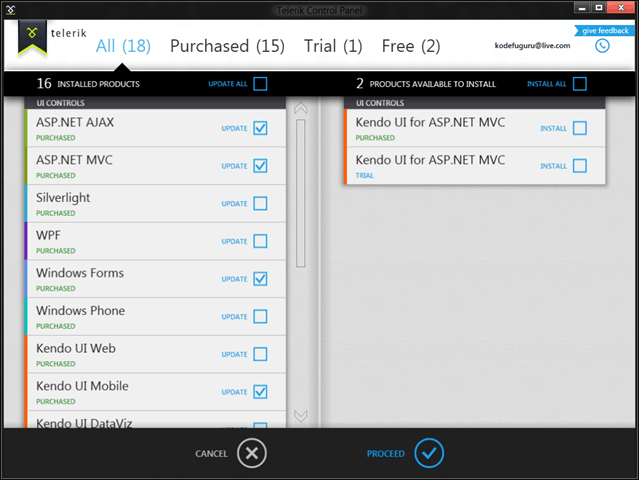 Updating proceeds like the installation steps above.
Talk to Us
If you would like to provide feedback, use the give feedback button in the upper-right hand corner to navigate to our feedback page.

If you click the phone symbol below the button, a contact us screen is displayed with our sales email address and phone numbers for offices around the world.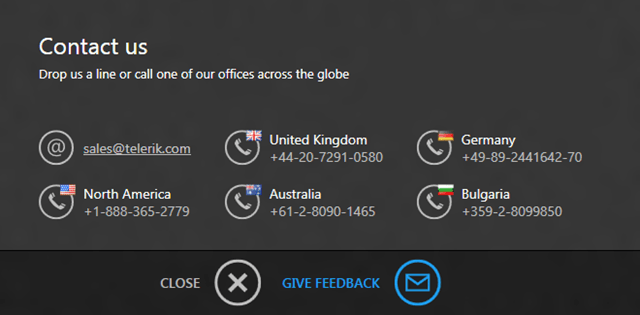 We hope you enjoy the new Telerik Control Panel. It certainly has drawn the attention of many of our users. We have received a tremendous amount of email expressing how much easier the Control Panel makes installing and updating Telerik products, and we have received dozens of suggestions for further enhancements. Our team is already working hard to implement many of these suggestions; let us know how we can further improve the Telerik installation experience for you!