As the TeamPulse product owner, I'm pleased to introduce our new HTML 5 based TeamPulse extension we call xView. Our goal for these features is to provide users with a single location to get a view of data across multiple projects.
I'm fortunate to spend the majority of my time focusing on a single project, as do the members of my team, but I've been working in the application development industry long enough to know that this is not the case with many of our customers. These customers are often juggling multiple items in multiple projects and there are people who are responsible for overseeing all this work to ensure that it flows smoothly.
For these customers, we're optimistic xView will become their base of operation and with a single glance, allow them to get an overview of the status of their projects, people and work.
Let's begin with looking at the Project Status xView™
Projects Status Overview

The goal of this xView is to give users who are interested in the high-level status of a project, one view that will alert them to conditions that may require them to take action.
Our driving mission for this screen is to give our users only useful, actionable information. Too much information can be bad. We didn't want critical information to be drowned out by a lot of noise.
The first set of columns highlight the blocking items for each project. These blocking bugs, issues and risks are the items that should be the immediate concern to all people connected to the project.
Following that is a bar showing how much time has elapsed in the iteration. We provide this information to give the reader context for how close an iteration is to completion. This should allow people to focus on projects that are closer to reaching a milestone rather than spending too much energy investigating project progress in an iteration that is only in its first couple of days.
Based on our team's years of experience developing applications, we've come to realize that often the first few days of an iteration are more a period of discovery then definable progress. Teams spend the first few days further defining their tasks as they learn more about the work that they've planned to complete. Because of this common pattern, we allow people to customize when xView starts to alert them to the potential of stories not being completed according to plan. In the screen shot, you can see a small vertical line in the time elapsed bar that shows you at what point in time these alerts will begin to appear.
To the right of the time elapsed bar are a series of charts that provide alerts for potential issues regarding your iteration's planned items. xView alerts people to stories that potentially will not be completed according to your plan and to items that were added in the middle of the iteration, which usually indicates unplanned work.
Project Status expanded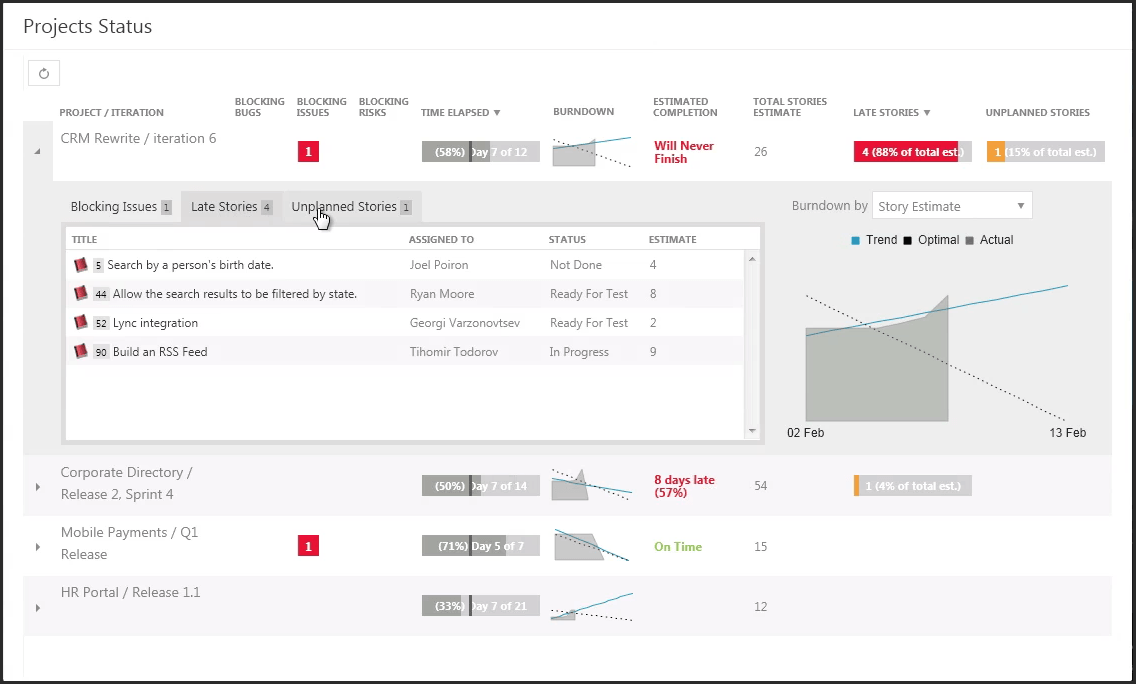 Once a person has identified a project that requires further inspection, xView offers an expanded view that provides enough detail to help direct what action should be taken. That action could be having the team re-prioritize their work to focus on high value stories that look as though they may be not be completed as planned or to defer working on unplanned work so that the team can focus on getting the planned work completed.
I'm confident that after reading about these new features, you'll be as excited about xView as we are. In my next blog post, I'll provide details about the new People Status xView.