I can't think of a better way to kick off spring than a brand new Icenium update as well as finding out we've been selected as the Gold winner for the category "Best New Product of the Year" in the Best in Biz Awards 2013 EMEA.
We are truly honored and grateful to the judges involved for recognizing the value Icenium has added to the mobile application development community. The entire team, our talented developers in particular, is working hard to thoughtfully, creatively and continually present you with everything required to develop cross-platform mobile apps with ease.
Today's release is a prime example of the Icenium team's dedication to simplifying your mobile development. It is a culmination of your direct requests and our team's drive to present you with all the tools to make your development experience as pleasant and as efficient as possible.
Some of the highlights from this release include:
Updates to Icenium in general
Apache Cordova 2.4 support
All of Icenium, including Ion, has been updated to Apache Cordova 2.4. By default, all new Icenium projects are using Cordova 2.4, however, this can be easily toggled within your project's Properties screen. You are now free to access all your favorite 2.3 and 2.4 APIs such as the
InAppBrowser
.
If you're interested in knowing all the new APIs at your disposal, you can see what's new for yourself in versions
2.3
and
2.4
.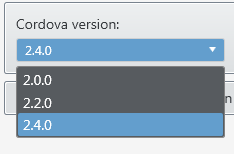 PushPlugin support
You've been requesting this plugin through our Feedback Portal, our forums, over email, and I believe we even saw a few smoke signals. It's now supported and you're free to enable both your iOS and Android applications to receive push notifications. InAppBrowser, and the recently added Barcode Scanner and SQLite plugins, can be activated through the Properties screen.



The ability to flag an application as iPhone or iPad only
You now have the freedom of choice and are no longer forced to create an iOS application that must be compatible with both the iPhone and the iPad. By popular demand we have exposed this configuration in the iOS project properties screen so you can now choose to target the iPhone/iPod Touch, the iPad, or both.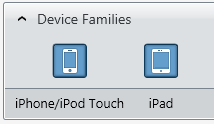 General usability improvements
Gone are the days of staring and wondering what's happening. You'll now see progress indicators for certain operations that can take a longer amount of time such as deleting a project, importing and exporting certificates, adding files from archive, etc.

We've added an email address field into the Version Control history so you can have a bit more

trace-ability

.

Updates to Icenium Graphite

New publishing wizard

Now you can publish to both Google Play and the Apple App Store without leaving Icenium. Similar to our Mist update from last month, this also means you no longer need a Mac to reach the App Store. It's worth finishing up your latest work just to try it out.





Graphite usability improvements

We've improved the notifications when you're in the local repository and there are pending changes that need to be committed.

A Clear All button has been added to the existing iOS Pairing settings pane.

A close button for the device tabs has been added.

More indications! Progress indicators have been added when opening a file during synchronization.

A new conflict resolution dialog enables an easier resolution to client/server file content mismatches.


Updates to Icenium Mist

Safari simulator support

Yes, there are some who prefer to have options. Even Safari. Now, when you're coding on the go you can access our simulators through both Chrome and Safari.




Mist usability improvements

Project name are now suggested based on the clone URL.

Tabbing now works when cycling through dialog boxes.

The ability to sample projects by name has been enabled.

QR codes are now easier to scan because they are generated with shorter URLs.

Descriptions in the Create New Project dialog have been added

.

That's a quick summary of what's new within this release of Icenium. If you'd like even more details, feel free to check out our full release notes located here.

As always, we have a lot more exciting content and updates in the pipeline based directly off of your feedback, so, please keep your thoughts coming and let us know what's important to you through our Feedback Portal and on our forums.

Thank you again for using Icenium and we truly hope you enjoy this latest update.

Anthony
@anthonyabdulla