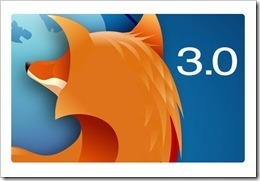 Today is D-Day ("Download Day") for the much-anticipated version 3 of Mozilla's popular web browsing client, Firefox. In an effort to create more buzz around the launch, Mozilla has requested that users help them attempt a new Guinness World Record for most downloads in a 24-hour period by downloading the new Firefox release today. Over 1.7 million people from around the world pledged to download the new client today.
As an aside, I think its pretty cool that they are trying to get in the Guinness record books, but is it really a record if it's never been done before? I think "setting the bar" might be more appropriate. I scoured the web and found no other such record anywhere, so I'd bet that this is the first time anyone has tried to measure an event such as this. In any event, its great marketing hype.
I think its safe to say that this latest release of the Firefox browser has generated much fanfare, but fortunately users have not had to wait to play with the new version. Mozilla released an alpha last summer, then a beta towards the end of 2007, and finally 3 release candidates over the past few weeks. There is so much packed into the new release - literally thousands of changes, bug fixes, performance tweaks, and new features - that it would be impossible to list them all here. But for those of you who haven't played with the early bits, here are a couple of the new features which you can look forward to in the new version:
Development
Firefox 3 offers many improvements to its CSS implementation. Testing it and other browsers against the Acid2 test clearly demonstrates how far this new version has come in standards compliance. You can see the difference below between Firefox 3, IE 7, and Firefox 2.
In addition to great CSS improvements, Firefox 3 also offers Javascript 1.8 and several DOM improvements over previous versions.
Security
Firefox has improved the phishing protection offered in version 2 by skipping the pop-up messages and displaying a detailed warning in place of the malicious site. I know, I know, most of us geek-types won't ever see something like this because we have the lowest security settings our browser will allow and think we are too cunning be duped by a web site. But it'd be a shame if you missed out on that great sweater for your birthday because Grandma was taken to the cleaners by some online crook.  All users, be they web-savvy geeks or run-of-the-mill surfers, are better protected by these upgraded security features.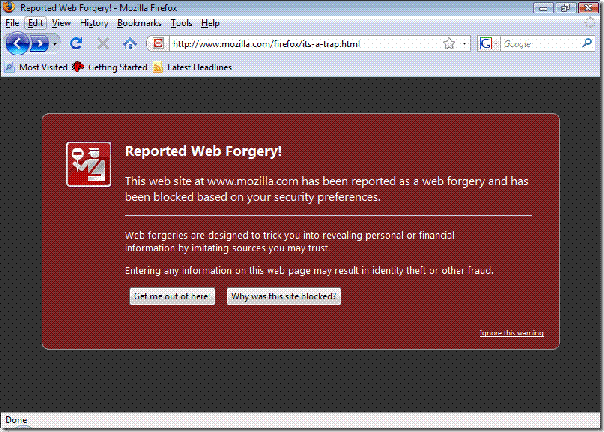 Another neat feature is the one-click site info now offered in the address bar. By clicking the favicon you can see who owns the site and check if you are on a secure connection or not. Any site using Extended Validation SSL certificates will cause the favicon to turn green and upon clicking it will display the site owner's information. You can easily use this one-click solution to determine how secure your online transactions will be.

User Experience
Tags, easy organization, and single-click bookmarks make keeping track of bookmarks easier and much more fun. Simply click the star button in the navigation bar to add an address to your favorites; click it again and a window pops up allowing you to organize and tag your bookmarks.
The new autocomplete feature lets you quickly navigate to bookmarked links from the navigation bar by simply typing in any of its tags.

There is also a really cool zooming feature built into the new version of Firefox. This new features lets users zoom in and out of web pages by pressing Ctrl + +, scaling the layout, text and images in the process.
Summary
The features listed above are just a few of the many included in this new release, so go check out version 3 of Firefox and try out the rest of them yourself. There are many cool new features to play with, leaving you to have a much richer online experience.