DevReach is back! As part the Progress360 conference, September 11-14 in Boston, DevReach attendees will be treated to 40+ technical sessions delivered by awesome speakers, epic Progress360 keynotes, an "unconference" area, and a really cool attendee party.
TL;DR: DevReach is happening in person in Boston September 11-14! For just $300 USD you'll get access to 40+ technical sessions delivered by world-renowned speakers and so much more!
Why so much more? Because for the first time, we're bringing together three unique events under one roof—Progress360. Not only will you have all of the benefits you know and love about DevReach, but you will have access to all sessions at ChefConf, the premiere DevOps conference. And new this year, we're offering an invite-only Executive Forum for IT and security leaders looking to advance their strategies for better business outcomes.
DevReach @ Progress360 will offer renowned industry experts and influencers, hands-on sessions and insight about the latest app dev technologies and best practices.
Beyond DevReach and ChefConf sessions, you'll get free reign in the Discover Progress zone, where you can learn about everything Progress has to offer.
Continue reading for more details or register here.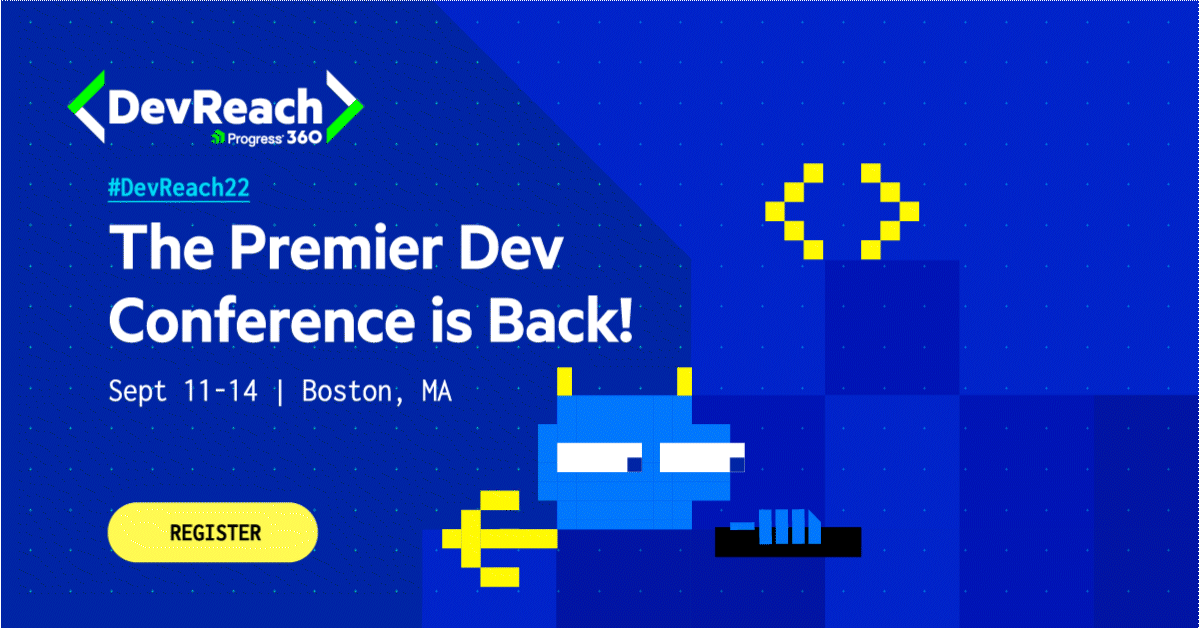 DevReach has always been Central and Eastern Europe's Premier Dev Conference. Why Boston?
It is no secret that the last two years have been both unprecedented and unpredictable. Our plan in 2020 was to host two DevReach events—one for the first time in the U.S. and one in Europe. Obviously, that didn't happen. But, as the world began to return to normal, we decided we'd give it another go.
You might be wondering if we will do anything in Europe this year. While I can't share details just yet, just know we're working on something we think you'll love. More details to come the near future.
But back to DevReach @ Progress360 …
You said DevReach @ Progress360 will have all the benefits we know and love. For real?
In a word, YES! Our team has pulled together some of the coolest names in the industry to talk to you about topics like Blazor, Angular, React, .NET MAUI, C#, Testing, Debugging, Accessibility, Design and more. With more than 40 sessions to choose from—plus three optional workshops—your heart and head will be happy after just a few days of awesome learning in the company of fellow devs.
Not sure you believe me? Here is just a small sampling of the awesomeness of the lineup:
Adelwale Akinfaderin, Data Scientist at Amazon
Chris DeMars, Senior UI Engineer, Rocket Mortgage
Emma Twersky, Developer Relations Engineer, Google
Julie Lerman, Software Coach, Pluralsight Author, Microsoft Regional Director
Maddy Montaquila, Program Manager .NET MAUI, Microsoft
Check out all of the speakers and the current agenda.
I really want to be part of DevReach but I am not sure I can make it to Boston. Do you have anything to relieve my FOMO?
So glad you asked! One thing we've learned over the past two years is that flexibility is important. While we would love nothing more than to spend time with you face to face, we also want you to experience DevReach in whatever way makes you most comfortable. We are still finalizing the details, but we plan to livestream all of the keynotes and some select sessions. We are also hoping to record all of the sessions and make them available shortly after the event ends. While you will need to register to experience it, the virtual version of DevReach @ Progress360 will be available to you at no cost.
Register today for DevReach @ Progress 360—In-Person or Virtual.
Did you mention workshops?
Yes! On Sunday, September 11, there are three workshops to choose from:
Women of .NET with Layla Porter (VMWare), Sweekriti Satpathy (Microsoft), Alyssa Nicoll (Progress), Heather Downing (Okta), Lebogang Madise (Microsoft), Alisa Duncan (Okta)
.NET MAUI Workshop: Beginners Welcome with Maddy Montaquila, Microsoft
Rea11y Simple #A11y: Focused Accessibility with Chris DeMars, Rocket Mortgage
Each workshop is $100 for four hours of interactive content and lunch.
Wow. Anything else you can share?
Of course! It's DevReach, after all, and we always like to throw in a little extra! Wednesday, September 14, happens to also be a major release day for the Telerik and Kendo UI products so we'll host a release party. Whether you are with us in person or want to join virtually, it will no doubt be a blast.
In addition to that, we have a few other things cooking that we will share with you soon.
Sounds pretty awesome, right?
It does to us—we're pretty excited. As mentioned, over the coming weeks we will have additional information to share about the schedule, keynotes, the parties and more. Check out the DevReach website for all of the latest and greatest info and/or follow our Telerik and Kendo UI social channels for updates. Or if you're ready, register to reserve your spot today!
See you in Boston!