Today is day 3 of running the Windows 8 Build tablet. Apparently I am the only person in Hong Kong with the Build Win8 tablet and everyone I know in Hong Kong wants to play with it. Some Telerik customers read my blog post from yesterday and asked me if they can play with the tablet too. I set up a meeting at a local pub in Hong Kong to allow some Telerik customers to play with the tablet. So today, the tablet went into the wild.

Stop 1: Starbucks
I was a little early to meet our customers, so I hung out at Starbucks. Just about all of the PCs in the Starbucks were Macs. I whip out the WinPad and it turned a lot of heads. One guy even came up to me and asked me what type of tablet I had. I did an impromptu demo since I was in the middle of a tweet war with some Telerik colleagues back in Bulgaria. Passed the tech elite/Starbucks test. SMS from our customer, so time to meet at the pub.
Stop 2: The Pub
When the Telerik customers showed up at the pub they went to work with the tablet. They liked the desktop mode option and we got into a long discussion on Metro only vs non Metro only devices. Played a little with Visual Studio and looked at the references for a native XAML app. Spent a lot of time on Metro. We all agreed that if Win8 delivers as promised, Apple has a ton of completion on its hands. After an hour of playing and talking, I can say that it passed the enterprise customer test. We're late for a networking event, so it is time for the next pub.
Stop 3: The Next Pub
There is a monthly networking event in Hong Kong called Web Wednesday where the techies and social media types gather around and talk shop. When we walked into the pub, I bumped into Furuzonfar (Foo-bar for short), a buddy of mine who is a student in Hong Kong University. Furuzonfar is an avid WP7 user and took the tablet for a test run. Pretty soon there was a circle of people around him and they where playing for a long time. Passed the college kid test.
A guy from Intel came by and played with it for a while too. He was happy that it was running an Intel chip.

Then some other WP7 enthusiasts came by and I had to snag a photo. Suddenly WP7 is a lot more compelling.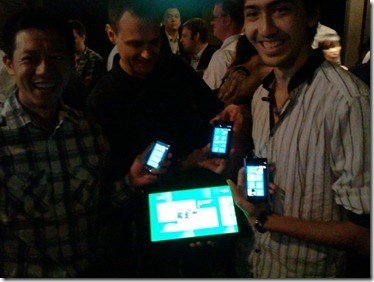 Furuzonfar was generating so much attention that a reporter from the Financial Times came by and wanted to know what was going on. I wrestle the tablet away from the college kids/Intel dude and do a demo for the FT reporter. She particularly liked how you can snap an app to the side of the window. As a mac user, she was impressed, so it passed the reporter test.
Finally it was time for the tablet's field trip to end and I headed home. All in all, a lot of activity for a tablet in one evening. I head home to New York for the weekend and will see if it passed the hardest test of all, the Mom test.